In 1988 the BBC released the first six short Talking Heads monologue plays written by Alan Bennett. After their first outing on BBC1 they were adapted for radio and in 1991 were broadcast on BBC Radio 4. The second series was released for BBC2 in 1998 so thirty-two years on we will see if they stand the test of time.
Originally performed by Patricia Routledge, Imelda Staunton has taken up the mantle in this re-make. Produced by Nicholas Hytner and Kevin Loader, the first scene is set in Irene Ruddock's front room with the quintessentially British net curtains, which you can imagine are regularly twitching. Irene Ruddock or Miss Ruddock (no-one has called me Irene since my mother died), as she prefers to be called; is your typical nosy parker, poking her nose into the lives of others. When she is dissatisfied with what she sees, she writes a letter of complaint to the appropriate person.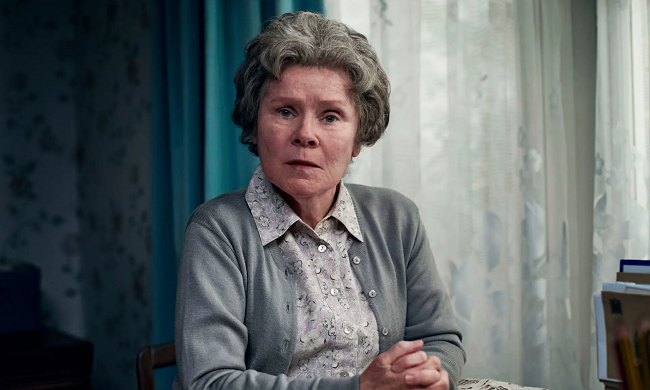 Early in the piece we realise that Irene is lonely, and her letters help her to reach out and to be heard. People are glad to have these things pointed out, she feels so carries on with her public duty. She attended a funeral at the crematorium of someone she did not know well but took exception to the hearse driver smoking in public, a letter is dashed off pronto and she receives an apologetic letter back in return. Her next victim is the new family that have moved in opposite - the kiddy looks filthy, they are probably not married and he just tinkers with his car! Under Jonathan Kent's direction, Staunton plays Irene as though she on a quest to right all wrongs, she believes it is her duty to expose these people and is very forthright in her delivery. It is obvious that she is unhappy and her visit to the doctors confirms that she does have a problem and receives medication for it. Even though Irene insists on trying to get other people into trouble, Staunton allows us to feel sympathy for her, although in the previous incarnation, Routledge was a softer, more humous Irene, there were more pauses, as though she was sighing in sadness at the tiny life she leads. A very successful remake which remains faithful to its predecessor, the writing is a little dated and some of the themes would not be tolerated today, but its execution is well done.
All twelve plays are available to watch now on BBC iPlayer. These are too good to miss and remind us just how versatile Alan Bennett is as a writer. https://www.bbc.co.uk/iplayer/episodes/p08ftkkx/alan-bennetts-talking-heads
Reviewer: Caroline Worswick
Reviewed: 25th June 2020
North West End UK Rating: ★★★★★