Alan Bennett's original Talking Heads was five filmed monologues shown in 1988. At the time they were received with great acclaim and featured prominent and respected actors of the era. A second series was produced in 1998 with five new monologues and was again much lauded.
Harriet Walter is faultless in this remake of a classic monologue first filmed with actress Stephanie Cole. Walter's performance is enough to convince the viewer that the events are happening now.
We meet Muriel Carpenter describing the recent funeral of her husband, Ralph. Clearly, the couple were very well to do, living in an expensively furnished, beautiful home. Muriel is impeccably dressed (all tweed and pearls) and Ralph was very senior in Massey Ferguson. She is matter of fact when talking of the demise of Ralph and her mourning for him, speaking with cut crystal and stiff upper lip.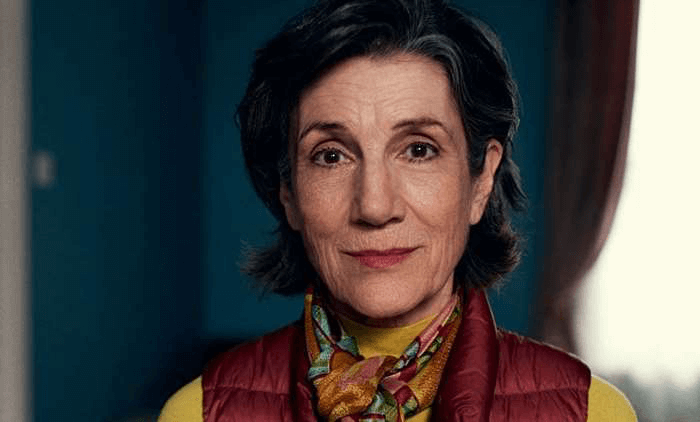 We discover that they have two grown children; Margaret who has a mental health condition (for which she is regularly forced to 'take a tablet') but who was 'Daddies Little Girl' and Giles who is something of a scamp and never got on with his father.
Muriel should be a rich widow and daughter Margaret was provided for in the Will separately whist Giles was omitted. However, Giles takes his mother out to wine and dine her and explains that there is a liquidity problem. He convinces his mother to sign various legal documents without the involvement of lawyers and we begin to see Muriel's comfortable lifestyle ebbing away.
Over the next few scenes, we see Muriel selling the lavish furniture and preparing to move out of the family home as Giles has 'been let down by a chum' and didn't read the small print.
While wanting to avoid spoiling the final scheme for those who don't see this coming, this is devasting for Muriel's 'coffee circuit' lifestyle, suffice to say this is a wonderful piece of social commentary. The performance combines naive upper-class snobbery with underhanded duplicity and social embarrassment, all of which are etched on Harriet Walter's perceptive and expressive face as she soldiers on. There are obligatory Alan Bennett dead pan quips; the young woman at the Town Hall has 'blue fingernails but is civil enough otherwise' and a man 'has a shaven head but is otherwise quite sensible'.
No Alan Bennett monologue is complete without a hint of sexual impropriety and we find this in the 'Daddies Little Girl' relationship with Margaret and her father, in true middle England style this was brushed under the luxurious carpet.
When great writing meets great acting there is little to quibble about.
All twelve plays are available to watch now on BBC iPlayer. https://www.bbc.co.uk/iplayer/episodes/p08ftkkx/alan-bennetts-talking-heads
Reviewer: Bob Towers
Reviewed: 26th June 2,020
North West End UK Rating: ★★★★★