Alan Bennett's original Talking Heads was five filmed monologues shown in 1988. At the time they were received with great acclaim and featured prominent and respected actors of the era. A second series was produced in 1998 with five new monologues and was again much lauded.
'I shot a man last week' is an unusual beginning for an Alan Bennett monologue and when we see Jodie Comer delivering this line, we may think we are in for an episode of Killing Eve. However, this is Leslie, an aspiring actress describing her latest assignment. Leslie is relentlessly positivity in spite of regularly being cast in roles of fun-loving girls who are at home on a bar stool and for whom serious roles elude her.
Leslie prides herself on her professionalism and we see this in her deportment and clear speech, she reads self-help books to improve her interview techniques at auditions. She tells us of one such audition where the role calls for her to be on the deck of a yacht in bra and panties playing Travis, another fun-loving girl.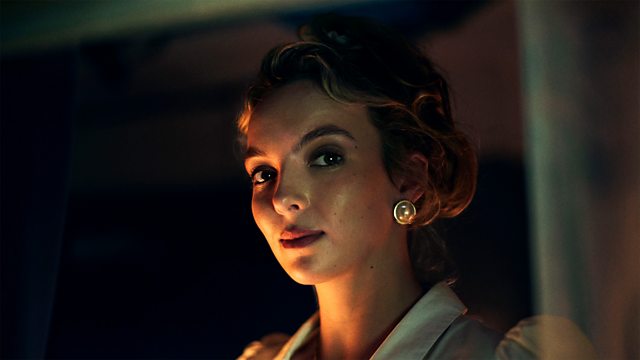 Her failure to impress at the interview/audition is a mystery to Leslie but weeks later she get 'the call' as the first choice actress is pregnant and she is required to be at Lee-on-the-Solent at dawn the next day. Not because she made a good impression but because she has a 38-inch bust.
We are then treated to the story of the days of filming. Leslie is somewhat humiliated as the crew make clear their disappointment at her inability to water ski or to speak French. For the water-skiing scenes Leslie is replaced by a girl who works part-time at a quayside restaurant even though she is 'on the large side'.
Leslie compares the filming unfavourably with her prior experience of being on the set of a film directed by Roman Polanski and this is one of few hints that date the script which is thoughtfully directed by Josie Rourke who manages to keep the settings simple better to display the performance of Comer.
Things go from bad to worse during the course of the filming as Leslie's character is persuaded to remove firstly her top and then her bikini bottom. Gunther, the detached German Director, persuades her that this is necessary for Travis to show her contempt for her crime boss boyfriend, Alfredo. The film culminates in Travis killing her boyfriend with a harpoon gun and will be released in Germany and Turkey.
Leslie is a wonderfully earnest and innocent character despite sleeping with Terry the cameraman, Kenny the animal handler and Gunther the Director, She takes great testimony from Gunther's pronouncement that; 'If someone is a bad actress, I can't sleep with them'.
This is splendid acting and Comer is utterly believable in the role inspiring both our empathy and disdain. Like many Bennett stories we are not sure whether to laugh at the protagonist or feel sorry for them.
All twelve plays are available to watch now on BBC iPlayer. https://www.bbc.co.uk/iplayer/episodes/p08ftkkx/alan-bennetts-talking-heads
Reviewer: Bob Towers
Reviewed: 27th June 2,020
North West End UK Rating: ★★★★★