Alan Bennett's Talking Heads made the monologue popular for writers and actors alike, but few manage to capture the magic of this wryly amusing series of short tales set in the grim north. A Chip in the Sugar was originally performed by Bennett himself and this new version created as part of a special series in response to the current lockdown is directed by Jeremy Herrin and stars Martin Freeman as Graham.
The majority of the monologue is performed in Graham's extremely tidy, dingy, grey bedroom, with his single bed and walls decorated with numerous chocolate box paintings and floral plates.
Graham lives with his mother, and is devoted to her, but is very upset by their recently bumping into her old flame, Mr Turnbull. The realisation that his mother had a life before he and his father were a part of her life and witnessing her blossoming relationship with Mr Turnbull distresses Graham deeply and he becomes increasingly bitter as he bottles up he feelings, and, more often than not, says nothing at all.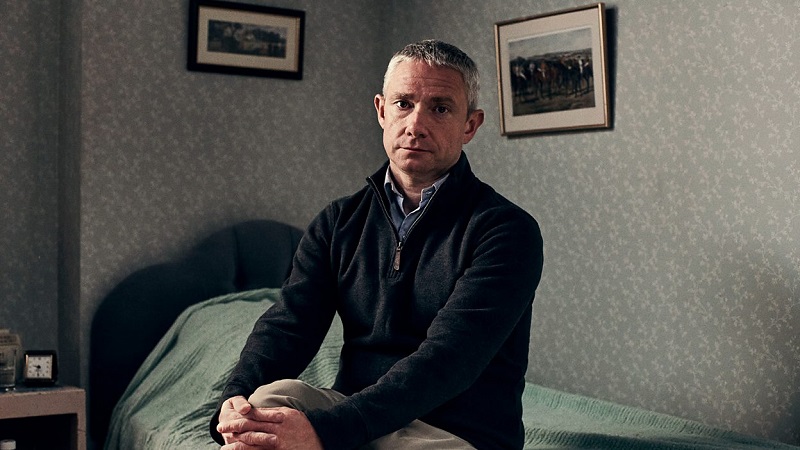 We learn more about Graham as he makes his bed and tidies up while talking about himself, his mother and the usurping Turnbull. It quickly becomes clear that Graham likes to believe he is very clever, constantly sneaking in big words and stating how much he knows about the big issues of the day. His opinions dramatically clash with Turnbull's, who is right-wing, racist and very belittling towards Graham, who he thinks is far too old to still live at home.
As Graham fights to maintain a position of power at home, he becomes increasingly paranoid as longstanding issues with his mental health begin to resurface. When his mother makes a surprising announcement, it looks like Graham might be about to lose everything, but sometimes when you feel like you're being watched, you really are.
This is an iconic piece which explores themes of sexuality, race, class and mental health, and particularly how these were viewed in the 1980s. Graham's suppression of his feelings and true self are well shown by Freeman, who maintains a state of being close to tears throughout most of the performance, while never actually breaking into any particularly strong emotion. There are a couple of pauses which seem to be more Freeman searching for lines rather than for dramatic effect. Overall however, the performance is quite arresting and Freeman makes the small, intimate room where he performs the piece echo with its vast emptiness and isolation.
All twelve plays are available to watch now on BBC iPlayer. https://www.bbc.co.uk/iplayer/episodes/p08ftkkx/alan-bennetts-talking-heads
Reviewer: Donna M Day
Reviewed: 27th June 2020
North West End UK Rating: ★★★★★