Love was most certainly not a 'drag' in this new show of 'The Ruby Slippers' by Break A Leg Productions at The Lantern Theatre, Liverpool.
Set in a struggling drag club, the play follows two protagonists each dealing with their own grasp of sexuality. This new piece of writing by Emma Culshaw and David Paul focuses in on love, identity, friendship and prejudice which provided a riotous night of entertainment for all.
The production kept a minimalistic, yet aesthetically pleasing set with key points of focus on the pictures of Judy Garland and Elizabeth Taylor; two iconic homosexual symbols. I felt that the piece successfully combined clichés with more tender, intimate and realistic moments.
A strong example of this being through the character of Raz, perfectly played by James Rogerson. Rogerson encompassed the affectionate yet conflicted nature of his character which had me laughing hysterically one moment, then enthralled by the raw and prevalent underlying issues expressed through his performance. An amalgamation of 'failed diva' and honesty made this performance the stand out of the night.
However, other performances also made for an extremely entertaining evening. The fabulous drag queens who welcomed the audience into the space, Destiny and Pheonix played by Owen Farrow and Jordan Simms, instantly blew me away by their undeniable stage presence. They looked beautiful and I grew to truly love these characters throughout the piece. Farrow had the audience in the palm of his hand from the get-go whilst Simms exuded sex appeal that was mesmerizing. This comedy duo had comic timing down to a T, a look that was enviable by any audience member and a true flair for the art form.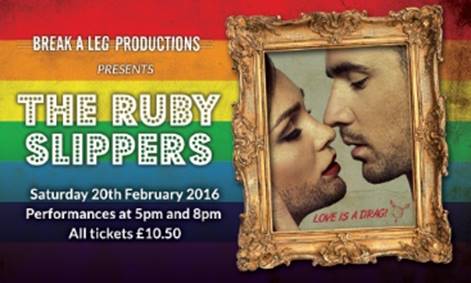 Jamie Paul played a rather understated transgender and confused lover, which I found interesting, yet I believe that the writers had embedded a great deal of depth into the character that may have been lost on Paul. When this issue is so current in recent film and media, such as 'The Danish Girl', I feel as though this part was extremely challenging and Paul did well to get a firm grasp of this conflicted sense of identity.
Whilst I felt that some of the writing was questionable in quality and could benefit from a few tweaks, I believe the director, Jackie Downey, and the cast worked well within their given material. Downey appealed to the 'fun-factor' in her direction which I enjoyed although I would have liked to have seen more substance and weight behind her directorial decisions in some of the more poignant and emotional scenes.
Never before have I experienced an audience to be so welcoming and supportive of such a sensitive subject matter. The audience was incredibly varied and all were full of praise for this unique production. In moments of tenderness we were engrossed by the performances, in moments of hilarity we were clutching our stomachs and in moments of true diva, we all embraced our inner 80's rock god to support this one-of-a-kind show. We even danced through the scene changes!
The whole team had obviously worked extremely hard to create a new, challenging piece of theatre. The background artists must be praised for their ability to keep within the moment in such a diverse piece yet I do feel that their placement on stage was not fully required.
Overall, I feel that this show is most definitely a fun night out and one that has a lot of potential if slight adaptations were made to the overall production. I have every faith in this company and applaud them for their brave approach to creating dynamic, accessible and unique theatre for LGBT issues.
Reviewed: 20th February 2016
Reviewer: Lauren Waine