Flare Path sends you on a rollercoaster of war, emotion and drama, an established play written in 1941 and first staged a year after that, it's a fantastic show filled with all the components that are needed in a war time drama-romance. The story mainly centres on a love triangle between a pilot, his wife and a famous Hollywood star, set in a hotel close to an RAF Bomber Command airbase during World War 2- an idea the writer (Terence Rattigan) found from his actual experiences throughout the war. Also, throughout the hotel is a collection of various pilots and wife's all from assorted towns and cities.
Graham Seed plays Squadron Leader Swanson, probably best known as Nigel Pargetter in 'The Archers' until 2011, the relaxed and enthusiastic leader who cares greatly for his team and country. Seed being a fine actor who has a gives a great example of fantastic characterisation in particular within the moments of humour. Peter Kyle (Lynden Edwards) plays the famous and suave Hollywood film star. Edwards mastering the English diction of the era and also portraying the character with a likeability and sensitivity that makes the audience soften towards him, even past his cheating and corruptive nature. Patricia Warren (Hedydd Dylan) is the wife of Graham (Teddy) whilst also continuing an affair with Kyle. Dylan plays a confused and easily lead character who finally has to decide which of her relationships she wants more. Dylan is fantastic in the switch between her two relationships and the different ways she displays her love for both Graham and Kyle. Countess Skriczevinsky (Claire Andreadis) plays a sometimes ditzy and typical blonde but also has a great deal of weight put onto her in the second act of the play - something she deals with grace and a vulnerability. Andreadis struggling in the beginning nailing her accent but eventually opening up and showing her fun loving nature which she shows the audience wonderfully.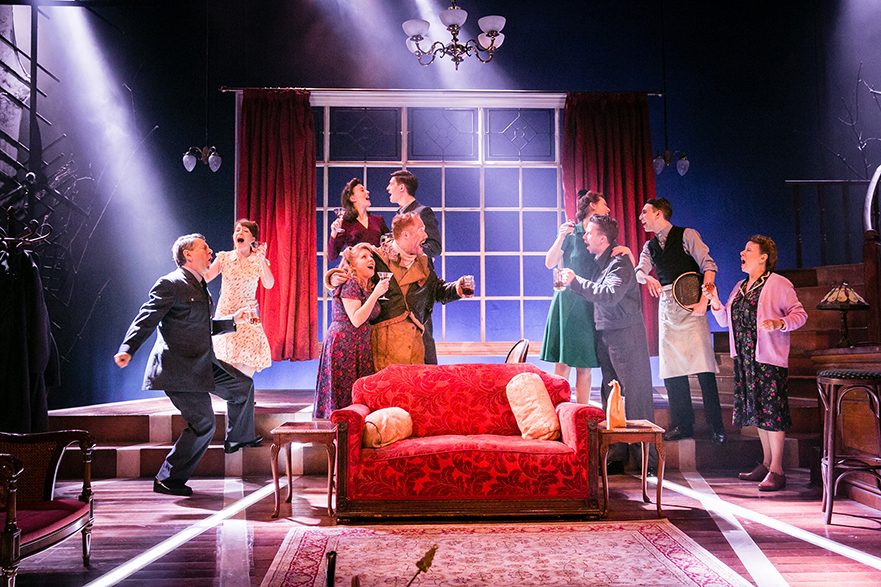 Flight Lieutenant Graham (Daniel Fraser) is a very British and polite RAF pilot who we find out many hidden secrets (Which I shall certainly not disclose!). Fraser plays the character beautifully and with real emotion- the scene in which his secret comes out is a favourite, his ability to be in control whilst displaying his character has lost his control completely is a wonder to see. The ensemble is completed with Emma Carter (Betty); Charlie G Hawkins (Percy) a wonderfully cheeky character with lots of personality; Jamie Hogarth (Sergeant Miller) an RAF gunner who has a hectic and hilarious relationship with Mrs Miller (Polly Hughes) both of which giving great North London accents and performances and Audrey Palmer (Mrs Oakes) who is trying to keep her hotel running and is always there for a one liner when things seem bleak. Finally to Count Skriczevinsky (William Reay) an amazing performance filled with humour and a spot on accent- Reay being a great comedian who never fails to bring light to a conversation or scene -and making the biggest entrance of the night!
Onto the wonderful set and lights which is the work of Hayley Grindle and Alex Wardle respectively, I especially enjoyed the section where the planes were taking off which could be seen from the window by the characters. The set also being enormously clever with parts of aircrafts being assorted around the stage.
Flare Path is a fantastic performance filled with all a War Time show needs, keeping with the great accuracy of the time and also giving the story a breath of fresh air in this new production. The cast is incredible and there is not a weak link between them, all contributing to the fantastic performance I witnessed. The show continues at The Blackpool Grand until 27th. It will then continue a UK Tour so book tickets now at a theatre near you!
http://www.flarepaththetour.com/
Reviewer: Brad Wilson
Reviewed: 23rd February 2016
Photo: Jack Ladenburg