Blithe Spirit is a comic play by Noel Coward. Written in 1941, it reflects not only the fad for séances following the incredible losses of World War I but also serves to mock sudden death at the very time that bombs were bringing it to Britain at the outset of World War II. For over thirty years it was the longest running comedy in the history of British theatre.
Consensus Theatre's production starts as socialite and novelist Charles Condomine (Bryan Higgins) invites an eccentric medium, Madame Arcati (Sebastian Farrell) to hold a séance at his house as part of his research for his next book about the occult. At the séance, attended by his second wife, Ruth (Jane Rigby) and family friends, Dr Bradman (Philip Wade) and his wife, Mrs Bradman (Rose Higgins), Madame Arcati inadvertently summons Charles' first wife, Elvira (Julia Hart), who has been dead for seven years. Madame Arcati leaves after the séance, unaware of what she has done. Only Charles can see or hear Elvira, and Ruth does not at first believe she exists until a floating vase is handed to her out of thin air. The annoying and temperamental Elvira makes continued, and increasingly desperate, attempts to disrupt Charles' current marriage to the more strait-laced Ruth, finally sabotaging his car in the hope of killing him so he will join her in the spirit world, but it is in fact Ruth who is killed.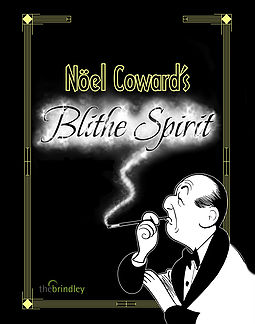 Ruth's ghost immediately returns for revenge on Elvira and although Charles cannot see her, he can see that Elvira is being tormented and his house is in uproar. He calls upon Madame Arcati to exorcise both spirits but instead of banishing them she in fact materialises Ruth and Charles is now confronted by the visible presence of both his dead wives, neither of whom are in good humour!
Following further unsuccessful attempts to try and exorcise them, Madame Arcati finally discovers that the housemaid, Edith (Judianne Fisher), is in fact psychic and has been the unwitting conduit through which Elvira was originally summoned; at last the two ghosts are dematerialised although Charles is recommended to go far away as the two angry spirits may still linger unseen. The play concludes with one of Coward's signature theatrical devices as the curtain falls on Charles tiptoeing out as his house falls apart around him.
This was an accomplished production of a wonderful period comedy with fine performances from all of the cast. Fisher's slapstick opening scenes as the scatter-brained and frantic maid were the more impressive as she made such an immediate impact on the audience. Wonderful comic interplay abounded throughout, particularly when the ghosts appear and the audience can delight in the ensuing confusion as both Ruth and Elvira see themselves as the cause for Charles' vented frustration when each time it has been directed at the other and this is much to the credit of Higgins, Rigby and Hart. Farrell is to be commended for avoiding the obvious temptation to turn Madame Arcati into a pantomime-dame as he too turned in a strong performance.
Consensus Theatre is a repertory style theatre company based in Warrington, Cheshire. Established in 2013 by a number of award winning actors looking for more opportunities to perform in and around their local area in a variety of venues, they produce plays, concerts and live performance and tour them across the county.
For more information about Consensus, their shows and how to get involved then please visit their website www.consensustheatre.co.uk
The Brindley Theatre is owned by Halton Borough Council and is the main centre for arts and entertainment for the borough of Halton which covers the twin towns of Runcorn and Widnes on either side of the River Mersey. Opened in 2004, facilities include a 400-seat theatre; 108-seat studio; gallery space; digital cinema and a bar & terrace cafe.
For more information about The Brindley Theatre, forthcoming productions and to make a booking then please visit their website www.thebrindley.org.uk
Reviewer: Mark Davoren
Reviewed: 27th February 2016