I was thrilled to visit the club academy last night to see one of my favourite musicals 'songs for a new world'. The University of Manchester Musical Theatre society certainly chose a challenging musical to perform but one that portrays a strong link with us and the world. The musical's theme is orientated around the choices we make and the crucial moments when we make these choices which is a useful subject for this cast to explore being at that part of life where choices are the main thing they need to think about.
I always get a shiver down my back when I first hear the piano for the opening number and last night was no exception. The cast includes young exceptional performers with performing skills way beyond their years including: Jack Hawkins, Hannah Greenwood, Keira Battersby, Freya Turton and Ollie Kaiper-Leach, each in their own right brought a memorable performance.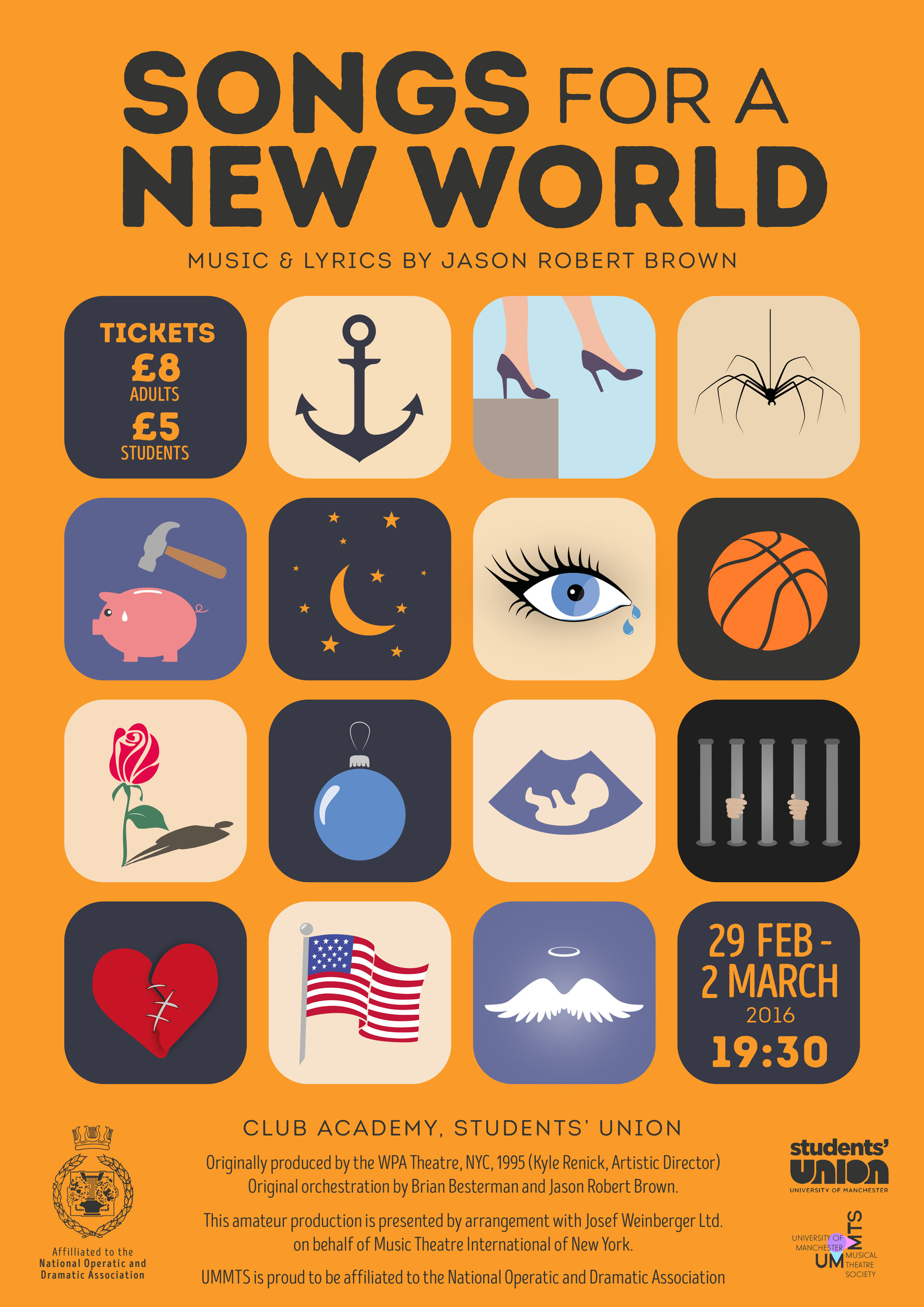 Our opening sequence 'songs for a new world' performed by the whole cast really set the show for the audience. The cast sounded magical together and really harmonised well. Giles Deacon who is the musical director for this production has clearly never missed an opportunity to make use of the different vocal ranges this cast as a group have to offer, with some difficult numbers in this musical I consider this a fantastic achievement.
One of my favourite numbers in this production was flying home as it was full of effortless passion and determination. Each cast member had a purpose for being on stage which will have a lot to do with being under the direction of Kieran Enticknap and it's obvious to see that he has engaged his cast in workshops and character building to help maintain their presence on stage. The number as a whole was led by Ollie who portrayed man 1, Ollie's voice is such a thrill to listen to and very unique. Ollie wasn't afraid to belt those big notes and really kept our attention on him.
This production being one that isn't large scale with dance and big effects is just relying on the performers to take us on a journey and to educate us. I think the whole team should be very proud of what they have achieved with this production and I would put it down as nothing less than a professional piece.
Songs for a new world is running until 2nd March so there is plenty of time to watch this incredible display of young performers. Tickets can be purchased from www.manchesterstudentsunion.com where you can also find more information about the society.
Reviewer: Jamie Greenwood
Reviewed: 29th February 2016