I'm not a massive Batman fan, like most people I'm aware of the iconic nature of the character from his beginnings in comics, the 1960s TV series and then the many depictions in the movies. You'd have to walk around with your eyes and ears closed or live on another planet not to have some awareness. It was with this awareness that I walked into the 50 minute show co-written and performed by the very talented James Wilson-Taylor and directed by Jon Brittain.
I thought I would need more awareness to fully enjoy this show but I was wrong. From the very beginning James' energy and enthusiasm was infectious. He was genuinely funny and very talented. Taking the audience on a journey through the origins and incarnations of Batman, explaining why his is the ultimate Bat-Fan and why that qualifies him to be the next Batman in film. Not just the next Batman, but the next writer, director and star.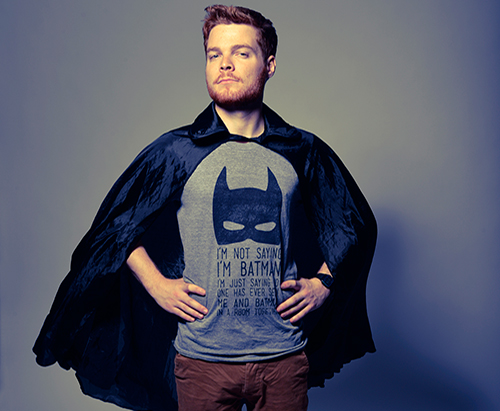 The show was brilliantly crafted will great gags, witty puns, humorous songs, genuine insights into the Batman stories and James' own childhood obsessions, as well as audience participation! There wasn't a moment lost with every part building to a fantastic musical finale - this was brilliantly created using well known musical theatre and film songs; laugh-out-loud funny!
James has a musical theatre degree and this isn't his first venture into the fan-musical genre - if that isn't a genre it jolly well should be one. I had the pleasure of seeing James in the award-winning show 'I Need A Doctor: The Whosical' at the Edinburgh Fringe Festival, a topic I was much more interested in and thoroughly enjoyed. But that was a two person show and the interaction happened on stage with some audience participation. Bat-Fan was much braver, a solo show with lots of technical elements, and one that relied on the audience to complete the transaction. Many in the audience were die-hard Batman fans, many like me enjoyed the musical theatre references, others enjoyed the great stand-up comedy; in short, it had something for everyone.
This show, like our amiable host, was short and sweet and perfectly formed! I may not be a Bat-Fan but I'm definitely a James-Fan - I highly recommend you catch this if you can: coming soon to Birmingham, Liverpool, Swindon, York, London and Derby.
Reviewer: Alan Harbottle
Reviewed: 4th March 2016