Michael King as Billy Fury may only be 'Halfway to Paradise' but tonight at the Theatre Royal his fans were with him all the way! For 2 hours King performed many of the greatest hits of the legendary Billy Fury to an audience of what was mainly an older generation, not surprising when you consider that Fury was topping the charts in 1959. Thankfully his memory will live on due to tributes and King has to be, with his incredible stage presence, his voice and looks, arguably the best.
From the first song to the last, the audience were singing along and clapping although surprisingly not up dancing in the aisles, with King rockin' n' rollin' through the early years of Fury's fame to Fury's 'Forget Him.' which was released posthumously.
Fury was born in 1940 in Liverpool and became an international and British success with many records he had written himself between 1959 and 1983, although never making it to number 1. He was often referred to as the British Elvis with his similar 'shocking' hip swivelling. During the early 70's he had to undergo two heart surgery operations. His heart had been weakened as a result of childhood rheumatic fever and ultimately contributed to his collapse and subsequent death on 28th January 1983.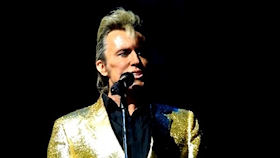 King engaged with the audience with his non- stop moving from one side to the other of the stage and delighted with his costume changes, bringing the most cheers when reappearing in black leather! During the frequent changes we were entertained by the superb 4 piece band supporting King, with a fabulous instrumental of the Tornado's hit Telstar amongst others. Clayton Scott gave an amazing performance on double bass showing literally an ability to play this instrument in any position. The drummer, Dave Manning also gave an incredible display of his skills including a spot in the dark with illuminated drum sticks. As the audience were applauding and cheering so loudly I was unable to catch the names of the other two members on keyboard and guitar who both equally gave fabulous performances.
With the energetic 'Hippy Hippy Shake' and slowing down to the moving 'Run to My Lovin' Arms, King gave a convincing performance with a perfect vocal of my favourite of the evening 'Thousand Stars in the Sky'. With a standing ovation after the final song 'Johnny B. Goode' and an audience unwillingly to let it end there, King returned with the all-time classic, 'Halfway to Paradise ' which appears to be the one most people associate with Fury, bringing an end to a fabulous evening's entertainment, evoking memories of possibly some of the best decades of music, (debateable upon age, but definitely with last night's audience, who I suspect had a fair amount of former 'Teddy Boys' amongst them!).
King returns to the Theatre Royal in September in Starman- The David Bowie Story, which I have a sneaky feeling he will give an equally amazing tribute to. For further information and tickets to Starman contact. https://sthelenstheatreroyal.ticketsolve.com/shows/873548669/events?show_id=873548669
Reviewed on: 11th March 2016
Reviewed by: Lorna Weekes