The second I hear the beat of the famous 1980s hit, my feet start tapping and I instantly imagine Kevin Bacon's Ren McCormack dancing at the long awaited school dance and I'm sure I'm not the only one. In many ways this is probably a blessing and a curse to any stage remake.
The story is just as you would expect. Ren McCormack, played by Thomas Cotran who is listed as understudy for this role, is a big city boy who is forced to move to Bomont, West Virginia after his dad leaves the family high and dry. He lands in the conservative town in the heart of the bible belt to find that dancing and rock music is banned from Bomont due to an accident several years before and an overzealous religious leader Rev Shaw Moore (Nigel Lister). The people of Bomont are anything but welcoming to this troublemaking outcast but eventually music and dancing wins them and Rev Moore wayward daughter Ariel, played by Hannah Price, over.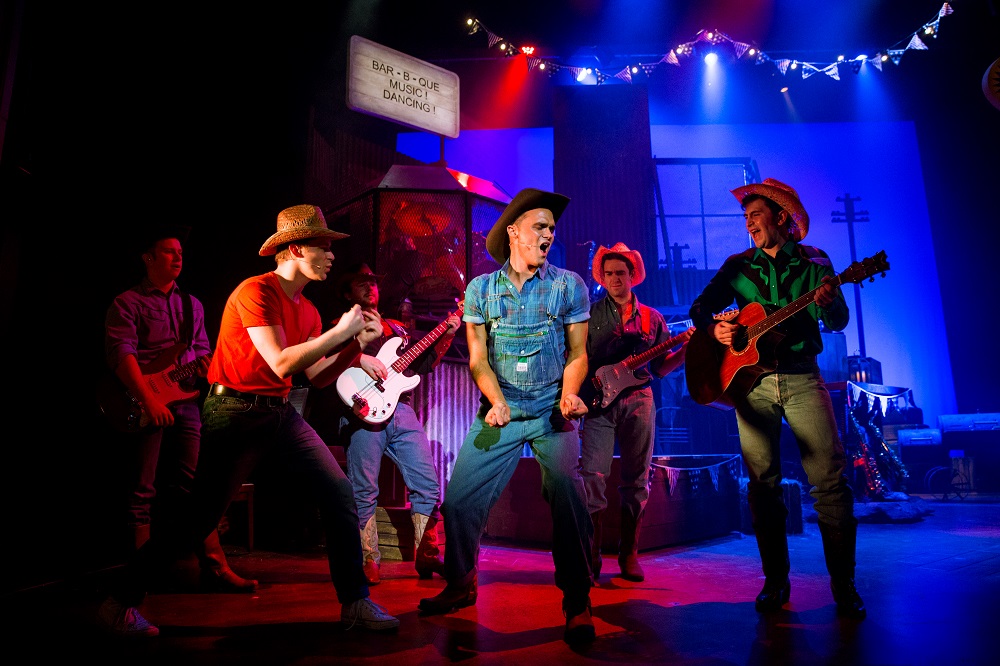 The first thing to mention about this performance was that there was no orchestra. Every performer not only acted, sang and danced, as you would expect in a musical, but they also played all of the music, many switching instruments, playing while dancing and even roller-skating. This was the most impressive element of the show. It can't be underestimated how difficult it is to play a woodwind instrument while dancing. As musicians they didn't miss a beat.
As for the individual performances, there was no one that really stood out for the better or the worse. That said I was genuinely surprised by Gareth Gates who played Willard, the towns lovable clown. Who would have guessed that Gates could deliver a great comedic performance? Price who played the rebellious Ariel was impressive especially given that this is her first professional role following her graduation. The highlight for me the performance of Learning to be Silent by the three main female characters Vi Moore (Maureen Nolan), Ariel Moore (Price) and Ethel McCormack (Nicky Swift). The arrangement enhanced the actor's voices and the staging utilised the beautiful set to great effect.
There were some technical issues during the performance with lighting hit and miss several times and sound levels not always there.
Footloose is what it is. It's a delightful romp through some of the most memorable 1980s tunes. It's a toe tapping night out that you'll remember fondly the following day but maybe not the following week.
Reviewer: Helen Kerr
Reviewed: 14th March 2016