This musical just gets better, having seen it before I knew I was in for a great evening's entertainment and I was not disappointed. This is one play I could watch again and again and probably will.
Celebrating the 29th anniversary, Blood Brothers (written by Willy Russell, directed by Bob Tomson and Bill Kenwright) was performed to a capacity audience at this lovely little theatre. On the stage the set cleverly designed and subtly changed is perfect for this play and enhanced by sound effects and lighting.
Lyn Paul, formerly of the 1970's group The New Seekers, has been performing regularly as Mrs Johnstone for 18 years and you might think she may have become blasé about the part, not a chance! Performing the role of a struggling working class mum with an apparent ease, you are immediately drawn into her life. With the news that her latest unplanned pregnancy is in fact twins, one extra mouth to feed after her husband has left her is bad enough, but two fills her with despair. Distraught she agrees to hand over one of the boy twins to her employer, childless Mrs Lyons (Sarah Hay) who intends to pass the child off as her own as her husband, a wealthy business man, was presently working away and would be none the wiser. For both women it seems the arrangement will be an answer to their problems but nothing could be further from the truth. Paul and Hay act with a determination and their harmonies are wonderful to hear.
Lurking in the shadows is the menacing Kristofer Harding who with his clear diction and powerful singing voice is perfectly cast as narrator, condemning the actions of the women and foretelling no good will come of it. An excellent performance.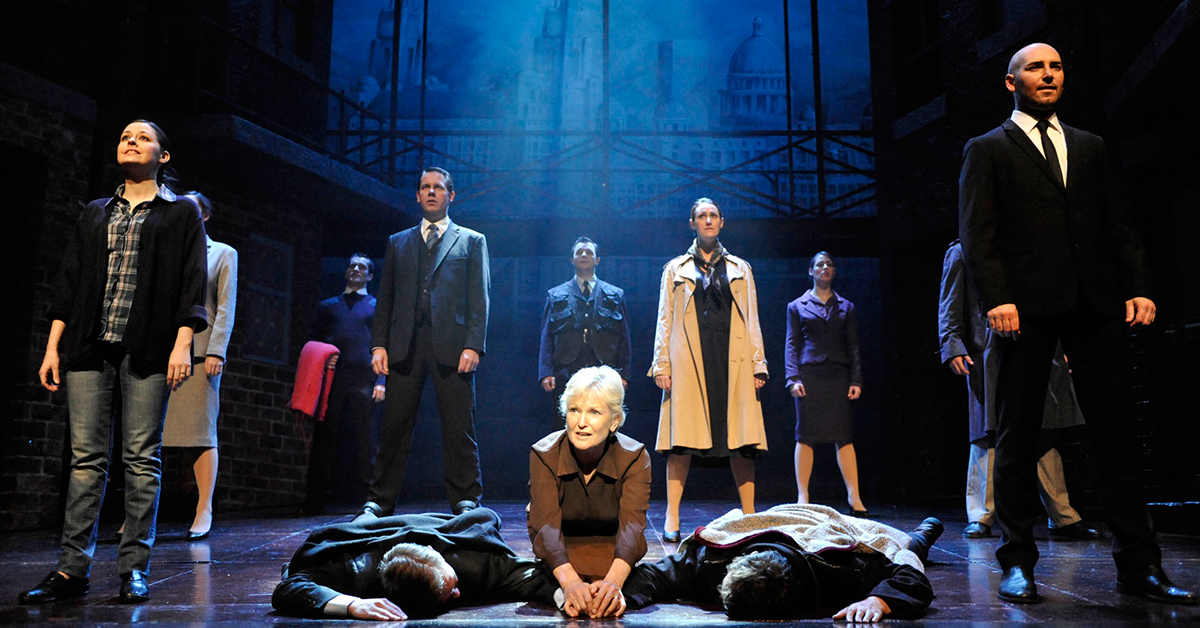 Sean Jones plays the part of 7, 'nearly 8' year old Mickey, Eddie or Edward as his 'parents' call him, is his twin and acted by Joel Benedict. Both delivered brilliant performances throughout, with their convincing boyish antics as 7 years olds, through to the final scenes as grown men. Despite their mothers attempts to keep them apart and their vastly different upbringings, destiny keeps drawing them together and the boys, not knowing they are truly real brothers become 'blood brothers'.
The story continues taking us through the following years of the twins lives, with Mickey suffering unemployment, depression, drugs and a life spiralling downwards whilst Eddie, who having had a private education and privileged background is embarking upon a career and has it all, including in Mickeys belief, his wife Linda (Danielle Corlass). Corlass gave a great performance as the young Linda, totally love-struck with the schoolboy Mickey which continued until her wedding to him.
Throughout Blood Brothers the whole ensemble have to be credited with their acting and vocal performances from the milkman to the bus conductor, the policeman to the teacher, each and every one of them have a valuable part to play and without, the show would be poorer. In particular Sammy, (Peter Washington) Mickey's older brother and bad influence, gives a believable portrayal as a 'bad boy'.
During the course of the play there are many songs performed, each and every one of them with a potent meaning and without exception given a faultless delivery. Paul's poignant rendition of 'Tell Me it isn't True' had the audience in tears, when she collapses to the floor, and brought to the end a well-deserved elongated standing ovation for the entire cast. After all these years audiences are still enthralled and moved in this powerful musical and are sure to for many more.
Jones is truly outstanding in his portrayal as the young loveable Mickey and as the broken man he became, alongside of his mother Mrs Johnstone (Lyn Paul), for me these two absolutely owned the stage.
Blood Brothers with its strong characters, amazing vocals and compelling storyline should not be missed. For tickets and further performances at this theatre contact: https://crewelyceum.co.uk/Online/contacting_us
Reviewed on: 15th March 2016
Reviewed by: Lorna Weekes