This evening I took a visit to the Royal Court Theatre in Liverpool to see the play, Down the Dock Road.
This play was written by Liverpool's own Alan Bleasdale 40 years ago back in 1976.
Down the Dock Road is about a Docker called Grandad and his last day working. He wants to see his last day out in peace but there is no chance of that happening with his workmates around. Dreams, reality, a stolen watch and a case of whiskey all come together for a day in the life of the docks how they used to be.
The set stays unchanged apart from crates and boxes being added and stacked, all of which takes place on a lower deck of a cargo ship, with a ladder as the casts entrance/exit.
The set looks good and used well but as this play is 2 hours 45 minutes long it does start feeling very samey and static as there isn't much for the cast to do except move crates around.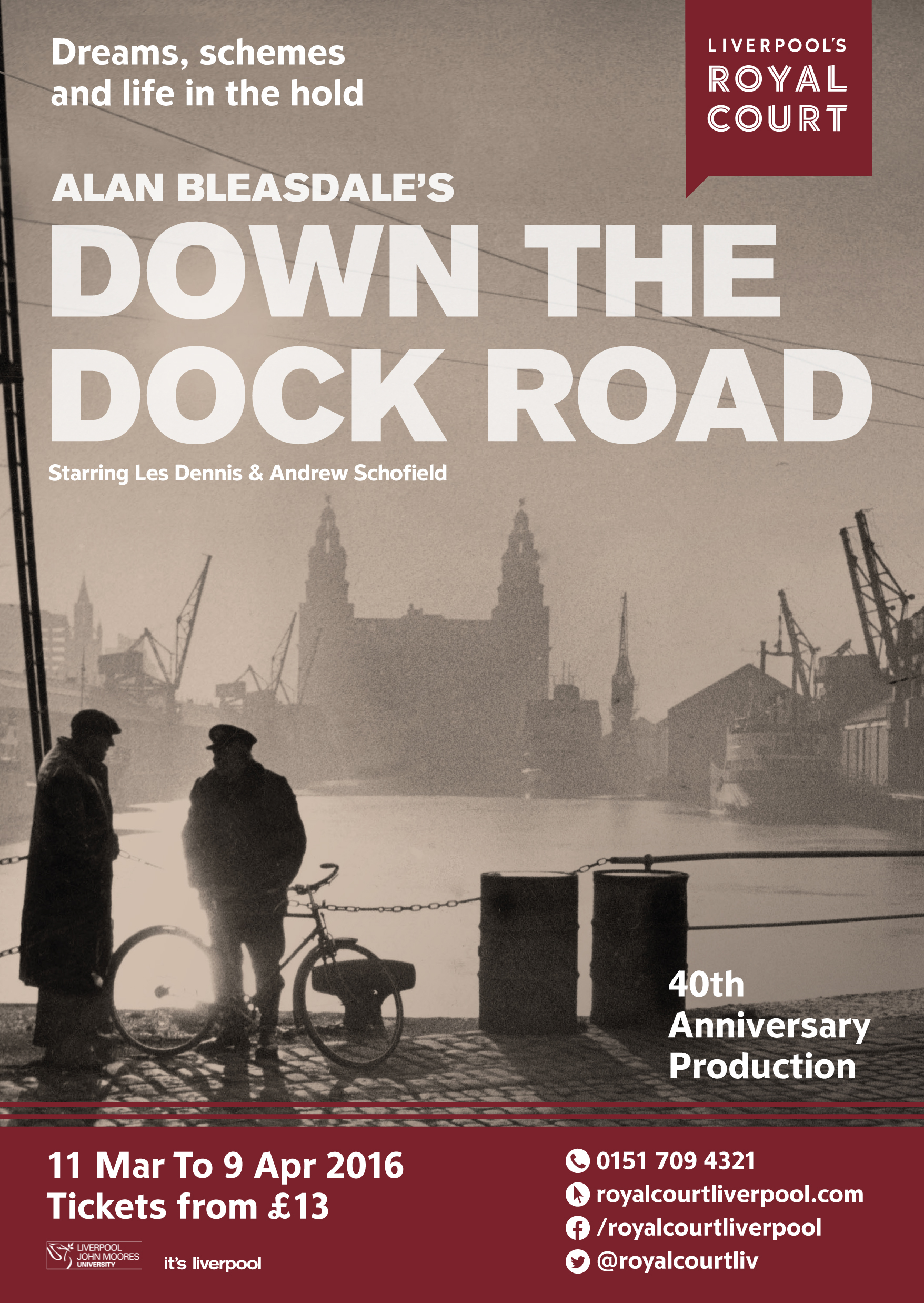 I felt at times this became off putting especially during big speeches as I found myself drifting off watching the crate movement more than listening to the dialogue.
The storyline and a lot of the jokes were very local to parts of Liverpool, especially Liverpool in the 70s, so I found that a lot of the humour and parts of the story was lost on people who weren't from the area or of a younger generation who didn't get the references.
I personally felt the play was much too long for the content it was portraying, possibly putting over the same story in a more compact way, delivering a great play in perhaps 45 minutes to an hour less time, may have been more beneficial.
The play started at 8pm which could have had an effect on the lengthy feel, leaving the theatre after a play at 10:50.
A lot of the storyline was dragged out throughout the whole play and the important and emotional parts only happening in the last 5-10 minutes, sadly at the point a lot of the audience had switched off or left as it was so late.
I felt it was cast pretty well and a few cast members stood out for me. Firstly there was Nathan McMullen as Our Kid. He had the vulnerability needed for his first day at work but just enough confidence to go along with it to see he'd make a great security guard. Next was the other security guard, Guy Fawkes played by Derek Barr. He gave a great performance portraying many emotions and keeping your attention every time he spoke.
The standout for me was James Duke who played Priest, Crane Driver, Heinrich and Night watchman. All 4 of his characters were completely different and I could have easily believed they were played by 4 different people.
Oliver Farnworth, Andrew Schofield and Daniel Taylor gave a great performance with a mixture of funny and serious parts. Also Les Dennis, Paul Duckworth, Michael Ledwich and Conrad Nelson completed this all male cast.
Directed by Hannah Chissick and stage managed by Lizzie Sullivan,
Lighting was simple but effected and provided by Ian Scott and sound by Kate Harvey.
Running until April 9th 2016.
Reviewed by Damian Riverol
Reviewed on 17th March 2016