The official website of Guys And Dolls couldn't sum up the show any better, Nathan Detroit is desperate: he needs money for an illegal dice game, and he needs it fast. Not to mention a 14 year engagement with night‑club singer Miss Adelaide whose patience is finally running out. Enter notorious gambler Sky Masterson, a guy who can never turn down a bet, and straight‑laced missionary Sarah Brown, a doll with a heart of ice. The wager: Sky has to romance Sarah by taking her to Havana for dinner and in return he'll provide a dozen 'sinners' for Sarah's mission. Surely this is one bet Nathan absolutely can't lose?
The sizzling New York tale of gamblers, gangsters and nightclub singers will leave you 'walking on air' (Daily Telegraph) with a glorious evening featuring some of Broadway's greatest show‑stopping tunes, including Luck Be a Lady, Sit Down You're Rockin' the Boat and My Time of Day. With dazzling choreography by world‑renowned Cuban ballet star Carlos Acosta and Andrew Wright (Singin' in the Rain and Barnum), and direction from New York's Gordon Greenberg, this 'production leaves the whole audience purring with pleasure'. (Times) This is one feel‑good show you won't want to miss.
A cast and orchestra of 26 is led by Louise Dearman as the long-suffering Miss Adelaide, Maxwell Caulfield as Nathan with Richard Fleeshman as Sky Masterson and Anna O'Byrne as the straight-laced Salvation Army sergeant, Sarah Brown.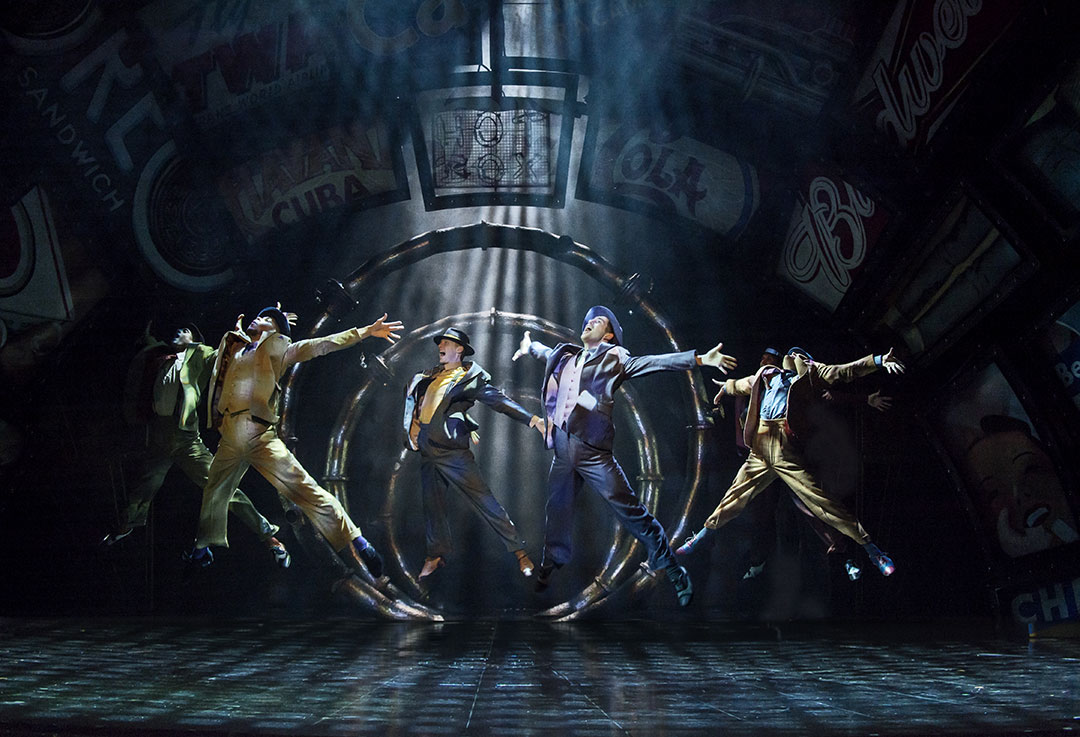 This major revival of Guys And Dolls arrives in Liverpool following a mini tour late last year which preceded a West End run at the Savoy Theatre. Such was its success the show has just extended and moved to the Phoenix Theatre as well as resuming its UK tour. Looking at the cast lists for both productions I have to say I think the touring version has the stronger cast, but only just.
From the second the show bursts into light for the opening number it is clear to see that no expense has been spared on this production with the deceptively simple set (Peter McKintosh) dominating the Empire stage and contorting into a number of different configurations to lead us through the story. Add to this thoughtful yet dazzling lighting designed by Tim Mitchell and you have a show worthy of being seen on any West End or indeed Broadway stage.
The four principals in this production are superb in their respective roles. Both the male leads whom include performances on Broadway as part of their resume are perfectly cast. Caulfield as Nathan Detroit plays the desperate gambler very well whilst trying to keep his habit a secret from long term girlfriend. Fleeshman as Sky Masterson oozes charm as the smartly dressed globetrotting gambler and also sings effortlessly throughout.
O'Byrne as timid Sarah is instantly likeable and it is a joy to watch her character grow throughout the show. With a stunning voice she captivates during the musical numbers. But the star of the show has to be Dearman as Miss Adelaide. Showing every ounce of her experience gained from shows such as Wicked, her comedic timing was as perfect as her vocals. This was not lost on the press night audience as she gained the biggest ovation of the night at the final curtain call.
Other notable performances from Jake Edwards (Nicely-Nicely Johnson), Mark Sangster (Benny Southstreet) and Cameron Johnson as Big Jule add to what is a superb companywide performance.
For me however the highlight of this show was the choreography from Carlos Acosta and Andrew Wright, it was simply stunning in every way. The energy and enthusiasm of the cast brought the visions of these two world class choreographers to life in a way I have not seen on stage for a long time.
Guys And Dolls is a joy from start to finish and if the reception the show got from the audience tonight in Liverpool this show is going to be a smash hit as it tours the country and takes up residence in the West End. I wouldn't be surprised to see it referred to before long as the "award winning Guys And Dolls".
Reviewer: Paul Downham
Reviewed: 17th March 2016