West End Story is the perfect show for the ultimate musicals fanatic! It includes a vast variety of well-loved hits from London's West End stage from musicals such as Chicago, Les Misérables, Miss Saigon, Jersey Boys, Mamma Mia and Phantom of the Opera to name only a few. The show is predominantly performed by Helen Noble, Graham Tudor, James Wolstenholme and Jessica Anne Ball who all performed admirably well considering the fast paced, action packed feel the show had! They were supported on stage by the students of Stafford College and Tread Acting Academies and the young performers were full of infectious enthusiasm throughout whilst also showcasing their impressive talent.
The talent of the four main singers is unquestionable and they all provided strong vocals throughout. A special mention has to go to Graham Tudor as I was blown away by his ability to make the audience laugh out loud with his performance in The Witches of Eastwick segment and then very quickly afterwards be incredibly moving with his strong and powerful performance as Jean Valjean from Les Misérables. All four of the singers had their particular moment to shine! Helen Noble's charming rendition of Popular from Wicked was funny and entertaining, Jessica Anne Ball's version of All that Jazz was sassy and strong, as was the accompanying dancers who joined her on stage, and James Wolstenholme's Music of the Night was very moving.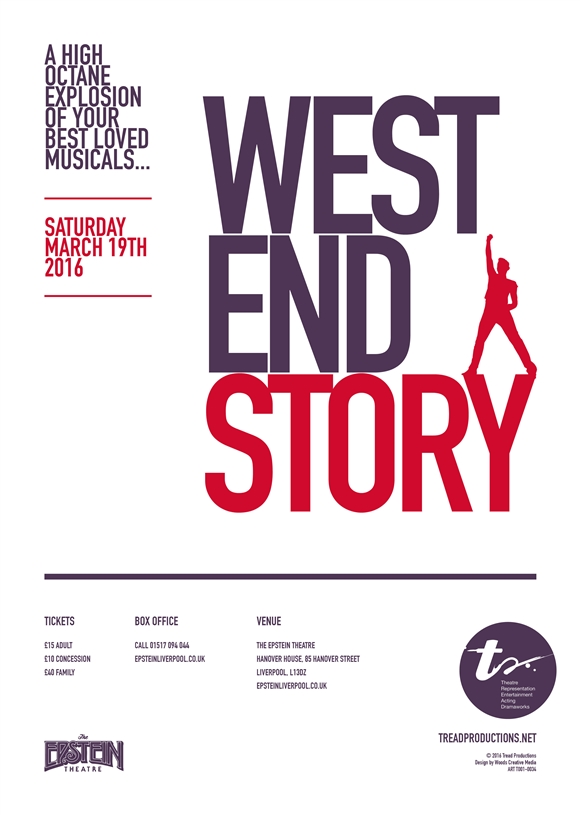 The song selection from each musical was carefully thought out and was able to perfectly demonstrate the diverse world of the west end and the different emotions that come with musicals; one minute you're laughing and the next you're crying! They saved the best for last and ended with an emotional medley from Les Misérables which was brilliant. For a musical that has been performed for so many years, with hit songs performed by some of the most respected of singers, Jessica's rendition of I Dreamed a Dream was utterly stunning and her vocal and emotional intensity was right up there with the best of them. It was definitely a highlight from the whole night.
The young performers are definitely worth a round of applause. It is always refreshing to see enthusiastic, talented performers on stage and giving one hundred per cent of their effort and energy. Their talent is clear to see, however I'm not sure about the potential health and safety violation caused by them leaping from the stage into the audience with very little warning! However, it was all great fun and they definitely appeared to have enjoyed themselves.
We were informed by Graham at the end of the show that the production team at the Epstein Theatre were successful in putting the production together in one day, and he continued to sing their praises as one of the best technical teams he had ever worked with. I can confirm that the performance as a whole ran very smoothly with only a couple of mic issues and a faulty start with the projection which indicated to the audience what musical the songs that were being performed came from. All of these problems can occur in a well-established, long running show so it is worth applauding the fantastic quality and speed in which they were able to put it together.
West End Story is an incredibly clever, impressive and highly enjoyable show! I would urge anyone with a love for musicals and the West End to witness this show for themselves if they are lucky enough to be performing in a theatre near you! Brilliant from start to finish and I highly recommend it!
Reviewer: Sarah Goldsmith
Reviewed: 19th March 2016