A Seductive Cauldron of Drama and Passion
Carmen is a four-act opera by French composer Georges Bizet, first performed in Paris on 3rd March 1875 with audiences initially objecting to the wild and immoral behaviour on view. Sadly Bizet's sudden death in June meant he did not get to see its resounding success in Vienna later that year and its subsequent international acclaim. It is now one of the most popular and frequently performed operas.
The play is set in Seville, Spain around 1820 and Act One opens on a square where a group of soldiers relax and watch the world go by. Village girl Micaela (Alyona Kistenyova) arrives seeking Don José but he is not part of this guard and she chooses to depart rather than wait so as to escape the attentions of the Corporal, Morales (Iurie Gisca). Don José (Vitalii Liskovetskyi) subsequently arrives with the change of guard before the coquettish cigarette girls appear from a nearby factory on their break to flirt with the young men and with Carmen (Liza Kadelnik), the most provocative Gypsy girl, singing her famous habanera. She has no interest in any of the men who so clearly desire her but is intrigued by the dutiful and uninterested Don José and leaves her flower with him to work its magic. As they return to their work, Micaela re-appears with a letter for Don José from his mother who wishes the pair to marry. The scene is broken as women rush out from the factory where it transpires Carmen has attacked another with a knife. Zuniga (Valeriu Cojocaru), Don José's senior officer, orders him to arrest Carmen whilst he prepares the prison warrant. Carmen beguiles Don José with a seguidilla about a night of dancing and passion and mesmerised he loosens her ties allowing her to escape for which he in turn is arrested.
Act Two is a month on with Carmen and friends entertaining Zuniga and other officers in Lillas Pastia's Inn. The chorus announce the arrival of the toreador Escamillo (Iurie Gisca) and we are treated to the famous Toreador Song as he sets his sights on Carmen but is rebuffed: she remains intrigued with the soon to be released Don José who gave up so much for her. With only Carmen and her friends Frasquita (Alyona Kistenyova) and Mercedes (Irina Melnic) remaining, the smugglers Le Dancaire (Vladimir Dragos) and Le Remendado (Ruslan Pacatovici) appear looking to dispose of their contraband. Carmen refuses to help as she is waiting for Don José. On his arrival she treats him to a private exotic dance which is interrupted by a bugle call demanding his return to barracks. Carmen wants him to leave with her but he refuses and they argue. A drunken Zuniga returns looking for Carmen and he and Don José fight, finally separated by the returning smugglers, and Don José is now compelled to leave with them and Carmen.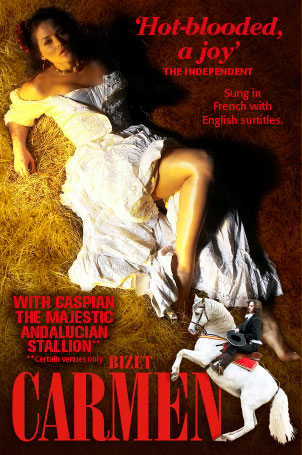 Act Three sees Carmen, her two friends, Don José and the smugglers in the mountains. Carmen realises that Don José is not the man for her and wants him to leave, especially as tarot cards have foretold her death followed by his. Micaela arrives determined to rescue Don José from Carmen but hides upon hearing a gunshot: Don José has inadvertently fired at Escamillo who has also arrived to declare his love for Carmen. They fight but are broken up and the departing Escamillo invites everyone, and in particular Carmen, to his next bullfight. Micaela is discovered and Don José agrees to leave with her when he realises his mother is dying although he intends to return for Carmen.
Act Four starts with a display of horsemanship as we return to Seville near to the bullring where a crowd welcome a parade of chulos, bandilleros and picadors before the arrival of Escamillo and he and Carmen express their love for each other. After the crowd have entered the arena, Carmen is confronted by the jealous Don José. When she throws his rang back it serves only to tip him over the edge and he stabs her in a scene that cleverly emulates a toreador and bull and she dies to the sound of the crowd's applause for Escamillo's actual victory within as José laments and confesses to killing the woman he loved.
This was an excellent production by the celebrated producer Ellen Kent who also directs and with Vasyl Vasylenko conducting, the music perfectly reflected the brooding intensity of the action on stage. Performed in its original French, the action and singing performances combined with the music more than suffice to take one through the story though the addition of English surtitles ensure that everyone is able to follow the piece. The adaptable set construction was outstanding and reflected the architecture of Seville with its Roman and Moorish influences.
Kadelnik perfectly captured the full gamut of emotions of Carmen as she lurches between love and disdain in such a carefree manner. Liskovetskyi pulled out all the stops as Don José with strong solo performances that garnered the support of the audience in his inevitable descent from duty to ruin via his love for Carmen. Gisca's Escamillo displayed the right balance of bravado and swagger. The standout performance was Kistenyova's Micaela with a perfect combination of acting and singing entrancing the audience as she seeks to love and be loved by Don José: her solos were greeted with spontaneous applause every time.
The main cast was admirably supported by Stagecoach Theatre Arts Salford and Didsbury & Star Now who provided the adult and junior members for the large chorus required by this opera: one hopes this experience will drive at least one of them to progress to a main role in years to come. Special thanks are also due to AB Film Horses who provided Caspian, a white Andalucían stallion, and to Alwood Donkeys for providing Guiness: Kent's mother ran an animal rescue centre in Andalucía in the 1960's and she continues this fine tradition by using rescue donkeys in the performances of Carmen and it was fitting that a collection was made for animal welfare at the end of the evening.
Carmen is touring throughout the UK and Ireland with full details available at www.ellenkent.com
Liverpool Empire Theatre dates from 1925 and has the largest two-tier auditorium in Britain which can seat 2,350 people.
Reviewer: Mark Davoren
Reviewed: 23rd March 2016