Coming in at just over one hour, this World Premiere promenade production of a condensed version of J.S.Bach's St. Matthew Passion is a very confident and uplifting visual and aural Easter spectacle, and is just the right length for tired feet to cope with after a long and hard day! [There was very limited seating available and no toilets in the venue].
The piece was performed in a joint venture between Streetwise Opera and The Sixteen in association with HOME (Mcr).
Streetwise Opera are an award-winning charity which run opera and other music projects with people who are either currently homeless or have experienced homelessness, and The Passion marks their tenth production since starting in 2002.
The Sixteen is an ensemble of musicians and singers who number, no, not sixteen. but twenty-seven! They are world renowned and specialise in early classical music and use mostly period instruments. They were in fine form this evening, both choir and musicians being under the firm direction of Harry Christophers.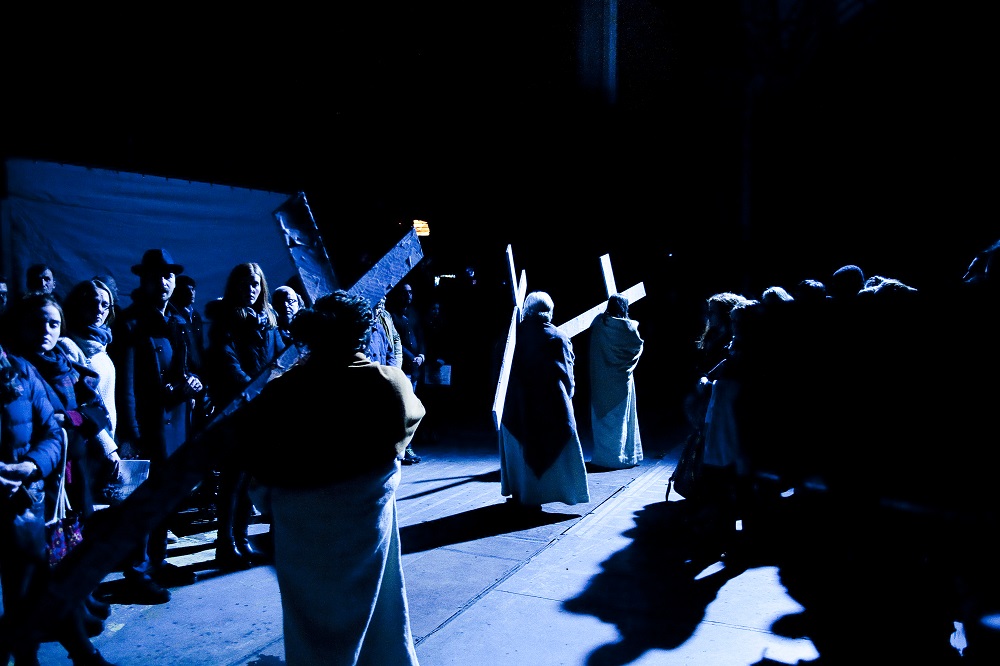 Vocally, the members of Streetwise Opera could not in any way compete with the principal singers, but that somehow didn't really seem to matter; the energy, commitment and indeed actually really rather impressive acting, more than made up for this.
The principal role of what basically is a narrator but given the title of Evangelist went to Joshua Ellicott. A wonderfully sweet and beautifully pitched tenor voice. Helped along with the more demanding roles were four other beautifully sonorous voices which saw Matt Reid as Judas, Jeremy Budd, Ben Davies and Kirsty Hopkins as Disciples.
There were some really nice 'pictures' created with the ensembles - both Disciples and High Priests, and I really liked the High Priests costumes! Unfortunately due to both the number of audience, (who didn't really move around the space very much at all), and the more than obtrusive BBC cameras, viewing - depending upon where you were positioned - was not optimal; and being short, I really needed to be at the front which I wasn't! However, the directing, by Penny Woolcock was consistent and truthful, and three screens at the back of the main stage which projected some of the action for us too was very helpful!
There was a new resurrection ending to the music too, specially commissioned and written by Sir James MacMillan, which ended in diminuendo repeats of, 'And the rain starts to fall.' An interesting way to end one of the Christian world's most famous pieces of Easter music.
The whole production was being recorded by the BBC and will be televised on BBC4 on Sunday 27th at 7:00pm. The only other performance of this is tomorrow evening at 6:30pm but is already sold out, and so set your TV recorders or watch it on Sunday!
Reviewer: Mark Dee
Reviewed: 25th March 2016