Something Wonderful: A Celebration of Rogers and Hammerstein had our toes tapping and singing along under our breath on this Saturday night at the Hope Mill Theatre in Manchester. For my second visit to this new Manchester venue it proved its versatility by hosting a completely different layout to my last visit. I am sure Hope Mill is going to become the hottest fringe venue in Manchester before very long.
I digress, back to Rogers and Hammerstein. This evening's cabaret revue style performance was a joyous celebration of this duo who became synonymous with musical theatre in their day, although they interestingly only wrote 5 musicals together. Presented to us by four superb performers whom all have musical theatre experience in some form or another… James Lacey, Sharon Byatt, Emily Chesterton and Michael Fletcher. They were also joined by 6 students from Rare Studios who were confident, acted their songs out well and never without a smile on their face.
Opening with a medley of songs from this famous duo the first half of the evening then seemed to feature The Sound Of Music quite heavily, not that that is a bad thing as it is probably the best known work from Rogers and Hammerstein. Lacey, whom spent time touring with The Sound Of Music shared some of his memories from the show before singing "I Have Confidence" complete with suit and guitar case and a hat!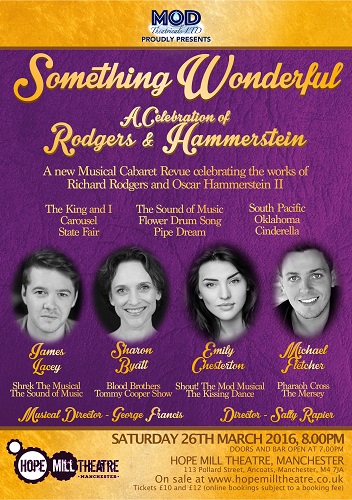 Throughout the evening each soloist took to the stage to speak of their memories of Rogers and Hammerstein and to perform their favourite piece of work from them. All gave confident performances with Fletcher standing out for me. He had a level of stage presence the others didn't seem to reach and a superb voice to boot. His duo with Lacey performing "I'm In Love With A Wonderful Guy" from South Pacific in the second half possibly had to be seen to be believed, a true showstopper!
The second half began with "You'll Never Walk Alone" from the wonderful Carousel. During this second half we heard the only song from this writing duo that received an Oscar. From the musical State Fair the beautiful "It Might As Well Be Spring". The evening finished off with a rousing performance of Oklahoma which included the whole company and sent the audience on their way no doubt singing to themselves in the car on the way home.
Under the musical direction of George Francis and direction of Sally Rapier this was an immensely enjoyable evening for any musical theatre lover and I hope we see more of the same in the future featuring other musical theatre heavyweights.
I cannot leave this review without mentioning the lighting in this performance. I am not sure how but mid-way through songs the lights just dimmed for no reason leaving the performer at the time in near darkness. There was no pattern to this happening, yet it continued throughout. Credit to the performers on stage who didn't let this phase them one bit. From an audience perspective it looked not only unprofessional but was also extremely annoying.
Reviewer: Paul Downham
Reviewed: 26th March 2016