Showmanship AND Genius
Simon Callow is better known as a star of films such as Four Weddings and a Funeral, Amadeus, Shakespeare in Love and The Phantom of the Opera amongst others. What is less well known about this Lawrence Olivier award winner is that it is his work in theatre, following a stage debut in 1973, and in particular his critically acclaimed performance as Mozart in the original stage production of Shaffer's Amadeus at the Royal National Theatre in 1979, that brought him great acclaim and led to greater prominence in turn in his much-loved roles in television and film.
As well as his work as a theatre and opera director, his work as a writer may be less well known too from his first book, 'Being An Actor', a critique of 'director dominated theatre' and which was followed up with 'Shooting the Actor' which tackled the subject of acting for the screen. 'My Life in Pieces', an alternative journalistic autobiography, incorporates some of his widely read journalism with memoir.
And then there are the biographies. His first on Charles Laughton in his own words was to 'celebrate greatness' of an outstanding actor. He has also produced shorter works, which have toured, about Shakespeare, Dickens and Wilde. But Callow's greatest love, call it his destiny, is his biography of Orson Welles. What began as an anticipated two-volume, four-year project has turned into a 25-year foray reliving the life of his idol and inspiration and we've only just seen the publication of Volume three (of four) which this tour celebrates.
The Studio at The Brindley, Runcorn was the perfect intimate venue for a night of discovery about Orson Welles, a man renowned as a great raconteur and equally content at not letting the truth get in the way of a good story, particularly if it was about himself. Callow appeared with a lectern to his left to hold his new book and a table to his right with a jug of iced water and a glass. Whilst there was occasional reference to the latter to wet a dry throat there was no need to refer to the former - when you've spent the time Callow has on researching his subject which includes travelling throughout the world to meet anyone and everyone with a connection to Welles and hear their memories good, bad or indifferent, you don't need to refer to a text.
Callow begins with a brief self-deprecating background introduction to himself and what brought him to begin this journey of discovery including a very funny impersonation of Laurence Olivier with whom he first worked. He is himself a great raconteur and armed with the facts he takes us on a tale from Welles' humble beginnings in Wisconsin and the contrasting behaviours of his parents - the showmanship of his self-made father versus the reformist mother whom he lost at a young age yet remained the voice of his conscience. From writing travel columns for The Chicago Tribune as a young teenager, angst took him to a reformatory school adopting new teaching methods which allowed his precocious understanding and enthusiasm for all things theatrical to come to the fore. Always bearing the frustration of a missed childhood, and with behaviour that suggested he yearned childhood innocence, he lost his father to alcoholism before he was an adult, and for which he felt guilty the remainder of his life having not been there to support him one last time.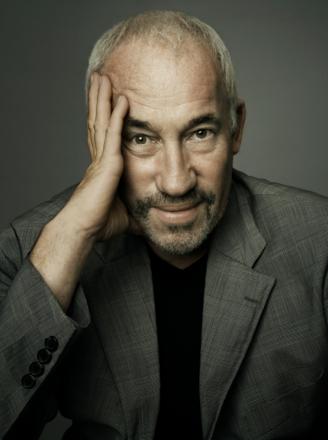 A trip to Ireland in early 1930's which was re-discovering its own sense of life, language, art and culture gave him his first proper theatrical break and he was to return to America where his stories of great exaggeration and a large dose of good fortune saw his breakthrough in his own productions including Dr Faustus and Julius Caesar before the infamous War of the Worlds radio-skit nearly got him in a lot of trouble prior to the production of Citizen Kane at the advent of America's involvement in World War II. We broke for an interval at this point as Callow dryly observed that we had now reached the conclusion of Volume 1!
The second half commenced with Callow noting that it was also at this point that he had realised that a two-volume work was not going to suffice and had agreed with the publisher that there would in fact be three volumes. The second volume, Hello Americans, would concentrate on the not very well documented five-year period that followed where Welles was in limbo and available information would require some unravelling which Callow with plenty of heart and gusto has certainly done as we observe Welles' life enter its second phase, renowned for his bad luck in contrast to his earlier good fortune, as time and again every great opportunity, such as the film 'The Magnificent Ambersons', self-destructs and we are left with only glimpses of the ability and talent Welles had to offer as he took advantage of well-paid acting roles to fund his own productions but without ever fully seeing them through.
The ensuing twenty years covered by the third volume sees time and time again these moments of glory crumble in Welles' grasp as he rails against every sense and assistance to do it his own way with inevitable consequence until we come full circle in the film that he, and Callow, consider his masterpiece: Chimes at Midnight, which in offering a richness and fullness that had been lacking in his work for some time, perfectly mirrors his relationship with his father as we observe the relationship between the old reprobate that is Sir John Falstaff and the young, caring Prince Hal who, on his coronation, is to deny the older man: Wilde once wrote: 'Life imitates Art more than Art imitates Life.'
Callow is clearly well researched - he more or less took up residence at Indiana University in Bloomington where the greatest Welles collection is to be found - as well as passionate about his subject. What is equally impressive is the honesty of his approach: we see Welles, warts and all, through Callow's fascination and frustration and the clever use of anecdotes as his nefarious antics far too often belied his natural talent and ability: sadly for all his brilliance, Welles either didn't know how to play the game or didn't want to. It was a shame this entertaining evening had to come to an end, but fortunately there are still nearly another twenty years left to explore so roll on volume four Simon!
Simon Callow is almost three quarters of the way through this tour but there are still over ten venues left for the balance of March and early April. Full details at http://simoncallow.com/ including his full bibliography with links to purchase.
The Brindley Theatre is owned by Halton Borough Council and is the main centre for arts and entertainment for the borough of Halton which covers the twin towns of Runcorn and Widnes on either side of the River Mersey. Opened in 2004, facilities include a 400-seat theatre; 108-seat studio; gallery space; digital cinema and a bar & terrace cafe. Further information is available at www.thebrindley.org.uk
Reviewer: Mark Davoren
Review Date: 29th March 2016