For someone who sits through a lot of plays and musicals, it was a refreshing change to go back to where it all started for me, as a dancer and then a drummer, the possibility of seeing a show that combined these two things was hard to resist (and I had David Hasslehoff to thank, as his musical was mysteriously cancelled hence this last minute decision), and it was also a chance to see a venue I have not seen in many years.
There's something quaint about the venue, even if it is a little chilly. The stage is adorned with scaffolding and big drums emblazoned with toxic signs and a single drum kit takes pride amongst it all. 'Stomp' has a lot to thank for this style of production and it's easy to see its influence had not been missed in this production. I wasn't expecting a story, and I didn't really get one, other than it's a bunch of guys in a 'factory' and a new guy who tries to fit in with them, amongst many scenarios including a step ladder, making a cup of tea, and reading a newspaper, but these are all just to give some basis to create a scene obviously, and to be fair it didn't matter as I came for two things, drums and tap, and they were there in abundance with precision and rhythmical dexterity enough to keep any old tapper happy.
The main guys are no spring chickens, so the 'sexy' element of the poster is a little lost on me, but I cannot take away their sheer talent and capability which is outstanding. Tap has long been something I have endeavoured to get back on the map, including it in many of my showcases, and I have been saddened to see how many people no longer study it, shows like this are a dream to watch and if only 'the youth' of today could see the talent needed to perform such complex rhythms and patterns they would be blown away. To add to this, there are two gymnasts in the show, one who does aerial work and some impressive balancing and another who backflips and tumbles with such light precision, the lady behind me felt the need to express 'it's like he's in slow motion'.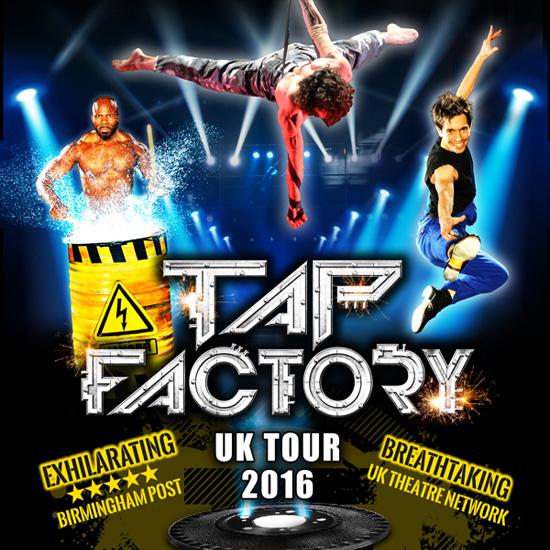 Hailing from all over the world, these guys never really speak on stage, but it doesn't appear to matter, as it's their feet that really do the talking. The whole thing is 'compered' (I use the term loosely considering I have no idea what language he spoke in, so for the audience it wasn't always easy to follow what he was trying to suggest we do, by a hip hop dancer who performs a bit of popping and locking for the 'youth' no doubt, and the main drumming is lead by a highly talented man playing on the kit, whilst all performers play along on a range of percussive instruments throughout, including water drums at one point, the evening is pretty much entirely drums and taps, with only one number having musical accompaniment played by a track. I always say I can tell the quality of a show based on how zoned in I am on the action and whether I find myself looking backstage or around the auditorium, to which I can say, I did not look anywhere but on stage for the whole evening.
The acapella tapping was stunning, their timing exquisite, with an array of outstanding rhythms that this highly trained drummer and tapper herself knew how complex they were.
In particular the highlight being a routine danced with drink cans, in which the guys kicked their legs head height whilst working in cannon and simultaneously tapping.
I've seen tap change over the years, from the Gene Kelly style, through the Riverdance era, and then the likes of 'Got to Dance' put street tap a bit more on the map. This is hopefully the appeal of this amazing dance form, it has so many styles within it, and as much as ballet always seems to carry the true hierarchy in the dance world, I challenge anyone to see this show and not be wowed by the art form that is tap dancing. Combine that with the other totally underappreciated musical art form that is drumming (pardon the pun that the stick I got for being a drummer over the years never failed to depress me) and you have the recipe for one amazing show. For tappers it is timestep-tastic and drummers its paradiddlelicious.
This it the second night of a 37 night run in the UK, before they head off around the world again before returning in July, and I for one cannot praise them enough and recommend you see them more. I certainly shall be keeping an eye, and an ear out for them in the future.
Reviewer: Michelle Ruse
Reviewed: 22nd March 2016
Advertisement: