Wow what a perfectly piggy spectacular show!
The Lowry Lyric Theatre's auditorium today was bursting with excited preschool children accompanied by grown-ups of all ages. Although Peppa Pigs Surprise show is recommended for children of 3 years and over, many of today's audience members were under the age of 1 years old. Yet despite being very young and some were just babies in arms they were just as captivated and glued to the stage performance as the older children. Credit to this magnificent cast and staging, for its fast paced and wonderfully entertaining stage production. Transferring and adapting an immensely popular TV children's show like Peppa Pig onto stage for live theatre is no easy feat. Although Fiery light production company and production manager Jill Ashall and her team made it all appear so easy.
From the second Daisy (Emma Grace Arends) a very talented musical theatre actress bounced onto the stage the scene was set for an afternoon of fun. Followed by the well-known characters Danny Dog, Susie Sheep and Pedro Pony playing hide and seek, with a crew of puppeteer's and an excellent theatre cast (Auriol Hatcher, Liam Farrow, Lauren Martin and David Sandham) had the children squealing with joy and wide eyed with anticipation of what was to follow. Karl Evans Studio responsible for creating the puppets did a sterling job of making the familiar characters animated and realistic to their cartoon counterparts.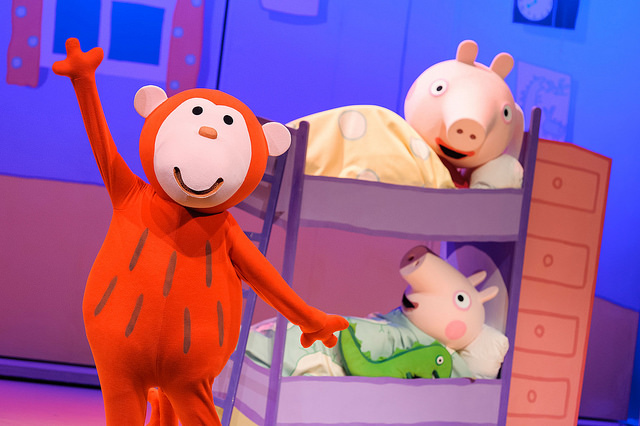 Peppa Pig (Emma Hilts) George (Melanie Ann) Mummy Pig (Auriol Hatcher) and Daddy Pig (David Sandham) entered next bringing the audience to a crescendos of excitement wooing and whooping with delight. The whole show was electrifying for its young audience with plenty of original music (Mani Svavarsson) and lyrics (Matt Lewis) that were cleverly used to sustain the upbeat fast tempo of the show. Familiar songs such as the 'Bing Bong' song and the 'aye aye ippy ippy aye' song were interweaved to give the songs a familiar but new feel to them.
Bath time never seemed so much fun but with magic bubble making and an all-time splashing fun scene this had the audience once again hooting with glee. Topped only by the muddy puddle scene and song that had a special surprise for the audience who was unexpectedly soaked by super soaker water guns.
The staging was simple but effective and the familiar little red car and bedroom bunkbeds gave rise to many cheers and claps as these recognisable props appeared.
By far my favourite scene was the rock pool adventure when the children were introduced to illuminated dancing sea creatures that made the whole experience of live theatre and puppetry seem new and exciting to the children, seeing them wide eyed and mesmerised was truly a sight I will cherish from today.
The show is touring the UK in theatres up until the end of August 2016, a list of venues and dates can be found on the website www.peppapiglive.com
I would highly recommend this show to all from ages of 0-99 years old as it's a true family fun show. Seeing children enjoy live theatre and watching them clap and dance and join in as best they can is an experience that warms the heart. Grown-ups faces illuminated with sheer joy as they see their little ones whoop woo and giggle is just magical. Peppa Pigs surprise is the perfect running time to keep little ones seated and engaged as it is made up of two 30 minute halves with a 15 minute interval. To sum up in the words of my three year old companion today "wow that was awesome"
Reviewer: Victoria Wilmot
Reviewed: 30th March 2016