The Beanfield is an innovative and stunning piece of performance art. It is best described as a part play, part documentary which works surprisingly well. Performed at the intimate space that was basic yet perfect, this production excels.
The show recreates the story of 'The Battle of the Beanfield' in 1985. Travellers were confronted by 1000 police officers on their journey to the Annual Stonehenge Festival. The police used brutal force, bloody violence and arrested many, all of which weren't convinced. Nick Davies of the Guardian, who was present on the day, described it as "an act of organised bullying". It's now been 30 years since the day itself and memories and nightmares still haunt those involved.
Presented at the HOME Theatre in Manchester in association with Breach Theatre, it is one of the freshest and up to date productions I have seen in a while!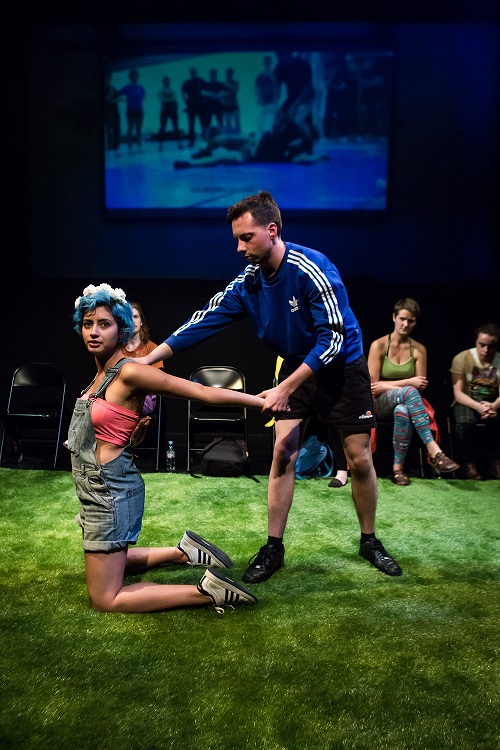 The play follows an unusual format of having sections of poetry, scenes, physical theatre and stage combat – all squeezed into an hour of jaw dropping and thought provoking theatre. The part the really worked for me were the sections of interviews in which an actor would ask a question to the screen and the interviewee on the screen would answer. Additionally, the moments on screen of re-creating the battle itself with a 'fly on the wall' type of documentary worked perfectly and invigorated and captivated the audience to a point of sadness and true understanding of the injustice of the day. It is absolutely a piece of absurd theatre, but it does have a heart. It's darkly comic script and brilliantly talented cast, it was a concept that the cast made themselves which is why you can feel the determination of the actors to educate and make this production thrive to a point that different to most plays.
I have to admit, I left the theatre thinking and distracted, even on the train home I kept thinking of this production. It is a piece of theatre that will make an impression and keep you entranced long after the end. It was a beautiful, horrific, hilarious production that gives you a new way to think of the world. The biggest congratulations and Thank You to the cast: Billy Barrett, Ellice Stevens, Grace Holme, Anna-Himali Howard, Max Kennedy and Tom Wright.
Don't fail to see this production; it is utter perfection from start to finish. See the companies twitter @Breach_Theatre for more information or visit www.homemcr.org with the show playing at HOME until the 2nd April.
Reviewer: Brad Wilson
Reviewed: 31st March 2016