Rock band Green Day, who first charted in the Nineties, are well known for their frenetic live shows, and are often credited with reviving a mainstream interest in punk rock, have brought together their songs from the album Grammy award winning album American Idiot, as a sung-through stage adaptation. From the book by Billie Joe Armstrong and Michael Mayer, with music by Green Day and lyrics by Billie Joe Armstrong, American Idiot loosely tells the story of three adolescent friends, (expanded from that of the concept album), who set out to flee a stifling suburban lifestyle and parental restrictions.
Johnny (Matt Thorpe), Tunny (played by Understudy Cellen Chugg Jones), and Will (Steve Rushden), are suburban youths living unhappily in "Jingletown", USA and engrossed in TV, are feeling fed up with the state of the union, explode in frustration ("American Idiot). Johnny ("Jesus of Suburbia"), Tunny and Will start drowning their sorrows and feelings of anger and rebellion and decide to leave home to escape.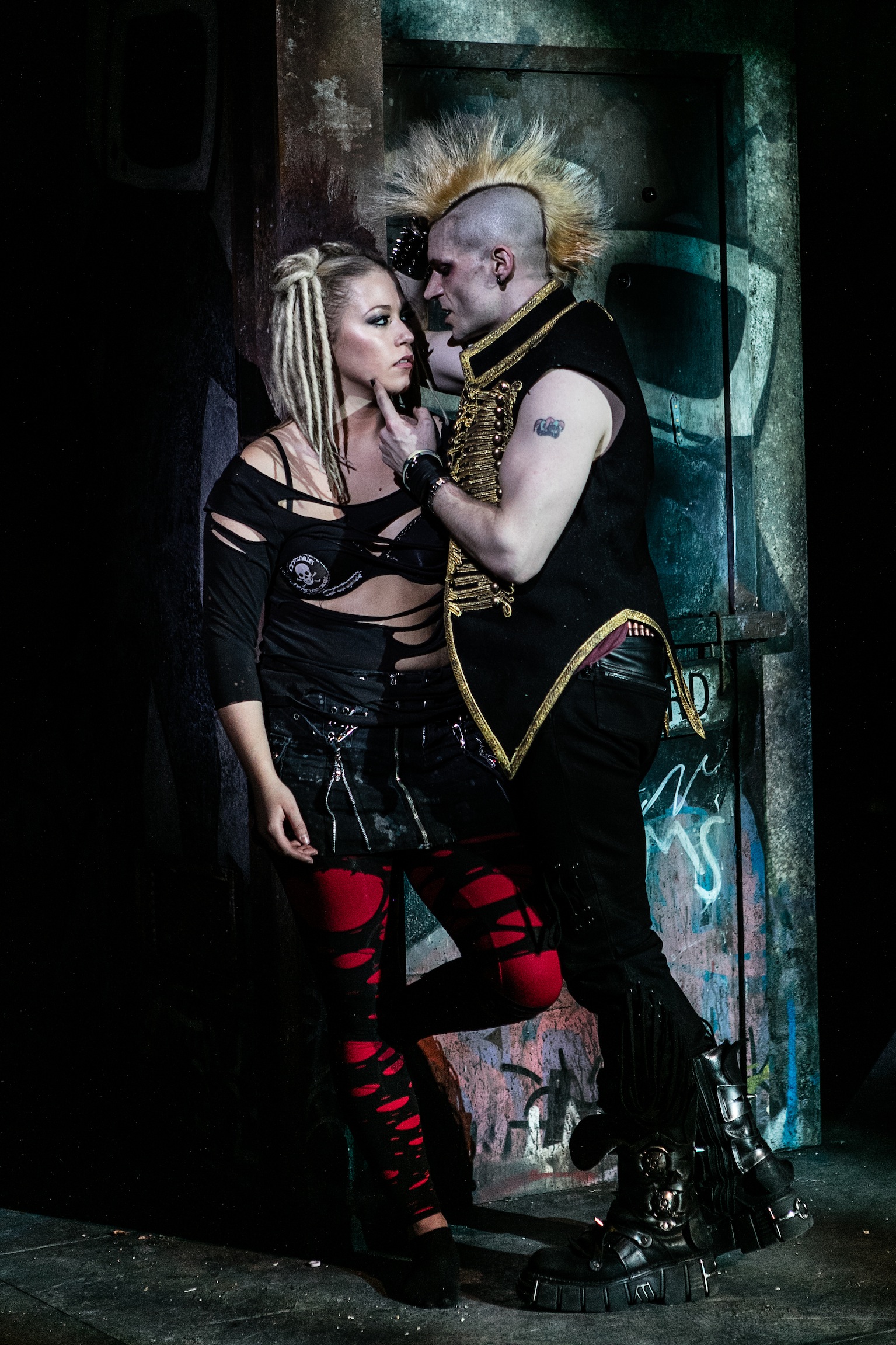 The three pack and are set to leave when Will finds out that his girlfriend is pregnant which forces him to opt out at the last minute to stay at home and work out his relationship with girlfriend Heather. Johnny and Tunny continue into the city in order to look for meaning in life and try out the freedom and excitement of the city. Tunny, after seeing a TV advert for the military, quickly gives up on life in the city and opts to join the army, and is soon shipped off to war. Johnny becomes frustrated and discovers his alter-ego, St Jimmy (Lucas Rush), and soon turns to a life of drugs, from snorting cocaine to injecting heroine, Johnny really starts to lose track of reality, however the drugs bring a new found confidence along with the help of St. Jimmy, he then makes a successful move on the girl in the window ("Whatsername", X Factor 2011 finalist Amelia Lily) and the pair embrace a passionate drug fuelled relationship. Meanwhile, back in Jingletown, Will feels trapped by his heavily pregnant girlfriend and begs for release. Tunny is deployed to a war zone and injured resulting in hallucinations. The three friends are eventually reunited and return home together.
American Idiot first premiered at the Berkeley Repertory Theatre, California in 2009, followed by a run on Broadway in 2010-2011. An International Tour followed, and the show first hit the West and in 2015. The show has had mixed reviews, however it seems to be highly popular amongst avid Green Day fans which was clearly the case at last night's opening night at the Palace Theatre, Manchester, receiving a full standing ovation.
After a rather delayed start time, so much so I was even starting to think they were going to announce a cancellation, at 7:30pm (the advertised start time), the then exceedingly large crowds were eventually let into the auditorium and the performance started a little before 7:50pm. I admit I was never a fan of Green Day myself, personally finding their music a little too heavy for my liking, and despite several attempts by friends to go and see the show with them during its West End run, whilst I was living and working in London, I refused to go and see it. Tonight I was filled with nerves and not quite knowing what to expect. Although I recognised a few songs ("American Idiot", my favourite - "When September Ends" "Know Your Enemy" and "Boulevard of Broken Dreams"), the majority of the songs were "new" to me. I knew from the style of music the show was going to be loud, heavy and drug fuelled and I was right in this preconception, but I did not found this bothered me too much. I loved the stage set and fantastic choreography which for me was what made the show a pleasure to watch, however, as with typical "jukebox" musicals, I felt the story was somewhat weak and patchy in places, like a jigsaw puzzle with missing pieces. The lead roles however were all outstanding and I couldn't help but love alter-ego St Jimmy.
I would definitely say the show is worth watching at least once, in fact I would say you'd be a bl@@dy idiot to miss it!
American Idiot is on at the Palace Theatre until Saturday 9th April.
Reviewer: Lottie Davis-Browne
Reviewed: 5th April 2016
Advertisement