When you think of the humble beginnings of Willy Russell's Blood Brothers, it is hard to believe that it has become what it is today. It is a piece of work that Willy Russell originally spawned from a memory at the age of eleven. After much internal deliberation about being taken seriously as a composer, he was thrown into doing a play for Merseyside Young People's Company and decided, in his own words 'to do just that'. After its opening at Fazackerley Comprehensive, Willy Russell immediately began to write what we now know as the full scale musical version of it.
'I knew that if I allowed this smaller version to become too fixed in my brain, I'd never move on to the full musical version' (Willy Russell 2016).
Blood Brothers tells the story of Mrs Johnstone (Lyn Paul), a young carefree girl who falls in love, single mother of seven and expecting twins. Frightened of the welfare officer, Mrs Johnstone (Paul) agrees to give one of the twins to her employer Mrs Lyons (Sarah Hay). Mrs Lyons (Hay) is unable to have children so a secret pact is made that Mrs Johnstone can see her child every day at work but she must never mention the reality of the situation. Eventually, this all becomes too much for Mrs Lyons who feels that Mrs Johnstone is too close to the baby and dismisses her. The twins Mickey (Sean Jones) and Eddie (Joel Benedict) have become firm friends and this worries Mrs Johnstone. She is very superstitious after being told by Mrs Lyons that separated twins who learn of their fate are sure to die on the very same day as the revelation.
Lyn Paul first took on the role of Mrs Johnstone in 1997. Over the past 18 years she has reprised the role several times all over the country and was also part of the final West End cast. Her passion on stage this evening made the performance feel like her first time. Her voice was beautiful and following the final musical number 'Tell Me Its Not True', Lyn Paul was visibly emotional (as were the entire audience) and I found it extremely touching that she is able to evoke such emotion even after her numerous performances as Mrs Johnstone.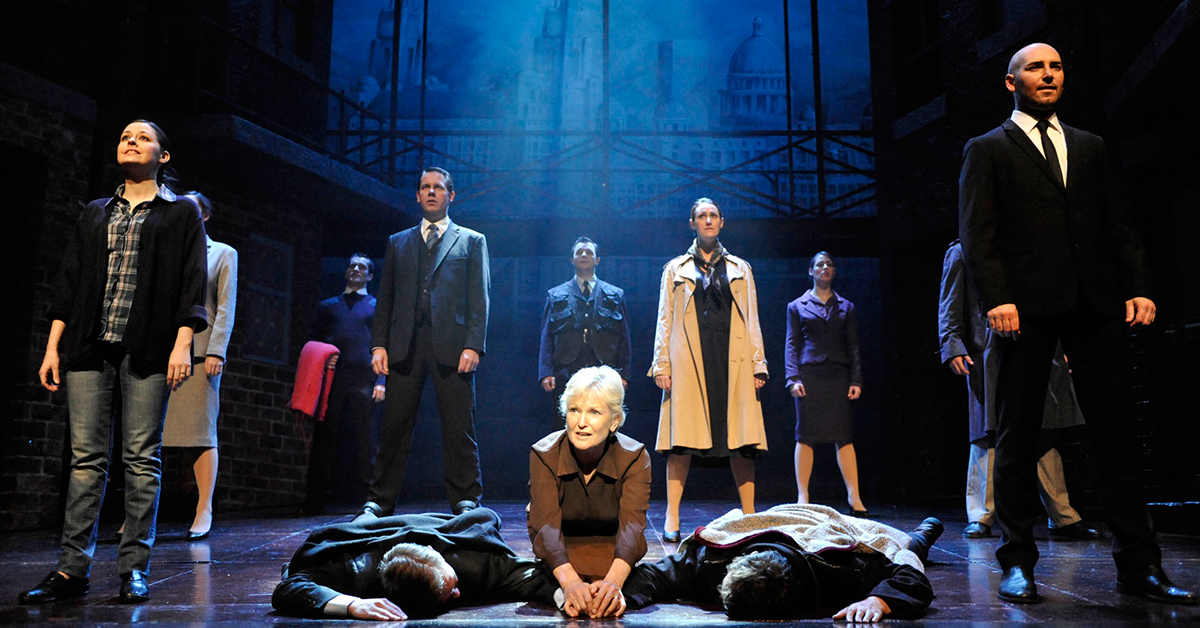 Another member of the final West End cast is Sean Jones. He played the role of Mickey fabulously. He gave a believable performance of a seven year old boy and consistently portrayed Mickey in a believable way into adulthood. Kristofer Harding played the role of narrator. He was on set more or less throughout the entire performance, looking on lovingly as Mickey (Jones) and Eddie (Benedict) grew to love each other. His ability to change into the menacing conscience of Mrs Johnstone (Paul) and Mrs Lyons (Hay) is testament to his acting talent and if I had to pick a favourite performer, it would be him. Only one member of the cast is originally from Merseyside (Lois Molloy who played Brenda) but each of them carried off the scouse accent brilliantly and had the audience believing that each and every one of them was a born and bred Liverpudlian.
The set (by designer Andy Walmsley) was simple but effective. Act 1 was a backdrop of inner city Liverpool, the world famous Liver buildings and rows of terraced housing. Act 2 was similar in design but this time the backdrop was of the rather more countrified area of Skelmersdale which is an area well known as the overspill of Liverpool. The lighting was perfect, light and airy when needed but also hauntingly beautiful when appropriate. The musical numbers gave the same feel although there were some parts that were difficult to hear. Having visited the venue before (Blackpool's Winter Gardens), I have experienced the same issues with sound so it is a fault with the venue rather than with the cast and crew. Otherwise Winter Gardens is a beautiful venue which has been used for many events over many years but still has a very modern feel about it.
Blood Brothers as a story explores many issues ranging from poverty, crime and perceptions of the wealthy through to drug abuse and mental illness and it is easy to see why it is used in the GCSE English syllabus. For me, the biggest question is which mother is in the wrong? My opinion is both but Mrs Johnstone is a much easier character to identify with, a working class single mother trying to do the best for her children. I found it difficult to sympathise with Mrs Lyons whereas my heart was breaking for Mrs Johnstone.
Overall, Blood Brothers, although a very simple concept, is unbelievably outstanding and I would urge theatre goers and non-theatre goers alike to ride the emotional rollercoaster that Blood Brothers will inevitably take you on.
Reviewer: Ann Ellen Fazackerley
Reviewed: 5th April 2016