Into the Hoods is the ultimate feel good Hip Hop show that has been based on Stephen Sondheim's popular musical Into the Woods. The show follows the story two school children who find themselves lost and on the "Ruff Endz" estate. They meet the landlord of "Beanstalk Towers" who sets them the challenge of finding his daughter's four birthday presents before he will help them home. They need to obtain an iPhone as white as milk, a trainer as pure as gold, a hoodie as red as blood and a weave as yellow as corn.
The fairytale characters of course have a modern twist in this performance. We firstly meet Spinderella who is an aspiring DJ, followed by Lil' Red, a singer trying to gain a record deal and then Rap-on-Zel, who, as you would expect, performs modern and novelty raps whilst dragging her long hair around the stage. Along with many other wonderfully eccentric characters, all accompanied by a talented ensemble of street dancers.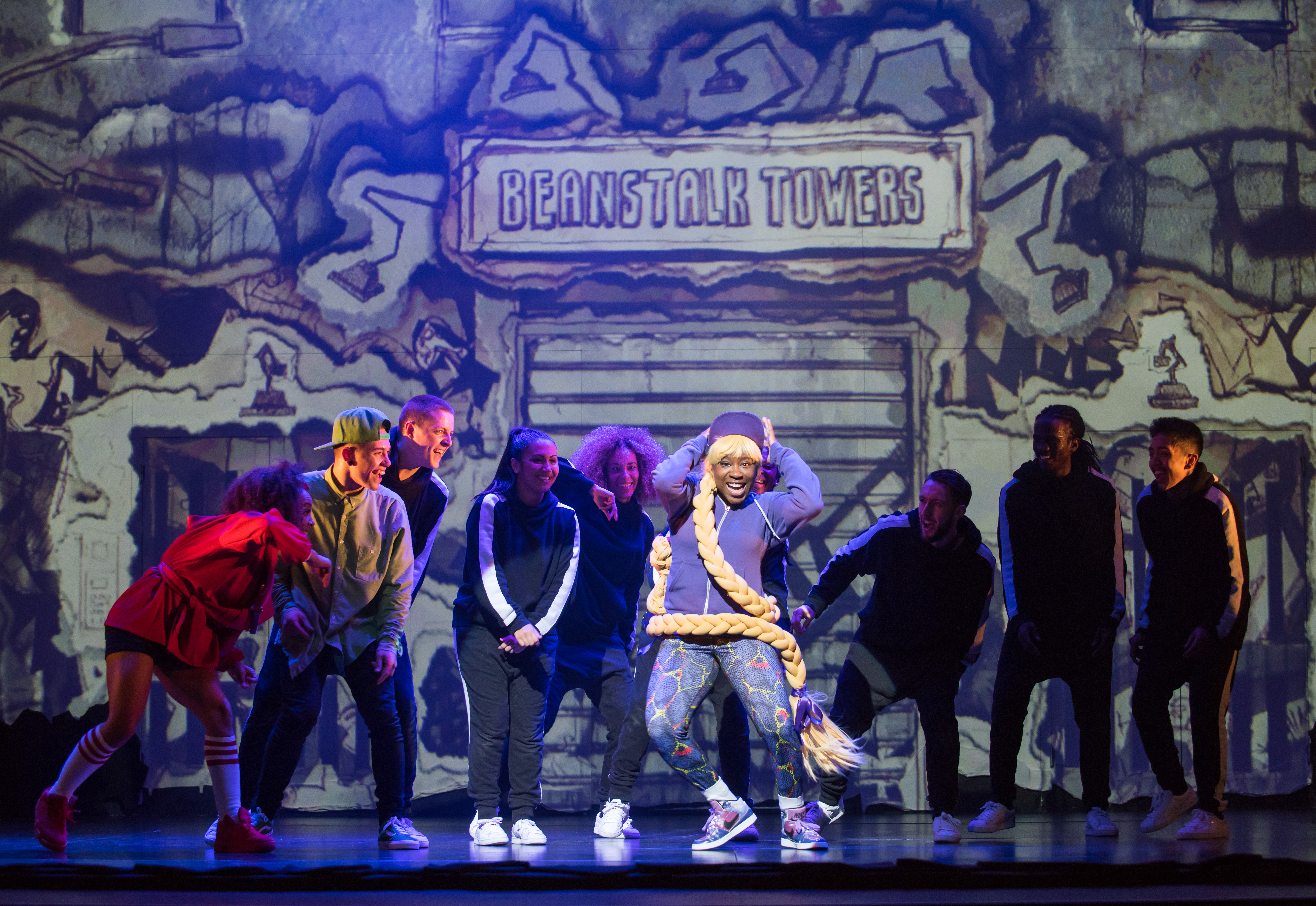 The shows set and impressive use of projection allows them to create unlimited locations and props in the blink of an eye. The wonderful stylised cartoon images used transports the audience into this crazy world where the characters live. There is even a moment where the character Jaxx uses the projection to interact with the Giant by placing an item into this hand through the cleverly designed set. This combined with the fantastic narration and remarkable sound effects made for one impressive piece of theatre.
The music used is a mixture of well-known classic hits and hip hop, with the odd comedy song. A definite highlight of the show is when the cast all transform into pensioners in the retirement home. Seeing grannies twerk and break dance with zimmer frames was a really remarkable and novelty addition to the story.
The stand out performances in this show are Natasha Gooden (Lil' Red) who had flawless timing throughout, along with inspiring energy and perfect character traits. Followed closely by Daryl Baker as the Prince. Not only were his dance moves brilliant, but his comic timing and facial expressions through the story had the audience crying with laughter.
Overall, Into the Hoods is a great deal of fun and captures the audience's attention from the first beat. The cast even interact with the audience and encourage them to join in. During the finale a large red cloth is cleverly used to create a multitude of objects and the audience quickly get on their feet. This is very well polished performance from a highly talented group of young dancers, directors and choreographers. A family friendly show that is recommended to all.
Reviewed by: Ellie Close
Reviewed on: 6th April 2016
Photo: Hugo Glendinning