Now in its 15th season, JB Shorts makes a welcome return to Joshua Brooks in Manchester. For anyone who is not familiar with JB Shorts, it is essentially six 15 minute plays performed on the same evening.
The topics on offer in this season included life in the workplace, religion, politics and of course Britain's latest obsession; paedophilia and child abuse, which has been covered so much in the past year that for me it has just become part of daily life and is no longer shocking or upsetting - which is sad in itself.
One of the problems with short plays is that there isn't enough time to go into any real depth, but it has to be deep enough for the audience to care. 'Humble' by Peter Kenny is a perfect example of a short play; fantastic story, well-written and acted - I felt if it was any longer it wouldn't have been so good. The reason it works so well is that most people can relate to it - focusing on the inner-monologues we have at the office.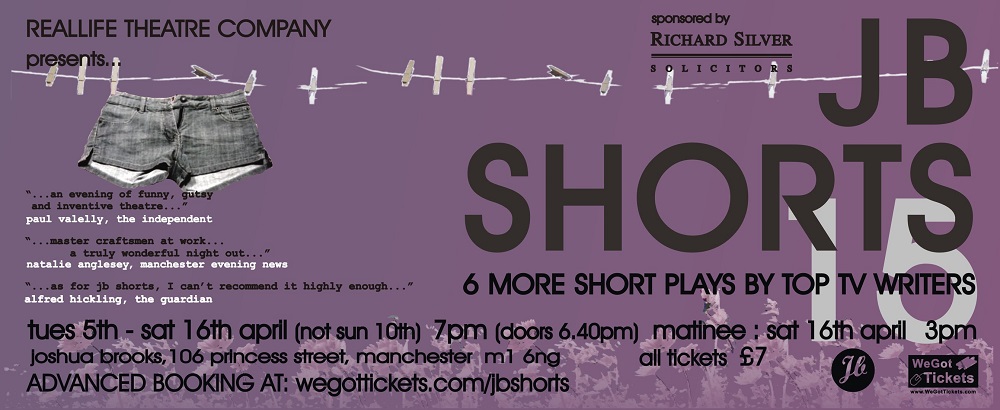 'A Different Time' by Lisa Holdsworth is a great piece of work with lovely humour, however I did feel that it ended rather abruptly. I wanted to know what happened to Samantha (Tigga Goulding). Especially seen as her revelation came as such a shock. Until that point the piece was largely comical, with more patronising dialogue than you could shake a stick at.
'Build a Bonfire' by Trevor Suthers was the weakest play of the night for me. The story didn't really go anywhere. I think Suthers may have been trying to convey the things we suspect most are right under our noses, however I wasn't entirely sure.
JB Shorts finishes with a bang with 'Party Animals' by Paul Mason. The Labour Party's press Officer; Fedora (Sally Carman) goes into a coma the day after the general election in 2015 and wakes up just as Labour are to announce their new leader. Carman is excellent in the role, so much so that it would be impossible to imagine anyone else playing the character.
On a technical note, the venue was overcrowded and therefore it was difficult to hear and see everything from the back.
Comedy seems to be the flavour of the night at JB Shorts, which runs until 16th April.
Reviewer: Francis McKevitt
Reviewed: 7th April 2016