Welcome to the Irish dance phenomenon that is Riverdance. Now in its 21st year, and having all started with a short number for the 1994 Eurovision Song Contest, this show has grown out of that short interval piece and done more for dancing and Irish dancing in particular than any other single theatrical experience ever, and has now been performed all over the world and has been seen by 30 million people. Well, let's now make that 30 million and one - me!
It was a rollercoaster ride of spectacle and the time went by so quickly, the show was over long before I thought it should have been, and it's a two hour show excluding interval! That is recommendation in itself.
I am certainly old enough to remember the original, but had seen only the televised excerpts until last night, and I was pleasantly surprised to see how little it had altered over the years. Even despite all the ill feeling and contretemps between producers and original star Michael Flatley, the show still includes items from that first production crediting him as choreographer.
Either my memory is playing tricks with me or the show has been somewhat reduced in size though. I seem to remember a very long line of dancers, and last night, more than probably due to the size restrictions of the theatre, the line was not as long as it was in my memory.
No matter, the one thing that really matters is the dancing, and that was unquestionably and utterly superb. The timing and execution of steps was at times simply mind-blowing. If there hadn't had been anything else - music, singing, instrumentalists, lights - if I'd been shown only the dances in their rawest form, I would still have been completely blown away.
However, there are other parts to the Riverdance Company. There were four excellent musicians who come together and play some of the music live on stage. I feel certain that some of the music is pre-recorded or there is a band hidden somewhere, since the sounds are much fuller and more orchestral than four musicians can make on their own... but when they do play on their own and entertain the audience with their talents, they are simply amazing. They are Ceilidh Briscoe (violin), Emma McPhilemy (soprano saxophone), Tara Howley (Uilleann Pipes and whistle) and Negah Santos (percussion). All extremely proficient virtuoso performers in their own right and together. The lovely solo piece played on the Irish bagpipes (Uilleann pipes) in act 1, a lament called Caoineadth Chu Chulainn was a beautiful highlight; and watching a rather animate and fun-loving Brazilian play the bodhran was truly an original experience!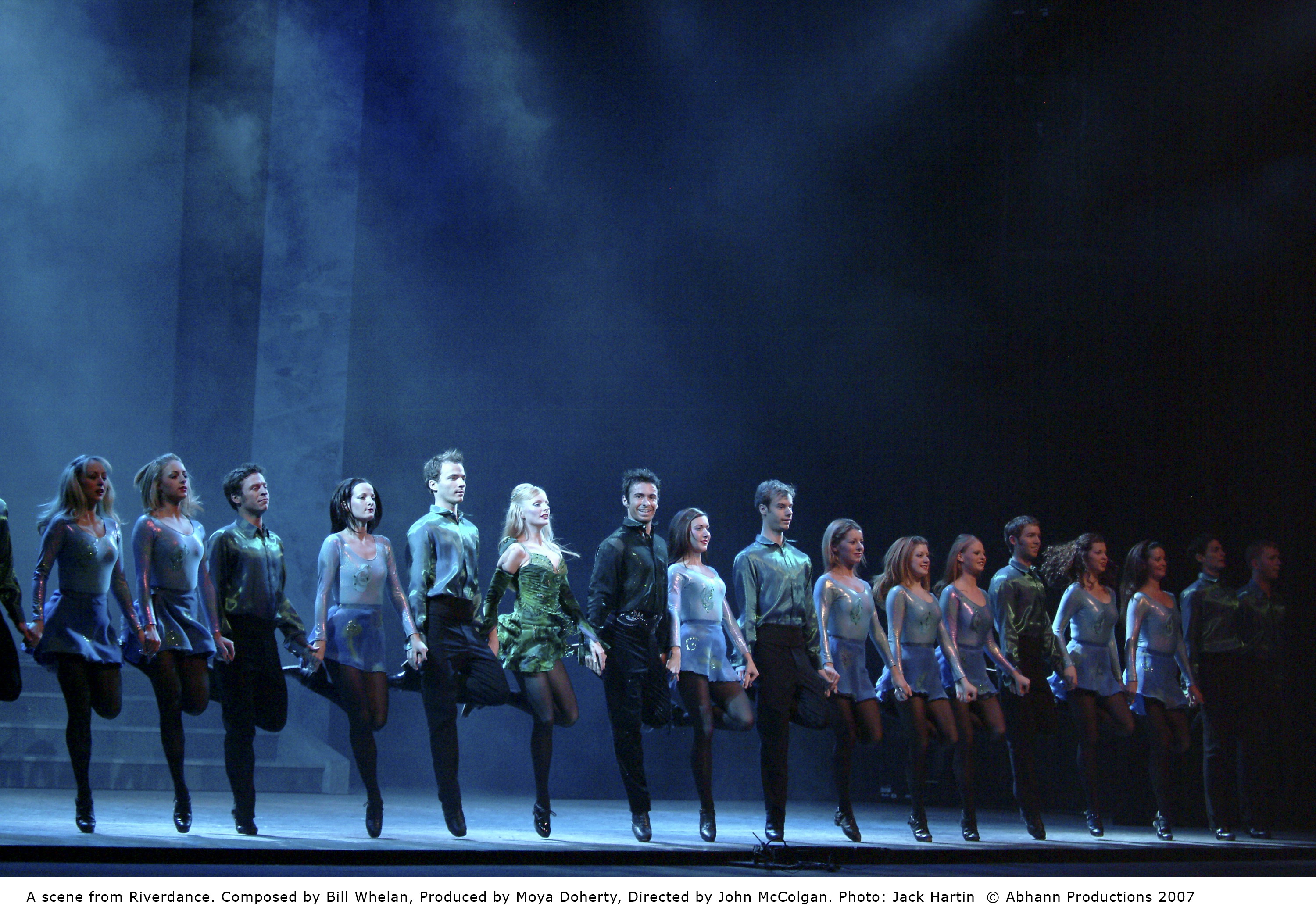 The Riverdance Company is further enhanced by a small chorus with a soprano lead soloist. They provide some extremely beautiful close harmony singing as an accompaniment to some of the dances and also, giving the dancers a much needed respite, perform alone. Beautifully balanced and perfectly pitched, and their haunting rendition of the Gaelic song in the first act was for me their singing highlight. Sadly, the programme doesn't seem to name the singers, not even the female soloist.
The story-line of Riverdance seems to me to have been manufactured in order to justify the songs and dances rather than the other way round. In fact, there is no story - just a concept. The idea that in the beginning there was a universe, and a planet, and then onto that planet life was formed and humans evolved. The elements being all mighty and humans coming to terms with their place in the universe and amidst these elements. We learn, we grow and diversify. And although hardships, starvation and war may temporarily defeat us, we learn and grow stronger, and become one.
This concept was given to us through the use of a male voice-over occasionally punctuating the production and the use of a screen at the back of the stage projecting images throughout to reflect the mood of the on-stage happenings.
The set was actually both very basic and quite modernist. Below the screen a platform and steps leading down to the stage proper, and at either side of the stage slanted flats creating two different sized triangular archways. This set remained constant throughout. This didn't deter overmuch since none of us had really come to watch fantastic sets, and the screen worked well. It did become a little distracting and too obvious though at times, and as a scenic device is most certainly overused these days.
Now to the surprises. Things which took me completely off guard and am still wondering what their place in this show actually is. The show is a celebration of Irish-ness. Be that dancing, music, language or culture. Or at least, that is what I thought it was up until last night. In the Riverdance of 2016 there is a flamenco dancer, Rocio Montoya, who has three I think solo dances and duets with the male dance lead. There is also a troupe of 6 Cossack Dancers who, although perform an exciting and exhilarating set, and despite finding it brilliantly choreographed and highly enjoyable, I have no idea of its place or the flamenco's place in Irish heritage.
The other surprise came at the beginning of the second act, when the action of the show had moved from Ireland to New York. The idea being that so many Irish had emigrated there and developed a new sub-culture of their own. In the show there are two energetic and dynamic 'Tappers', who, between them and three Irish dancers have a most amusing and incredibly well choreographed 'dance-off'. This was a huge crowd pleaser and showstopper, and quite rightly so. The principal tapper, Dharmesh Patel, had a body language all of his own, and was personable, humorous and engaging as well as being extremely talented.
The show has two principal dancers throughout, one male and one female, who, in the original production were of course, Michael Flatley and Jean Butler. In this production though the two principal dancers could have been any one of three. The programme lists and credits three male and three female dancers as the principal dancers, but I am unable to say which I saw last night although by simply looking at their photographs I am going to hazard a guess at Ciara Sexton and Brendan Dorris. [No doubt someone will correct me if I am mistaken in this].
The music is composed by Bill Whelan, and is a wonderful blend of Irish folk, classical and many modern influences, making it both unique and perfect for a show which blends Irish folk, classical and modern influences into their dances. It is dramatic and yet easy-listening at one and the same time, and I guess Riverdance just wouldn't be Riverdance without it.
If you are looking for spectacle, then this show delivers by the bucket-full. If you are looking for a feel-good theatrical experience which will leave you breathless just simply by watching the cleverness and technique of the dancers, then you simply cannot get anything better. It is a fusion of live music, played on a variety of traditional Irish instruments as well as world instruments; singing, both in English and Irish Gaelic; and dancing, again mostly Irish or firmly based on the Irish dancing traditions, with the exception of the aforementioned flamenco and Russian dances.
Just one word though about the actual venue. The show plays at The 02 Apollo in Ardwick, Manchester until Sunday before continuing on tour, but if you don't know the area, then the building itself, at least from the outside looks almost derelict and certainly in need of a bit of TLC. Security guards and frisking is the order of the day, and for those wishing hot beverages then the Apollo doesn't serve them. There are souvenir brochures available at £7.00 each, but these are not the programmes. It is just a glossy brochure with lots of production photos from this and other productions of the show. The actual programmes detailing musical numbers, cast and creative team are available as a separate item from the merchandise counter.
Reviewer: Mark Dee
Reviewed: 8th April 2016