This record breaking production written by Agatha Christie is world famous for being the longest running show of any kind in the history of British theatre - with over 25,000 performances; but why has it reminded so popular?
I was very excited to finally see this abiding British classic, firstly because I love Agatha Christie's writing and secondly because it has been around for such a long time. This is the second part of the 60th anniversary tour, the first time it has been performed professional in the UK, outside of London, since its premier at the Theatre Royal Nottingham in October 1952. I was not disappointed and the Regent Theatre was a fantastic venue in which to see it.
The play opens in the newly opened Monkswell Manor Guest House run by the recently married Mollie and Giles Ralston. As their first guests arrive in the midst of snow storm there is news of a murder. As they are cut off by the snow they discover, to their horror, that two more murders are expected and the murderer is amongst them! Will this Mousetrap catch its victims? Who has set the trap? Will the audience work it all out before the end?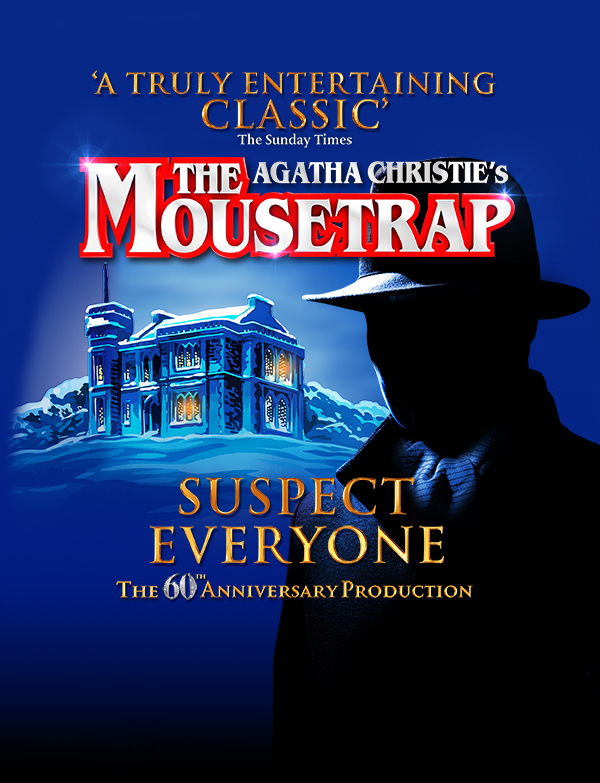 The fantastic ensemble cast play classic murder mystery characters: Louise Jameson as Mrs Boyle, Anna Andresen as Mollie Ralston, Nick Barclay as Giles Ralston, Tony Boneza as Major Metcalf, Lewis Collier as Sargent Trotter, Gregory Cox as Mr Paravicini, Amy Downham as Miss Casewell and Oliver Gully as Christopher Wren. Every performance is well-crafted, balanced and perfect for the period and style of the play under the brilliant direction of Ian Watt-Smith.
The weight of suspicion shifts from one to another throughout the play as each reveals more about themselves, removing the mask of lies and exposing their shameful pasts. I was convinced I knew the murderer by the interval but as the second act began I was completely baffled and remained so right up until the reveal at the end.
Now, I can't say much more without breaking the confidentiality clause that every audience enters into at the end of the performance - part of why the play has such longevity. I am not going to break that agreement and, in case I give away anything else I am going to give the author, Agatha Cristie, the last word:
"It is the sort of play you can take anyone to. It's not really frightening. It's not really horrible. It's not really a farce, but it has a little bit of all these things and perhaps that satisfies a lot of different people."
I left completely satisfied and I would recommend you see it as the tour continues until the 30th November.
Reviewer: Alan Harbottle
Reviewed: 11th April 2016