If the late, great Michael Jackson is alive (as some conspiracies suggest) then he is evidently living in the bodies of those on stage in Thriller Live. If he's not, I'd like to think that he's looking down fondly at this incredible cast carrying on his work and doing a pretty great job of it!
Featuring a full live band, a whole host of energetic dancers and several of the most talented singers I have ever been lucky enough to see live, all performing the King of Pop's greatest hits - it's hard not to enjoy this show.
The staging is simple, yet effective, with a balcony and two rostra remaining stationary for the entire performance. Of course, MJ's musical career features an incredibly diverse range of songs, and so the stage is transformed by a series of LED screens, blending seamlessly when not in use, and creating different atmospheres as and when required.
Embodying Michael vocally are Rory Taylor, Adam J. Bernard, Angelica Allen and Shaquille Hemmans, each possessing their own unique flavour and bringing different aspects of the King to the table - no one could do it all! Particular kudos needs to go to Taylor who was unbelievable, especially during the solo ballads. His voice was a perfect take on Michael's own and yet utterly unique.
Allen, being the only female singer has an incredible voice, buckets of sass and an amazing stage presence, which is just as well as she seemed to be in almost every number(!)
The energy of the dancers is electric, never wavering and looking as though they were having the time of their lives - in fact I can't help but wish I was up there with them.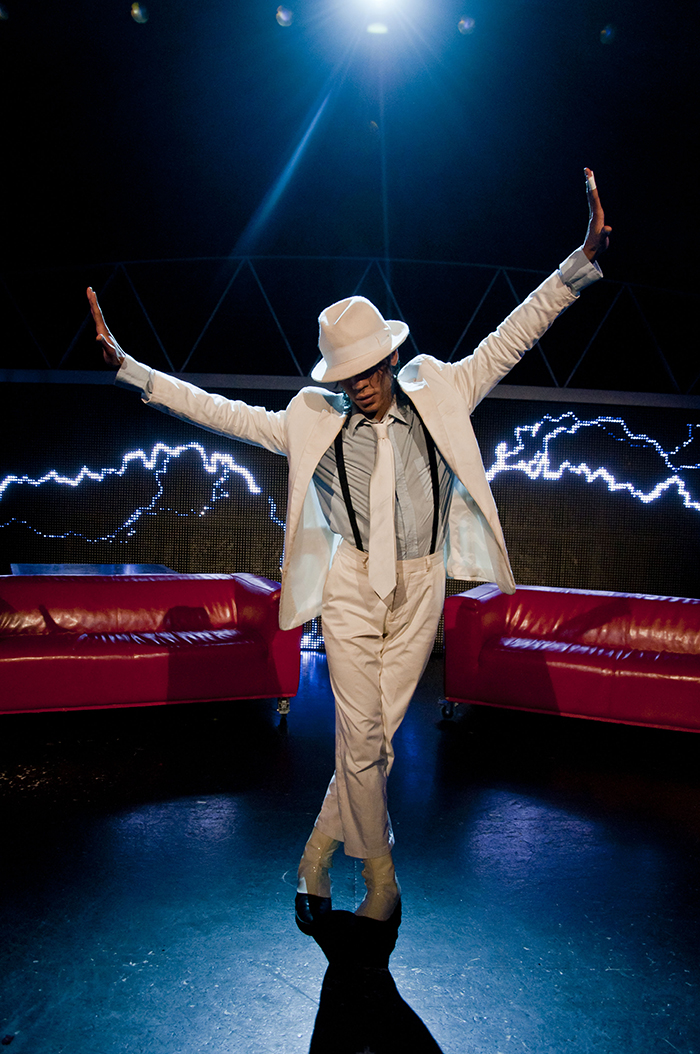 My only slight negative was the rather "pantomime" moment in the first half during "Shake Your Body (Down to the Ground) where the audience were split in half and competed to sing one word the loudest. It seemed a little awkward and out of place, clearly buying the performers backstage time and didn't really add anything to the show, I felt.
The unsung (and largely un-singing) star of the show, yet sadly not seen enough, was Sean Christopher. Similar to MJ in stature, body language and iconic moves, there were times when I was desperately peering through the binoculars to ensure that he wasn't the man himself. Performing the signature Moon Walk, and a short, yet still impressive lean, Christopher stole the show whenever he was on stage, which was not often enough for my liking. It seemed odd that he wasn't on stage throughout although (and I may be wrong), it did seem as though he was miming at times and so perhaps that was the reason to keep his appearances brief.
It was a nice touch to have the guitar playing on stage at times, it really reminded you that there was an incredibly talented live band off stage keeping the whole thing together.
If you're looking for the story of Michael's life, (or really any storyline or narrative at all), then you will be sadly disappointed. The "script" seems to only really exist to fill gaps and doesn't really say anything at all. If you're looking to see one main "Michael Jackson", performing as the man himself, you will also be disappointed.
However, if you are looking for a fun night, celebrating the legend with an abundance of colourful costumes, energetic dance routines and talented singers then it really is worth a watch.
No one will ever be Michael Jackson, but this show is a great celebration.
Reviewed on: 11th April 2016
Reviewed by: Codie Louise Austin