Possibly the most famous of all Dr. Seuss' creations, this 50 minute romp is a faithful retelling of his tale of The Cat In The Hat.
Billed as being suitable for children from 3 years old is possibly a little ambitious though. After seeing the show then I would certainly not entertain taking anyone younger than 5. This is a full-on, no punches pulled production, which is quite loud and very frenetic at times. It can be - and actually was - a little off-putting and too 'in-your-face' for a couple of this afternoon's youngsters.
Sally and her brother are sitting at home on a rainy Sunday afternoon whilst their mother is out shopping. They are bored, and really don't know what to do. Enter The Cat In The Hat who embroils them in all sorts of mischief, and they really enjoy being 'naughty' and having fun. Their pet fish, who can also talk, was played by an actress with a fish's head and her hand a fish glove puppet in a bowl. (This looked more than odd until you actually got used to it). Things only start to go really wrong when the Cat brings on a box and allows Thing 1 and Thing 2 out to cause more mayhem and mischief, turning their house upside down.
When the fish notices their mum walking back home, the boy captures the two Things, and order The Cat and them out of their house. Reluctantly he complies, and then comes back again to tidy up all his mess and leave the house as it was before his arrival.
Mum is at the door; "Hello my dears. What did you get up to whilst I was away?" - and we are left with the two children posing a question to all of us… What would you say? Would you lie or tell the truth? Blackout.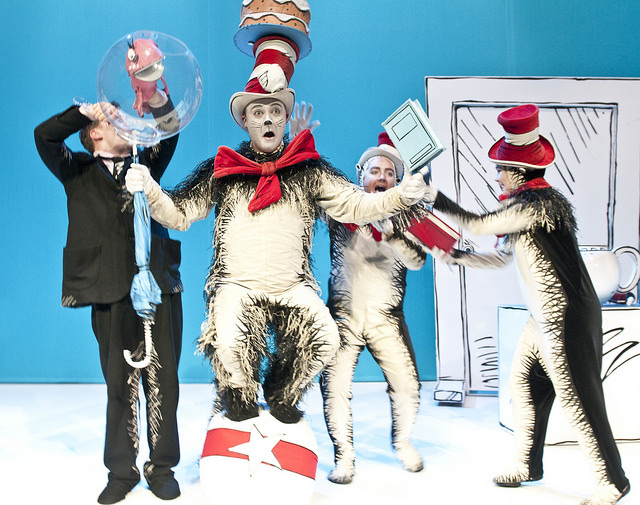 Using mime, pantomime, dance, physicality and sound effects, there is no dialogue except the words of Seuss' poem, but there is a lot of grunting and groaning which sounds a little odd. The costumes, props and set design are all very familiar to us, they are carbon copies of the illustrations from the books, and so it should have been highly entertaining, and it should have been completely child friendly; but it really wasn't.
This was for a couple of reasons. One; it was very much a stage show and the actors were 'actors' on a 'stage' which for a few of the little ones was already a bit daunting. There was absolutely no attempt at the beginning of this presentation to make them feel at ease and calm them. Things only really started to become audience-friendly and participatory when the bubble machine was turned on. The audience warmed up eventually - but it took too long for this to happen.
Second, when the cast did come into the audience or try to interact with us, they were still loud and brash. Toning the voice down, smiling, speaking quietly, basically anything at all to engage the youngsters would have been fine, but sadly, none of this seemed to happen. Thrusting a hand in front of a child's face and saying, 'Well, shake it!" and then shrugging and moving on when she didn't, wasn't what I would call child-friendly.
Finally, the chaos and din created by the two Things just simply wasn't funny. Very few of the audience laughed at them and their antics. They only found Thing 2's entry back into the box funny due to his mock crying and bottom-waggling; but before this no-one had any empathy or sympathy for either.
I also found it a little odd that the play was actually, albeit covertly, encouraging children to cause havoc and run amok when their parents are not in the house.
Sadly no programmes were available, and I was simply told to look at the website. I looked at The Lowry Theatre's website first to try and find out the producing company, and all I found was this; "Play originally produced by the National Theatre of Great Britain. Adapted and originally directed by Katie Mitchell. Presented by arrangement with Josef Weinberger Limited on behalf of Music Theatre International of New York."
This was of little help since consequently I still don't know those responsible for this afternoon's entertainment.
On enquiring about programmes I was also told that this company did have merchandise, such as hats and other souvenirs of the show, but they had apparently run out and had not replaced them.
Reviewer: Mark Dee
Reviewed: 11th April 2016