Breakfast at Tiffany's arrives at The Lowry as part of a UK tour before heading to the glitz and glamour of London's West End. You may say Holly Golightly will be at home basking in the opulence of our capital city, but sadly tonight there was no such opulence. This is a very Marmite show, you'll either love it or hate it!
Breakfast at Tiffany's, the classic tale of Holly Golightly written by Truman Capote and so memorably portrayed by Audrey Hepburn in the iconic 1961 film, is being given a new lease of life as a stage play with music in a sparkling, sophisticated production starring the multi award-winning Pixie Lott as Holly (according the Lowry website claims).
Adapted by Pulitzer Prize finalist and Tony and Olivier Award-winning playwright Richard Greenberg and directed by Nikolai Foster, this tale of vivacious, good-time girl Holly Golightly (Pixie Lott) and her fantastical existence in 1940s New York City, is told through the eyes of a young writer Fred (Matt Barber), completely fascinated by this exquisite extrovert who every woman wants to be, and every man wants to be with.
Looking back at the website description of the show it describes the production as a play with music. Yes it is, and features three songs, "People Say We're In Love", "Hold Up My Dying Day" and of course the famous "Moon River". There is absolutely no question Ms. Lott delivers these with a degree of skill, given her musical background it is no more than you'd expect. But what did surprise me is actually how good Lott was when it came to the acting side of the role. She put in a convincing performance throughout this opening night and never let her American accent slip once.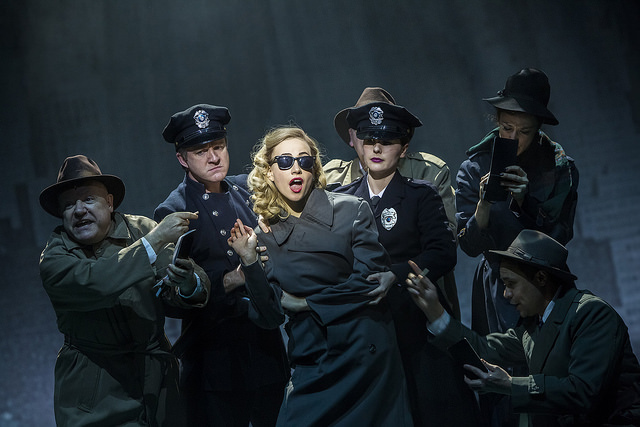 Slightly upstaging Lott was Matt Barber who played young writer Fred who acted as a narrator for the evening. Barber was confident throughout and brought a sense of understanding to the proceedings as the action switched frenetically from character to character.
As this show revolves pretty much around Fred and Holly the other 10 members of the company don't get much stage time however, Victor McGuire as Joe and Melanie La Barrie as Mme Spanella particularly stand out.
The set and lighting from Matthew Wright and Ben Cracknell is impressive in its design, sadly not in its operation. It may be the case that the issues tonight stemmed from this being the first night of the tour however wobbly sets, incredibly loud motors that lift the scenery and annoying noise from the rain lighting effects spoilt the enjoyment of the show. It was clear to see the backstage team loading the trucks at the side of stage in-between scenes with scenery sneaking into view before it should from my seat in the stalls, and when customers are paying up to £80 plus for a VIP package this is totally unacceptable.
Director Foster has set the pace of the show far too fast and despite that the show never really gets going. The response from the capacity audience (many of which were there to see Lott and not the show I expect) was somewhat muted at the curtain call. Maybe with time on the road prior to London all these things will get ironed out. For me a talented cast was let down in a huge way by those all around them.
Breakfast at Tiffany's continues at The Lowry until Saturday before continuing its UK tour until November including a stop off in the West End.
Reviewer: David Paul
Reviewed: 12th April 2016
Photo: Sean Ebsworth Barnes