Trevor Payne's 'That'll Be The Day' tonight was a celebration of the show that has ran for thirty years. What started out as a six week experiment tour for clubs and cabaret circuit in the 1980s and has grown into the huge success that it is today. Tonight Stockport Plaza was brimming with a full auditorium of audience members who clearly were palpably excited for an evening of nostalgia. As someone in their mid-forties attending this show I was probably the youngest member in the auditorium tonight as the majority of the audience were the best part of 60 years old and over. This is not so much going out to a show as having a night out with your mates!
The party atmosphere is what sets this production apart from anything else in its league. 'Boy Bands' and Britain's Got Talent contestants would be put to shame by the sheer frantic pace of this show. While one sketch is finishing, the musicians are already moving in behind, ready for another set of pure nostalgic gold.
Many in the enthusiastic audience at this full house were obviously familiar with past shows and were eager to join in from the start. The show began with a fast-paced medley of songs, getting everyone in the party mood. Every member of this talented group produced polished performances. Trevor Payne writer producer and cast member creator of that'll be the day and has nurtured and adapted this show over the 30 years and his wickedly tongue-in-cheek Cliff Richard impersonation was just a joy to watch and is one of the best Cliff Richard impersonators I have ever seen. Comedian and excellent entertainer he absolutely owned the stage tonight with his cheeky stand-up act and engagement with the audience.
A video screen was used to great effect for some very funny sketches including one for the Daz Whites doorstep challenge and another including a Salem cigarette advertisement offering fresh air smoking with the new brand.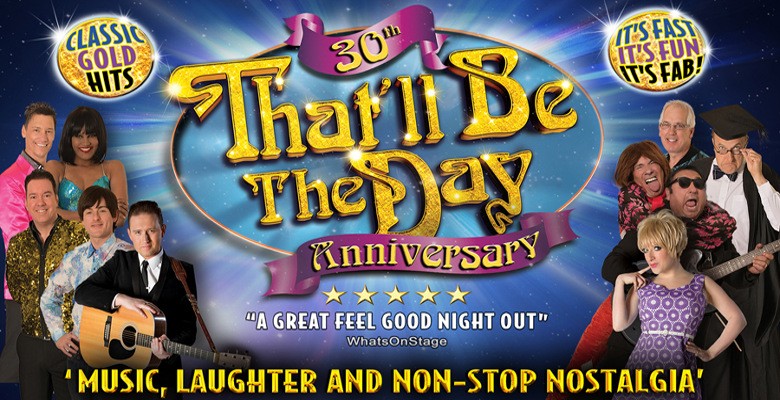 The show burst into action from the second it opened and had the audience shoulder shrugging, swaying and toe tapping throughout. The eleven strong performers I have to say where extremely talented musicians and vocalists as well as impressionists and all round entertainers. I suppose this isn't a tribute act, but it's full of tributes and the cast are not impressionists, but do fantastic impressions of our best-loved entertainers, and as a bonus; they are first class singers and musicians too.
For example, Clive Fishlock, who plays saxophone, drums, keyboard, bass guitar, acoustic guitar and sings, is responsible for the musical arrangements that are thoroughly enjoyed by both fans and cast and me tonight.
Gary Anderson has toured with this show for 28 years and has a voice that can impersonate many of the big stars his Tom Jones and Elvis sketches where superb tonight. Alongside the three females Jules Greenham, Jodie Lawson and Nikki Renee Hechavarria who were amazing vocalists and impersonators and between them covered with ease Connie Francis, Shirley Bassey, the Breakaways, Cilla Black, Barbra Streisand, Dolly Parton, Gloria Gaynor, Kiki Dee, Karen Carpenter and Whitney Houston, as well as many superb backing acts for the guys.
Phil Hollender another long standing member of the team has played double keyboards for them for 25 years and wow what a talented musician this man is. For the whole show he effortlessly played song after song with amazing zest and accuracy it was truly mesmerising.
Mark Street, Ollie Gray, Jarrod Loughlin, were also amazing singers and musicians. However the star of tonight's show for me was the newcomer Pete Jackson who stunned the audience with his range of vocal and amazing energy that I am sure has injected new life and zest into this show.
The evening was a non-stop medley of songs starting in the 1950's up to the late 1970's and added with the quick paced sketches and variety type show this kept the audience's attention throughout. Clips on screen of the original performers as each of the team sang as that character was a great touch and the likeness of the members to many of the original artist was uncanny. Chameleons of image and style this cast was so versatile and adaptable it made a great evening of entertainment.
However tonight show in parts, had the audience feeling very emotional by the projected images and songs when tribute to artists that had died such as Buddy Holly, Cilla Black, Elvis Priestley and more recently David Bowie. However equalling the emotions out there where many light hearted very funny sketches that had the audience howling with laughter, my favourite being the Andy Pandy Sketch that was truly hilarious.
The whole show was a great night of entertainment and the costumes where spectacular, I would say though that some of the wigs did look as old as the show and probably need changing. There is obviously a great fan base for this show and its loyal fans in the audience tonight seemed to love it. I don't think this show could be for everyone though as it is very much the show it started off as, one that would fit well in the pubs and clubs and cabaret circuit but not on a theatre stage. Although the fact it has ran for 30 years and has a packed spring tour booked up until July 2016 touring the country is a testimony of its continuing success. I however wouldn't rush to see it again as it would be more fitted on a holiday camp stage in my opinion and was far too long a show running from 7.30-10.45pm with a 20 minute interval.
For more information on the show and its tour date go to www.thatwillbetheday.com
Reviewer: Victoria Wilmot
Reviewed: 13th April 2016