Presented by Breathe Out Theatre, The Human Torch focuses on the challenges of a complication of characters whose lives are effected with disability, illness or mental illness. At first glance, it appears as a hard hitting, dramatic, real life take on taboo subjects, which it does have moments of, but delving deeper shows a witty, emotional and challenging piece that not only makes you feel empathy for the characters but also questions your look and interpretation on these subjects. The 3 actors throughout the night played various parts and all in turn struggled with the conditions and illnesses that the show was based around.
The performance is made up of 3 superior pieces that all have the common law theme of "Stories from a system of care". The first piece named 'Tea Time' is centred around an older gentleman, who has difficulty with mobility and also with his hands, and his carer who has also started to have signs of social anxiety and describes her panic attacks for the first time. Darren Scott plays the elderly gentleman and is magnificent in such a heart-breaking role. The way he interpreted no use of his legs or hands was remarkable, also thanks to the witty writing he had a wicked sense of humour and sharp outlook on life he was instantly loveable. Amy Spencer played his carer, she had a fantastic thick northern accent that made her seem very friendly and also was an incredible force when acting and vocalising her frustrations and emotions. The second piece named 'Head Space' took place in a shrinks waiting room where two clients collide together and ultimately realise they can help each other through their problems.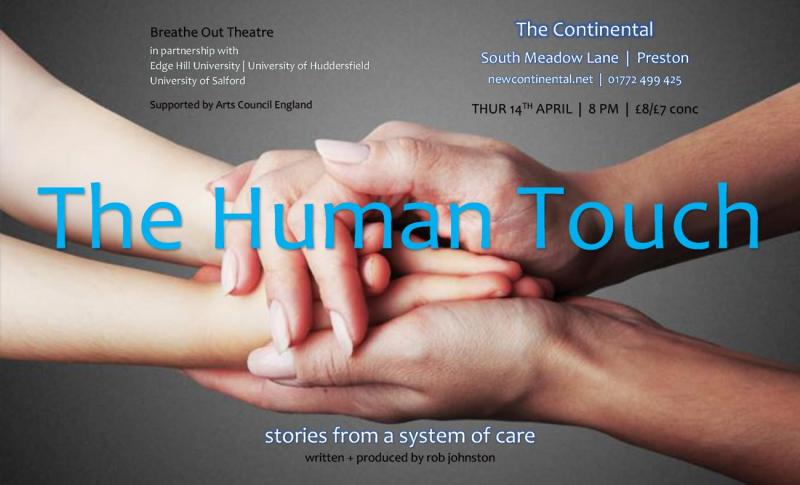 Amy Spencer played a woman who had been involved in a horrific car accident and had been having problems dealing with accepting the guilt and moving on, because of this she imagines the other driver that died in the collision - he follows her around making her say and do things that he suggests. Spencer showed such strength particularly in this scene, you could see she was visibly and weakened by the person in her mind. Lane Paul Stewart played another client of the shrink's and had bipolar (or bipolock as he called it). He had an admirable vocal ability when speaking rather quickly and was also very skilled to keep his lines continuing at such a frantic pace. The third and final piece, named 'Last Christmas' is based around a brother and sister who are living alone without their abusive mother. Lane Paul Stewart has autism and finds certain situations and contact with others difficult- he also struggles to understand emotions conveyed by his sister especially, Amy Spencer plays his sister and also the person who cares for him, she is the only person he can depend and trust on in his life and so she has difficulty trying to juggle her life, working, cleaning and caring also. Stewart really does excel in this piece and the context and content in his character has certainly come from experiences and research, his whole mannerisms immediately covey his characters disability and his levels in which his uses his voice from angry to sad, excited to disappointed is astonishing to see and real highlight of the performance as a whole.
At its core it is a real stunning performance that brings to light the reality of being rather a carer living with a disability or mental illness. The intimate space of The Continental Preston a great use of space and made for a gripping and wonderful performance. Music provided made for great use of scene changes and set the scenes and changes of location. Costume changes made were marvellous and very surprising for such a small production with a cast of only 3- it was very surprising to see someone change from jogger bottoms and a fleece into a two piece suit within 60 seconds. The actors are of fantastic acclaim and deserve all the praise given, not only being able to do the many hours of research I am sure, but also to bring such a vulnerability to the characters. A real emotional show that makes that will give you shivers and have you in stitches all in the same breath.
Reviewer: Brad Wilson
Reviewed: 14th April 2016