Naughty Corner Productions came to the Unity tonight with not one but two of their pieces, a double bill show consisting of "The Bastard Queen" and "Not The Horse"
Kicking off the night was the show titled "Not the Horse", a comedy about a 20 year old boy Tony who finds himself in a 250,000 debt to a London Gangster - Dom Juan, after an illegal horse race. Tony and his friends Paul and Stan are then faced with the dilemma of finding a way of coming up with the money to pay off his debt, which only produces them with more challenges when they accidently steal from the person Tony is in debt to.
What I loved instantly about this piece, was that they broke the fourth wall a lot by entering the audience and using the entrance at the back of the audience as an exit from some scenes.
I also noticed that they often acknowledged things from other scenes such as when the drugs got thrown over the floor, the next scene changed and the Irish travellers said "Oh it's been snowing" which was really funny and the audience where allowed to imagine that the setting had now changed even though it was physically all the same throughout.
The standout character for me was Silk who was played by Danny Carmichael. With the 3 groups within the piece, he was a character who was involved with them all but secretly, selling each of them guns that "don't work." As he became involved with each group you noticed his accent and personality changed with each one, meaning 3 alter egos for the one character.
On the approach to the end of the piece all the groups end up meeting each other, meaning Silk is forced to be in the same place at the same time as all 3, and therefore has to keep up these 3 accents when speaking to each one individually even though each one is now aware he changes depending on who he speaks to.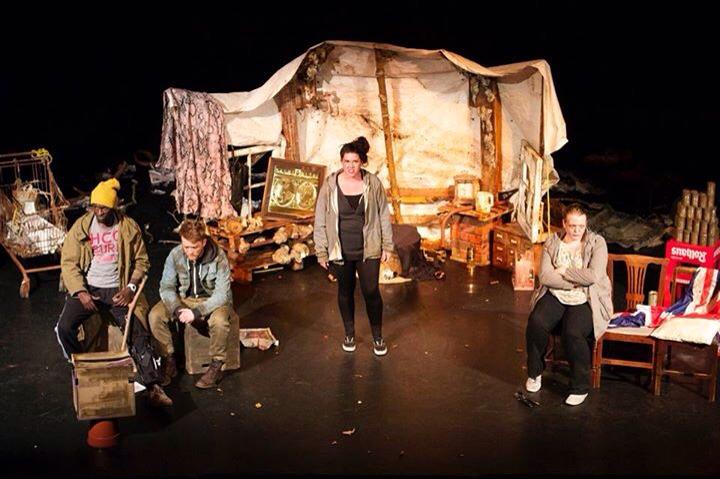 I found that very impressive that he could keep on top of which accent and personality to become according to each group and not once did he get them confused. The cherry on the cake was then his 4th and final accent, revealing he's really a Scouser when on the phone talking about how he'd fooled them all, whilst obviously being within ear shot of the groups.
Overall this piece was jam packed with Scouse humour, strong language and roller skates, and I advise if you get the chance to see it, and you can cope with aching belly for hours afterwards from all the laughter then this is the show for you.
Closing the double bill was last but no means least "The Bastard Queen", and given that this was their last scheduled performance, they certainly went out as one to remember.
The cast included a 5 piece of Jemma Lynch, Megan Bond, Calun Griffin, Emma Moore and Phil Bulman. Together, they presented a piece that is strongly "In yer face theatre" as it seemed to me like it was made to shock with certain scenes involving rape and masturbation. A group of 4 people who believe they are the last to survive on the earth, as they remember what life was like before with pizzas, crisps and McDonalds, are soon to become a crowded group of 5 when a pregnant stranger appears on their land and change all they thought they knew.
Although this piece had a darker meaning than the last, it did have its humorous points, specifically revolving around the make shift television being a cardboard box with a shoe for a remote and fully believing they are watching some beloved shows such as Countdown and Dickinson's Real Deal, where they acknowledged the previous performance by suggesting they'd seen that episode which involved the man with the suitcase full of guns selling them to the Irish travellers.
For me, it was very powerful when after a huge argument each character took it in turns to look at themselves in the mirror. A lot of the time you can interpret what you take away from a message in a piece of theatre, and to me it seemed as though the mirror was a representation of them saying "Look at what we've become" when they realise that their arguments are tearing them apart when all they have left is each other.
The Bastard Queen was written by Mike Dickinson and also Jemma Lynch who starred in the piece tonight aswell as the 3 other casts that have been involved over the time its toured. The piece has enjoyed two trips to the Edinburgh Fringe and a North West Tour so it is something that has seen a lot of audiences and you can tell how much hard work and improvement has gone in to it overtime. It's something that I definitely won't forget in a hurry, and if it does get the chance to grace a stage again in the future, you should give it the opportunity to do the same for you as it did for me.
Reviewed: 19th April 2016
Reviewer: Amanda Woods