Now in its 17th year of touring, Beyond The Barricade returns to Manchester with an evening of classic musical theatre hits, performed by Rebecca Vere, David Fawcett, Andy Reiss and Katie
Leeming. The team have an astounding set of West End credits between them, and put on a wonderfully slick and professional production this evening.
Coloured lighting and projection help to set the tone for the first section of the night, a trio of songs from Miss Saigon. We then moved on to The Phantom of the Opera, a real crowd pleaser, with some audience members whooping with delight when the musical was announced. Also in the first section was one of my personal favourites, Carousel, more Andrew Lloyd Webber with Jesus Christ Superstar, and rounding off the first act, a selection of jukebox musicals, including We Will Rock You, Jersey Boys, and Mamma Mia.
There was a real mixture of songs performed, all sung beautifully by these flawless singers. From constant goosebumps in the Carousel section, led by Vere, to singing and clapping along to Radio GaGa, and my absolute highlight, Reiss' raw emotional performance of Gethsemane.
The second half opened with The Lion King and two standout songs of the whole evening, Shadowland and Circle of Life, led by Vere and Leeming respectively, proving that their powerful vocals are more than a match for each other. We also saw yet more Lloyd Webber with Evita, a slightly out of place piece from Chess (no pun intended), and a very sweet rendition of Suddenly Seymour, from Little Shop of Horrors.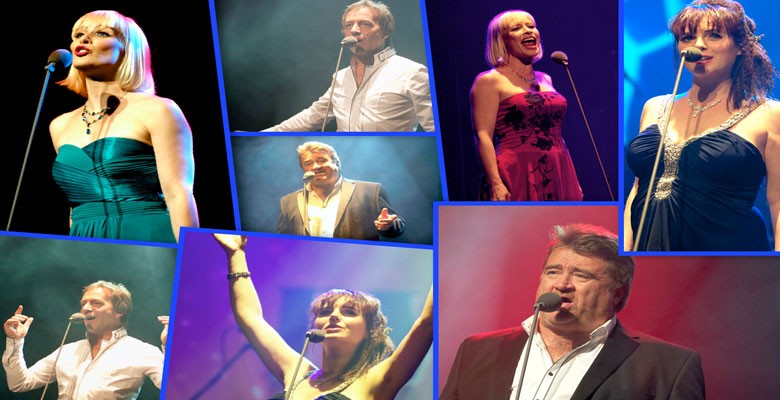 Perhaps an audience favourite was the comic relief, brought to us through the songs of Monty Python's Spamalot. It was fantastic to hear the whole audience singing and whistling along to Always Look on the Bright Side of Life, and it got one of the biggest cheers of the evening.
On to the moment we were all waiting for ­ the Les Misérables finale. All of the cast members have been involved in the West End production throughout the years, and they did not disappoint. Taking us through the best­ loved songs of the show, ending on a rousing rendition of Do You Hear The People Sing, and receiving a standing ovation for the encore performance of One More Day, a very impressive musical number considering there were only four singers.
Fawcett was a fantastic compere for the evening, giving us a bit of the history of each show, and even a bit of a comedy routine. It is clear that he is a natural entertainer. He is also a fantastic singer, and his performance of Bring Him Home had me in tears from the first line sung.
Reiss somehow managed to sing, play keyboard and conduct the band all at the same time, and made it look completely effortless! While I got the feeling that he was more comfortable behind the keys, he gave some wonderful performances, showing a wide range of emotion and even comedy flair.
The two women could not have been more different. Vere reminded me of Olivia Newton John, with a very sweet and enthusiastic appearance, but such a powerful voice ­ those top notes were incredible! She also showed her comedic talent when she emerged as a dishevelled Madame Thénardier during Master of the House, much to the delight of the audience. Leeming was very cool and glamorous, and also showed off her considerable singing talent, giving the sassiest performance of On My Own that I have ever seen.
However it is as a group that these four phenomenal singers really shine, with intricate harmonies seemingly effortless, and a fantastic blend achieved. The only criticism I have of the evening is that
the song choices were just too obvious. I enjoy finding new music and hidden gems through these concerts, but in fact I already knew almost every song. Clearly this is a formula that works for them, with a loyal audience returning year after year, and a theatre full of people singing all the way home. Bravo!
Reviewed: 20th April 2016
Reviewer: Poppy Stewart