"A reminder of Godber at his finest"
John Godber first premiered Men of The World in 2002 at The Crucible, Sheffield when it was then his 45th production. This revival is the third of his plays to be staged this Season by the John Godber company at Theatre Royal Wakefield, following on from Bouncers and his new play Shafted; I must say that this is my favourite of the trilogy. Tonight's production was a reminder of Godber at his finest – familiar events and stereotypical characters shown through minimalistic scenes with knowing titters and real laugh out loud moments.
The narrative centres on that of three coach drivers who share one of their most memorable coach journeys together. The three actors bring to life not only the drivers Stick, Larry and Frank, but in true Godber style also give us the "wrinklies" (in the form of the 'Beverley Sisters' and the 'Marx Brothers'), the awkward mother and son, the middle-aged couple and the posh ones- stereotypical characters that we can all relate to or have at least seen on episodes of Coach Trip! Each of the characters is portrayed through simple changes in physicality, voice and through the aid of props or costume with ease by the talented ensemble – two of which are returning to play these roles having originated them. Dicken Ashworth plays Larry the driver close to retirement with great stage presence and clear vocal delivery throughout. His "Beverley Sister" is probably my favourite incarnation as he manages to capture not only a certain absentmindedness in the character but also a hint of mischief! Rob Angell's Stick has good rapport with Ashworth in particular and their bickering, particularly in the latter scenes, is believable and Godber's stichomythic dialogue expertly played. Fiona Wass completes the line up with level headed Frank, who if I am honest I took a little time to warm to, but soon I was engaged by her control of character and good rapport with the men. Her cabaret singer act was also one of funniest moments of the evening. The three actors worked superbly in maintaining a connection with the audience and gave a consistent performance in their multiple roles. My only fault would be the couple of occasions where they managed to talk over one another, as they seemed to trip over the odd line or two.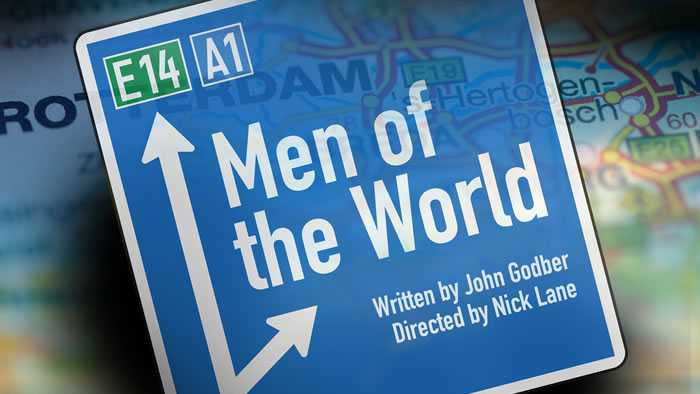 The actors were well supported by other trademark Godber devices. The minimal set comprised of a large stack of suitcases, which stood central as a symbol of the long journeys these characters had taken together, a useful area for the actors to disappear behind for changes, but also stood as a reminder of the baggage that many of us carry around through our lives. The lighting, again whilst simple, clearly marked the passage of time and helped to move on the narrative and maintain a good pace throughout. Blasts of music helped to evoke atmosphere throughout without becoming too imposing or obvious, as sometimes can be the case in Godber's work. The technical elements, simple staging and strong acting came together perfectly in Nick Lane's direction which brought out the comic elements but also handled the more poignant moments effectively too. Godber is at his best when he draws his audience in to reflect and feel for the characters we have just been laughing with, before releasing us again through his humour – there were a few moments like this that were very well played and clearly resonated with the audience.
The production has clearly been updated with modern references and due to its familiar characters and themes there was no sense of the play having "aged". There was no doubt that the audience went away having had a quality night of entertainment and it was therefore quite a shame to see quite a number of empty seats at the theatre tonight. This play is funny, entertaining and well staged so deserves a good audience for those reasons alone, but this play also makes you think: It makes you consider our own journey through life and perhaps the altogether familiar people we meet along the way, as well as the souvenirs and baggage we pick up on our various adventures. If you are looking for a good evening of entertainment, enjoy a little nostalgia or have every experienced the joy of a coach trip you will not want to miss this.
Men of the World continues at Theatre Royal Wakefield until Saturday 23rd April.
Reviewer: Ashley Price
Reviewed: 20th April 2016