Manchester Shakespeare Company present another original piece by John Topliff, this time taking the lives of William Shakespeare and wife Anne, and pitting them against the trials of married life in 2016. The events and people mentioned in the play are all real, but put into our modern society to see how they would cope in our world.
It's always such a warm and friendly welcome in the boutique 3 Minute Theatre, nestled away in a corner of Affleck's Palace in the Northern Quarter. You feel as if you are among friends, and there are not many theatres that have a resident dog to cuddle! Unfortunately the venue is having some issues with noisy neighbours at the moment, and the performances and rehearsals have been interrupted with building work and loud music.
On to the play, set in April 2016, and successful TV writer 'Agnes Hathaway' has been nominated for a prestigious award at Media City. She decides to reconcile with estranged husband Will for the event, and the pair meet in a city centre hotel to discuss their lives, portrayed to the audience as flashbacks of funerals, weddings, and the loss of their child.
The only scene which really didn't work for me was the opening monologue. Despite being quite lengthy, it didn't serve any great purpose, and I got the feeling that leading lady Lynn Touil was not entirely comfortable with the Shakespearean style language used in this scene. After the arrival of Will, played by Aiden J Harvey, things muchly improved. The two actors displayed a great and believable relationship on stage.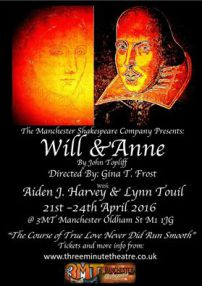 The interaction was not without its issues. At times the pace dropped, and cues were missed. I found Anne to be overly whiny at times, and when a character is constantly moaning you quickly lose any pity for them. This could be simply fixed by switching up the delivery of the lines. With a comedy powerhouse like Harvey in the cast, the script could afford to be much funnier, and give him the chance to do what he does best.
The standout scene for me was the exchange of quite lengthy monologues; Anne's grief at losing her son Hamnet, and Will's guilt about not making it to the funeral in time. This is a real turning point in the husband and wife relationship. Touil gave a powerful, grief-stricken performance in this scene, although she was somewhat stuck at the back of the stage, and had me asking the question, to whom is she telling this story and why? Harvey proves he can do emotion and not just comedy in his segment, mainly directed at the audience, and pleading with his wife.
After the show there was a brief Q & A section with the cast, writer, and director Gina T Frost. The company are passionate about exhibiting works in progress, and take on feedback before redeveloping and touring their pieces. In fact they are somewhat unique in how they really listen to their audience, and have already made changes to the final scene to give it more impact. I think with a bit of rewriting, and cutting it down to just under an hour, the untold story of Will and Anne could have legs.
Reviewed: 22nd April 2016
Reviewer: Poppy Stewart