I had no idea what to expect from this evenings' performance - a four cast play entitled "Girls With Balls". The poster gave little away other than a female football player and an advisory that the play is suitable for over 18's only.* This intrigued me as it is very rare in the world of theatre that an age guidance is given, especially one rated an 18. I was interested to find out as much as I could beforehand to help quash the nerves I always get when heading into the unknown, especially when it comes to productions. I have a tendency to stick to what I know and love, and usually am rarely drawn to plays, preferring musicals and ballet with the occasional opera thrown in for good measure.
The production company are a group called Off The Fence Theatre Company, whose previous shows include Market Forces - the Company's' first production in 2011, which featured four new plays performed in Leicester's historic market place. In October 2012, the Company successfully produced and directed Godet Was Here, by Loughborough writer Thomas Burnes Scully. In 2013, the Company produced Hitchcock represented, a series of eleven new plays again performed at Curve Theatre, Leicester as part of their Hitchcock season. Autumn 2014 saw a tour of two new plays in the UK, England Expects, by Tom Glover, and Clamber Up the Crucifix, by John Kitchen. In 2015, both performances of Girls With Balls, by Ann Richards, sold out at Curve Theatre, Leicester.
The action takes place in a football changing room. The performance lasts approximately ninety minutes and has one interval.
It's 2016, the wrecking ball is approaching and Ashley, Britney and Heather must face up to the destruction of their beloved football ground. As the demolition company moves in, the girls stage a last-ditch protest to save their club and fight for what they believe in. This new play is inspired by real-life events from 1921 when the Football Association banned women from playing at affiliated grounds. After fifty years of hurt, the ban was finally lifted in 1971.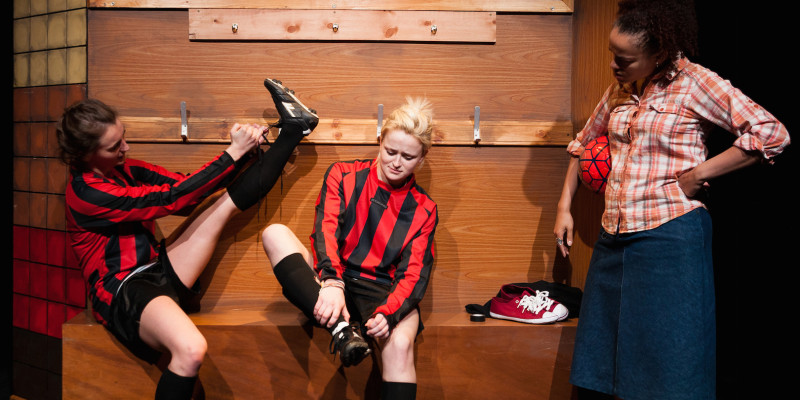 Tackling football and feminism head on, Girls with Balls takes a bold look at women, men and the beautiful game. The show cleverly, and most importantly, believably switches back and forth at times from present day 2016 to 1921, using just a cast of four, and a minimal stage set, yet still works fantastically. Although this performance wasn't a sell out, I hope that once word gets out just how fantastic this wonderful play is, that upcoming performances will be a complete sell out. I for one would love to take a group of my theatre buddies to see this delightful gem of a play.
Johnny Kinch, the only male cast member, plays "Man" and Frankland. It is hard to believe he only joined the team with a few days to spare before the tour began. As "Man" - the construction guy the girls take hostage, he is a chauvinistic male pig, sexist and perverted. In his role as Frankland he is almost loveable! Johnny trained at RADA and has been performing for over 15 years. He has worked on TV, radio, stage and screen and includes roles in The Bill, Doctors, Paradise Heights and Inside Out (BBC East Midlands Today).
Roslyn Paterson plays Britney Stiles, a single parent on benefits but who is studying part time to better herself (so that she doesn't end up in prison like her daughters' father is) and Alice Kell, a factory worker in 1921 who has a passion for playing football. Roslyn was born and raised just outside of Glasgow and trained at the Academy of Live and Recorded Arts (ALRA) in London, graduating in 2012. Roslyn's most recent roles include Lady Macbeth in Macbeth, Ariel in The Tempest, Norma Gordon in The Wall, and the title role in Woman in the Dunes.
Ellen-Gayle Harewood plays Heather Banks and Florrie Redmond. Her first roles were on CiTV as Jubilee Jones in Wail of the Banshee and a child presenter of Go Wild! She is an alumnus of Dubomedy, performing with their Improv. Revolution Troupe and as a Clowns Who Care volunteer, as well as several 'Theatre in Education' UK tours.
Daisy Morris plays the roles of Ashley Cohen and Lily Parr. Daisy is a Physical Theatre graduate of East 15 Acting School and has numerous skills including clowning and aerial circus. She has performed at Theatre503, with Justice in Motion, in a one woman show, and on the streets of Paris, London and Spain in a red nose.
This is simply a wonderful play that highlights the importance of equality and takes the audience on a rollercoaster ride of twists and turns. There are parts of it where even I was scared so definitely not one for the faint hearted! Each cast member gave a gripping performance, and had the audience literally at the edge of their seats.
The show has one more evening (Saturday 23rd April) in Barnsley before moving on to the next venue (Barking) and closing in May in Hastings. Further information about the Theatre Company can be found on www.off-the-fence.com The Company also has a Facebook and Twitter account. I hope to see Off The Fence Theatre Company return to Barnsley in the future. The performance is filled with humour, wit, and sexism. I found the whole thing gripping and exciting. Well done to all involved!
Reviewed by Lottie Davis-Browne
Friday 22nd April 2016.
* (This is The Lamprooms' guidelines, the Theatre Company's website actually states suitable for age 16+).