William Shakespeare has invaded our television screens, newspapers and social media more than usual lately and this is in testament to the 400th anniversary of his death. St Georges Hall celebrates the life of the Bard by hosting a Shakespeare season entitled 'Where There's a Will' which features four of Shakespeare's most beloved plays and opens with Macbeth, performed by Chalice Productions.Their adaptation of Macbeth has been described as a 'diesel-punk inspired adaptation' and I think this is a fairly apt description. With King Duncan and his court clad in leather jackets, Banquo brandishing a gun and Lady Macbeth modelling a pink satin night gown and rainbow print pyjama pants; it was unquestionably a very modern twist on a Renaissance play.
The joy of Shakespeare is that he is continuously reinvented and adapted to appeal to a present, even in some cases younger audience. However, with this will always come some dispute over choices made and aspects that are reinvented. All in all, the performance was strong. Refreshing changes brought new insight and a different way of understanding the complexities of Shakespeare's characters. The choice to stage Duncan as a somewhat murderous, disturbing and creepy King did not sit too well with me, as well as a fight scene with Macbeth before he is murdered, were both adaptations I could not be content with.
The incorporation of modern music, (I noticed Johnny Cash and Hozier), worked really well in reinforcing the modern, rock or punk inspired theme they were trying to convey. What also helped with this was the use of a predominantly young cast. Sean Goss as Macbeth and Charlotte Graves as Lady Macbeth worked well as a partnership and brought to us a more affectionate, arguably equal coupling. Lady Macbeth appeared to show far more tameness from the beginning of the performance than the previous strong, manipulative characterisation we tend to have seen in previous productions. Paired with this, Goss's Macbeth appeared to be less affected by the psychologically damaging effects of murdering King Duncan and his best friend Banquo and instead appeared to stay strong and determined until the very end.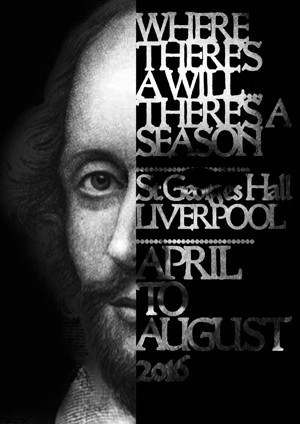 The leading pair were brilliant in captivating attention in a long performance (what else can you expect from a Shakespeare play when no aspect is spared?) Charlotte Graves had a particularly hypnotic effect on the audience and portrayed the sleepwalking scene with beautiful vulnerability. The scene was also staged brilliantly well with use of The Witches, a strong team throughout the performance, who were used to imaginatively taunt Lady Macbeth as if in her head. This, followed by a suicide scene where Lady Macbeth violently stabs herself, resulted in a dramatic and effective performance, and a brilliant take on a very famous scene. I think it's one of my favourite re-enactments of the scene that I've ever seen performed.
The Porter and The Witches were used to great comic effect, especially when The Witches decided to break out in song every now and again. Sometimes this didn't work and appeared quite awkward and cheap, but it was clear to see what they were trying to achieve and comic relief is definitely needed for such an intense, murderous and psychologically exhausting play. The use of The Witches almost like props on the stage in the sense that they were always there, watching and overlooking the action was a great choice to show the manipulation of The Witches and the control that they have on Macbeth and his wife throughout the play. Also, it was useful whenever a scene change occurred and The Witches could rearrange the props on stage.
The performers continuously projected well and, considering the challenging dialogue of Shakespeare, the script seemed to flow faultlessly. Although at times some actors overcompensated for the intensity of the scene by screaming and shouting, an issue I have always found to retract from the poignancy of Shakespeare's work, the performances were thoughtful, moving and admirable.
As with any Shakespeare fan, change is received with initial trepidation, yet Chalice Productions pulled off a well put together and interesting take on a classic Shakespearean play. I will look forward to seeing more performances from the group and interested to witness their alternative takes on Shakespeare's work.
Reviewer: Sarah Goldsmith
Reviewed: 25th April 2016