Cloudcuckoolanders is an absurdly contempary play that leaves you horrified, emotional and thoroughly entertained. Firstly an apology as there is neither a programme nor any website intonation that gives me any indication of the actors in the production. A small handout or printed paper programme would not have gone a miss and would have helped with this dilemma.
As I walked into the intimate space of The Continental Preston, the instant hit of venting freshly popped popcorn that completely makes you feel warm and comfortable is a brilliant but subtle detail for the piece. The stage was filled with knick knacks of various sorts: kettle, microwave, popcorn, chairs, laptop, and books. It is quite a messing setting but does well the relate to a flat or apartment where the characters may live. There is also the addition of a large screen that is projected and is used from the moment you walk into the space.
On arrival, all members of the audience are greeted kindly by the actors and are also shown on the big screen as they take their seats.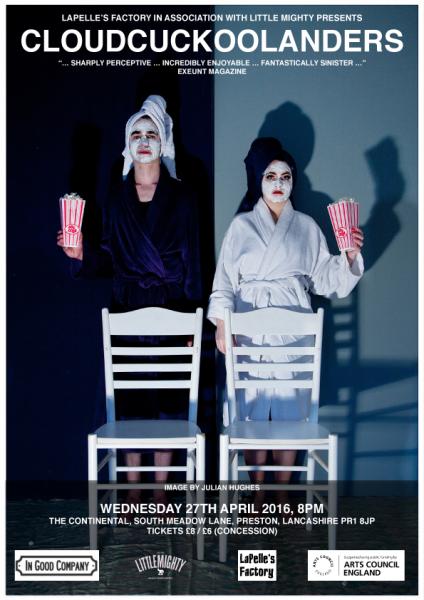 For some it was slightly uncomfortable but for the audience particularly last night, it was generally a funny but rather relaxing experience. I have never felt as comfortable with a group of strangers as it did almost feel we were all together in this experience. The screen and camera were used extensively in the production itself and highlighted some great filmography skills that was emphasised so well by the black and white effect on screen. Both actors clearly having an experience with cameras in a real multi media play. There was also a laptop which played the accompanying music and also displayed video clips through the lens of the camera on to the screen. It's a production which really lays everything on the table and doesn't try to hide wires or deceive the audience, a fact I found rather nice.
From what I can find, the characters were named Ollie and Olwen, they may also be the actors names but I have had no confirmation as of yet. Both characters were very funny and also very talented with improvisation, an example being when audience members would interact or talk to them. Ollie, dressed in a grey suit and boots was a burst of energy from the beginning, jumping around, dancing and singing. He also had more subdued moments of fear or anger which he also excelled at creating the atmosphere for. Additionally, Olwen brought a more dramatic and serious side to the piece, whilst also being excellently funny, she really excelled in a monologue she displayed at a point in the play when she imagined what it would be like if her boyfriend never came back. It was deeply emotional and was beautifully written. Both actors and characters working together was a pure joy to see and interacted incredibly at an emotional and hard hitting level.
Whilst being strange, dark and occasionally funny – the show brings to light the thoughts on difference between real life and movies. It can sometimes be easy to judge life like a movie but this production shows it definitely is not. As they repeat throughout the piece, the characters just want you to be comfortable – even though we audience members did get popcorn, fizzy drinks, hot chocolate, blankets and cushions- the play takes you on a trail that will make you feel every single emotion. A deeply through provoking piece that will leave you shattered with emotions and thrilled to see it again and again.
Reviewer: Brad Wilson
Reviewed: 27th April 2016