I think, no, I am sure I have just enjoyed the most mesmerising dance production at the Quays Theatre I have seen in a long time. I still think I'm underselling this, just go and see it and I hope you leave with the same deep smile I have.
Chotto Desh, if I can loosely play with the translation, 'homeland,' takes us by the hand into, the dancer, choreographer, the creator of this piece, Akram Khan's early London childhood and the anxiety and joy of discovering a passion for dance; setting him on a collision course with the expectations of his restaurant owner father who wants to open his son's eyes to a real and at times cruel world; a world of protest and civil war.
Dennis Alamanos' performance is superb. It spellbinds at times, in telling Akram's story, and, that of Akram's father, a first wave Bengali to these shores. It's timely, not only because the immigrant experience is not always debated positively, but, because this reflects the very human side of a brave decision to traverse the globe, and, the pull away from, and, desire to explore who you are – the 'born here but roots there' generation, of which I am one - that dual cultural identity crisis that can take time to feel at ease with.
Artful, witty, inventive, spirited and heartfelt. Can I make a plea for this to be on a school curriculum? It is inspirational. The music is evocative and cinematic too.
If you have the means, seek out Michael Parkinson's Sky Art's interview with Akram Khan. I never imagined dance could be like this. Dance as a way of storytelling is shared by many cultures and here the rule books are respectfully absorbed and styles mashed and made so accessible; reflected in the laughter from the kids around us.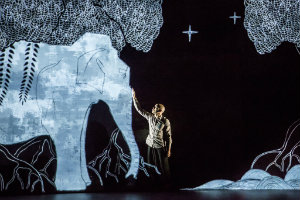 A mobile phone query leads to a call centre in Chittagong, Bangladesh, triggering in the adult Akram a memory bank journey back to his early years, and, to the land of his father and also recalls the calming influence of his grand mother; in a bid to find his 'memorable information' and reconnect and not see his Bangla roots as a threat to his calling.
In an instance you are in the heart of Dhaka trying to negotiate streets teeming with all life and traffic from vendors, disabled beggars, rickshaw whallas and risk averse drivers. Yet all you have on stage is one man, his movement, sound and light. You want to see it again just to admire the simple genius of it.
Our dancer interacts with folk art inspired animation in the realising of a bed time story. Like a tapestry coming to life as you fall into a dream world. It's technically very clever but wrapped in this warm poetic and musical casing. I would love to see an Akram production of the Jungle Book.
I loved that the themes are universal to be enjoyed by all ages; a son wanting to become a dancer and not conform and mischievously do anything but 'sit on the chair' that Akram's father wants him seated on; a great prop and metaphor on stage.
I appreciated the father's 'what are you doing with your life' frustration but we all enjoyed the 16 year old Akram, footloose and rebellious, answering him back through dance in its many forms; classical Indian, ballet, boxing, martial arts, street dance – the great Michael Jackson flicks and that hint of Bruce Lee too.
Perhaps the most inspired segment is the dancer's use of the top his bare head on which a simple face is painted, and, touchingly play Akram's father.
If you ever feel like you have lost your child eyed wonder for the world, please see this, lose yourself in the rhythm and motion even if you believe you have none and reignite the joy.
Reviewed: 3rd May 2016
Reviewer: Shridhar Phalke