They said they tried their best - it was more than good enough!
The background music of Cyndi Lauper descended to a hush, some gentle illumination was thrown onto a dark performance space highlighting some scattered bric-a-brac to the perimeter. And then nothing happened. We waited. More nothing. Fidgeting, wondering and some more nothing. A voice within the audience asked the obvious question: 'What is this?' Some giggling. 'Is it one of those new things?' More giggling. 'I bet they haven't turned up' was added before the owner of the voice decided enough was enough and he wanted to leave. And so began The Joke.
Our Englishman (Will Adamsdale) soon discovers there is no way out before discovering an Irishman - sorry, a Northern Irishman (Lloyd Hutchinson) - who is equally trapped. It is not too much longer before they discover a Scot (Brian Logan) hidden away whose attempts at escape are similarly thwarted, more so by the rallying call of a (in)famous Scottish band. So here we have it: an Englishman, an Irishman and a Scotsman, all trapped within a joke - and thus begins the journey of how they try to get out with the analogy of a shipwreck adding some meat to the pirate bones.
Refreshingly politically insensitive - but in a good way of course - our comedic heroes, for that's what they are, strive to find and deliver the perfect joke and all the while taking advantage of the available props to make it believable. Logan's Scotsman's apparent directorial aspirations within the context of the play allow some perfect sideswipes at precious directors and actors alike but with the audience in on it at all times. The method acting approach they openly decide to adopt to ensure that each national character is properly represented allows for some hysterical stereotyping leaving the audience, not for the first or last time, in fits of laughter.
In a very brief respite from this show's humour, it crossed my mind that this sense of nationality and nationhood is so much in the past that it really is laughable and it began to put the 'seriousness' of the forthcoming EU Referendum (to stay or not to stay, that is the question) into some real perspective. Put Adamsdale, Hutchinson and Logan into any conflict zone and I'm fairly confident that with their take on national characteristics we'd be laughing our way to peace. Well as long as they don't forget the tic-tacs of course...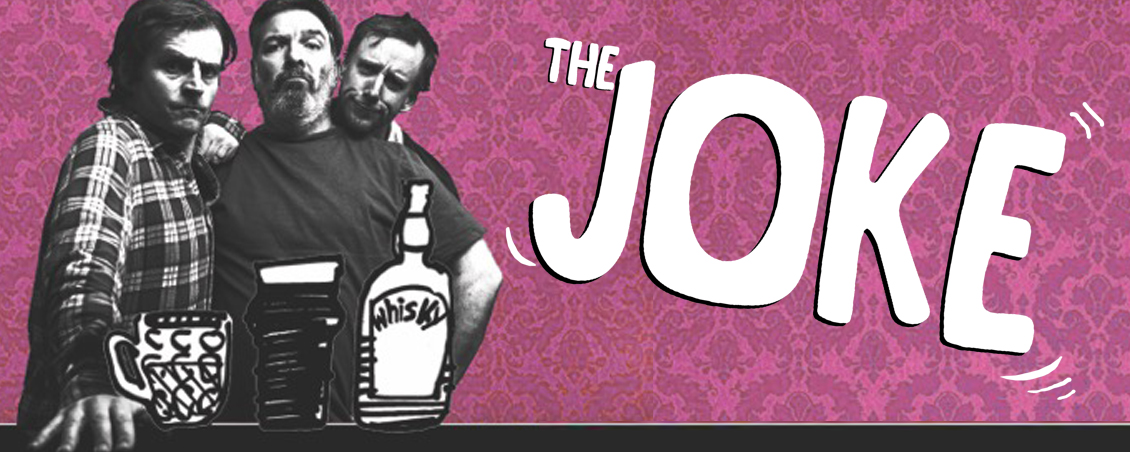 The biggest challenge about reviewing performances like these is not being able to say too much for fear of sharing the best lines and ruining your enjoyment when - not if - you go to see it. It's laugh out loud funny and it makes you think, what more could you want? And the joke - with an Englishman, Irishman and Scotsman, is pretty funny too along with a few song and dance skits that occasionally take us from scene to scene. The best commendation is the audience, many of whom who saw a scratch version of this a year ago at Unity Theatre and have returned to enjoy the full touring production.
A perfect evening was topped off with a Q&A session with the cast afterwards with the majority of the audience choosing to remain behind for it. It was lovely to see the obvious good humour between the cast, which was so evident during the performance, being carried over off-stage so to speak and which probably goes some way to explaining why this quirky idea that Adamsdale came up with works so brilliantly.
Adamsdale explained that it was an observation of the safety curtain going up at the interval at the National's Lyttelton Theatre a few years ago which had prompted him to wonder about a trio of characters being sat on top of it and not knowing why they were there. Whilst they haven't had the opportunity to try that out yet they have had the fun of working in a variety of theatres and performance spaces which offer different challenges to the production and enable them to keep it fresh and in their own word 'honest'.
Will Adamsdale is a Perrier Award winner and one of his recent productions - The Victorian in the Wall - has now been adapted for radio and will be performed on Radio 4 o/a 20th June this year.
Further information is available at http://www.fueltheatre.com/artists/will-adamsdale
Brian Logan is artistic director of Camden People's Theatre in London which is dedicated to supporting early-career artists making innovative theatre. Further details can be found https://www.cptheatre.co.uk/about/staff/
Lloyd Hutchinson trained at RADA and has worked at the National Theatre, RSC, The Royal Court and Donmar Warehouse to name (drop) a few. This is his first time in the choppy waters of Indie theatre. In tribute to tonight's performance I am sure he will be thrilled to know further details can be found at http://www.ulsteractors.com/h/
As with all productions, credit is also due to Fuel Theatre, a producing organisation working in partnership with some of the most exciting theatre artists to develop, create and present new work (http://www.fueltheatre.com/home) and to the individuals in the background providing directorial support (Joe Hill Gibbins), set and costume design (Michael Vale), lighting (Ian Scott), music (Chris Branch), and movement (Arthur Pita).
But none of this is achieved without a venue and Unity Theatre successfully meets its own brief in commissioning this production to present challenging, innovative, risky and unusual pieces, all of which stem from its earliest foundations in the 1930's as the Merseyside Left Theatre which produced radical and experimental works. It's perfectly positioned in the Hope Street Quarter with great facilities to cater for all and the site itself has a fascinating history. Further details available at www.unitytheatreliverpool.co.uk
There is a further performance of the Joke at Unity Theatre on 4th May at 8pm. Tickets can be booked online (www.unitytheatreliverpool.co.uk/whats-on/the-joke-1.html) or via the Box Office on 0844 873 2888.
The Joke continues on its UK tour thereafter and funnily enough I think we will be seeing a lot more of it than is currently scheduled (www.fueltheatre.com/projects/the-joke)
Reviewer: Mark Davoren
Reviewed: 3rd May 2016