Other than the music of Frankie Valli and The Four Seasons, I was unsure of what to expect from this show. I wondered how it would be presented and if it had the capacity to keep the audience entertained throughout. Quite simply, it did.
From the start we were treated to impeccable vocals, which only grew stronger as the show progressed. It was clear that everyone on stage had a voice to be reckoned with, from the lead man Stephen James who took on the role of Frankie Valli, to the backing vocals of the talented musicians who accompanied him. Talking of the lead man, James did an outstanding job as Frankie. Never missed a note and had such enticing stage presence. Having later researched the show, I discovered that he is actually a new front man which was surprising as I certainly couldn't imagine anyone better.
He undoubtedly couldn't have done any of it alone though, and credit should be given to Dino Buttarazzi (Lead guitar and vocals) who made playing the guitar look so effortless it was as if he could have done it in his sleep. He had a very cool and modest nature and his deep vocals were a joy to listen to. Then there was Martin Peat (Bass guitar and vocals) he seemed to come across as the glue of the group and never failed to amaze with his playing and singing. He seemed very passionate about what he was doing and this made you keep getting drawn back to him. Finally, Jay Harrison (Piano and vocals) made a memorable entrance with his solo performance of 'Cry for me'. This really drew the audience in and showed us that the show wasn't just about a good time, but that it was also going to play on our emotions as well.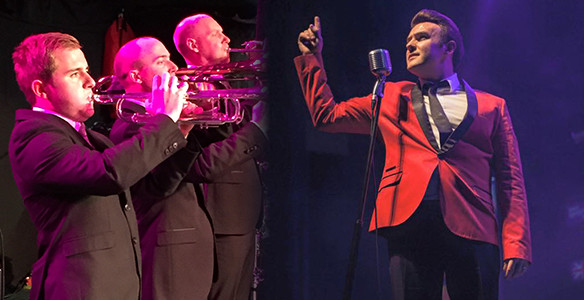 One of the stand out sections of the show was when they went into their Do Wop style. They did this for 'Blue Moon' and it was literally just their voices which was so pleasing to the ear. Each and every one of them were pitch perfect, and it was the sort of thing you could literally listen to all day and never get bored.
The second half seen the introduction of the brass section and what an addition they were. From faultless playing to funny (yet perfectly synchronised) dance moves they really were a key part to the sound and look of the show. They brought a comedic element, and it was well executed, drawing us to them time and time again yet without taking any of the focus away from the other performers.
Throughout the course of the evening the eight performers covered a vast amount of songs, and never grew tiresome, despite the incredibly tricky notes they were often reaching. From 'Big Girls Don't Cry' to 'My Eyes Adored You' and 'Silence Is Golden' to 'Sherry' they took us on what seemed like a roller-coaster ride of songs and it was very well received by all in the auditorium.
My only criticism of this show was I felt it needed to be more definitive in what it was. Of course, they are a tribute act to Frankie Valli and The Four Seasons, and everybody embraced them for what they were, yet we allowed ourselves to believe the people on stage were the real deal. Narration between songs helped us get a bit of background on them, which furthered the illusion they were successfully creating. However, my issue came when they started to talk about themselves as a tribute act. They told us about when they met the real Frankie and performed for him, and this ruined the mirage they had been creating thus far and was a bit unnecessary. Furthermore, as the show continued they seemed to fluctuate between actually being them and being a tribute, and it just left me feeling somewhat uneasy, wishing that they had been clearer on what they wanted to be.
Having said this, I cannot fault the actual music of this production and ultimately that's what it's all about. It has been a very long time since I have been out of my seat singing and dancing at a theatre. The performers were relentless in their efforts and the resounding applauses from the audience showed a united appreciation. If you enjoy the music of Frankie Valli and The Four Seasons, even just a little bit, then this will not disappoint.
Reviewed: 6th May 2016
Reviewer: Sara Woodruff