As part of the Week 53 Festival, 100% Salford (commissioned by Rimini Protokoll), dominated the Lyric Theatre at the Lowry tonight giving us a unique portrait or our extraordinary city. For 11 days the Lowry has hosted Week 53 promising to bring to Salford 200 international artists, 63 performances and exhibitions. Week 53 has been a festival of innovative, provocative national and international work in a series of spaces including areas of the building that are normally off limits to the public. It's been about rewarding the compulsively curious (wearing my badge with pride) as they challenged convention and celebrated creativity.
100% Salford was a masterpiece of creativity and definitely wasn't conventional theatre, as tonight's performance showcased 94 Salford residents, none of which were actors but all of which played a part in this stunning piece of entertainment.
Mascha Mazur and Andreas Mihan designed the stage in such an innovative way with technical direction lighting and projection that created the spectacular show tonight. With a rotating circular section of the stage that was projected onto screen that brought a whole new representation of statistical viewing tonight.
The show opened with the lone parent of 4 year old Ruby and representing the first statistic of tonight, stating that 40% of parents that live in Salford are lone parents and also that 40% of the Salford residents live alone. We were informed of an array of Salford statistical facts tonight many that surprised me, for example that there has been a 14% increase in the population of Salford since the last census and 13% of the Salford population is divorced or widowed.
The scene for tonight's showcase was set as the cast was announced as being a visual representation of Salford City's make up, based on gender, age, ethnicity and location in Salford. Ruby then started the chain reaction of each person of the cast introducing themselves one by one and each presenting to the audience an object that was important to them, then nominating the next cast member to the chain.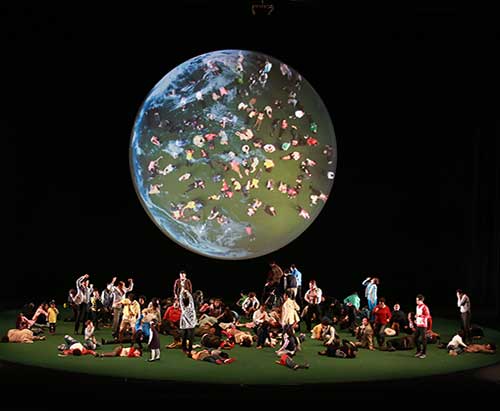 These 94 residents of Salford were said to proportionally represent the 233, 933 people of the city. The cast being even split 50/50 male and female with ages ranging from 2-87 years old, with the 94 coming from the various Salford boroughs: 17 coming from East Salford, 10 from Swinton and Pendlebury, 8 from Worsley, Boothstown and Ellenbrook, 15 from Eccles Winton and Barton, 15 from Little Hulton and Walkden, 8 from Irlam and Cadishead, 12 Ordsall and Langworthy, 9 from Claremont, Weaste and Seedley. Ethnicity was also represented in proportion of Black, Asian, Mixed race, Arabic, and white.
The whole display gave a visual representation of Salford's diverse City allowing the audience insights too many facets of the residents make-up, revealing things such as what the people of the city do, by getting the cast to act out on stage what they would typically be doing hour by hour over their average 24 hours in Salford.
A series of questions were put to the cast and each had to go to the half of the stage that was in line with their answer (me/not me) such as, who runs their own business, who still lives in the house they grew up in, who's been homeless, who's been affected by domestic violence and so on. Giving the audience a unique visualisation to the lives of the people on stage as well as the general statics of the people of Salford.
Continuing on to the 'dark ballot' where performers voted anonymously by using a torch to answer in the darkened auditorium was a fabulous idea when asking more private questions around issues such as bullying, sexuality, infidelity, poverty, sexual activity, crime and plastic surgery.
Tonight's show was complimented by a live band called Louis Barabbas And The Debt Records Collective who was a very talented four strong band that graced us with live music and original songs.
Static representation of depression, life savers, parentless families, suicide, cancer, life expectations all were tonight presented in a way that brought statistical data to life giving it meaning and relativity.
Jennifer Doherty project manager assisted by Francesca Waite did a stupendous job at ensuring this project was delivered as well as it was tonight by these 94 people of which many admitted tonight was their first time in a theatre let alone ever being on a stage delivering a live performance before.
All in all tonight's showcase has to be one of the most heartening and fascinating pieces I have ever seen on stage. As a born and bred Salfordian and a lifelong resident of Salford City, tonight reiterated to me why I am proud to be part of this colourful City. As its diversity and difference is what stands Salford apart from the rest of the North of England. Yet one thing we Salfordians all share is our pride of our hometown and our unity in family ties and friendships. This truly was a stunning piece of theatre and I only wish all my static driven meetings were as stimulating and as engaging as tonight's show. Each of the performers delivered their part with zest and energy that was electrifying and fun to watch making me proud to be 100% Salford.
Reviewer: Victoria Wilmot
Reviewed: 7th May 2016