Working the stage from the minute she walked out, Andrea Pattison as Dolly Parton had the audience enthralled from the start. Singing 'Baby I'm Burning' she truly captured Dolly's' voice and mannerisms and everyone was soon singing along with her. With a very simple stage setting and backed by a fabulous four piece band, The Partoners, comprising of husband of Andrea, Richard Rutherford on guitar, on drums Paul Smith, keyboards Dean Stockdaleand guitar and vocals of Dave Dryden she continued to belt out the classics including 'Two Doors Down' 'Jolene' and 'D.I.V.O.R.C.E.' with a particularly great rendition of the autobiographical single 'Coat of Many Colours'.
Andrea took on the persona of Dolly relating many tales of her upbringing from rags to rhinestones and her journey into stardom and capturing the Tennessee accent entirely. I have to admit to not being a particular follower of Dolly although I was familiar with her songs and when thinking of her, my mind conjured up long blonde curly hair and of course the infamous' cleavage', so I was not too sure of the wigs that were worn, but upon researching further it's obvious my memories are dated and that the styles used in tonight's performance were indeed the styles worn by Dolly (for those interested the cleavage was there too!). Her costumes are also true Dolly replicas made for Andrea by Liza Grant. I was initially irritated with dialogue ending with a high giggle but again this is typical Dolly and Andrea has mastered it perfectly.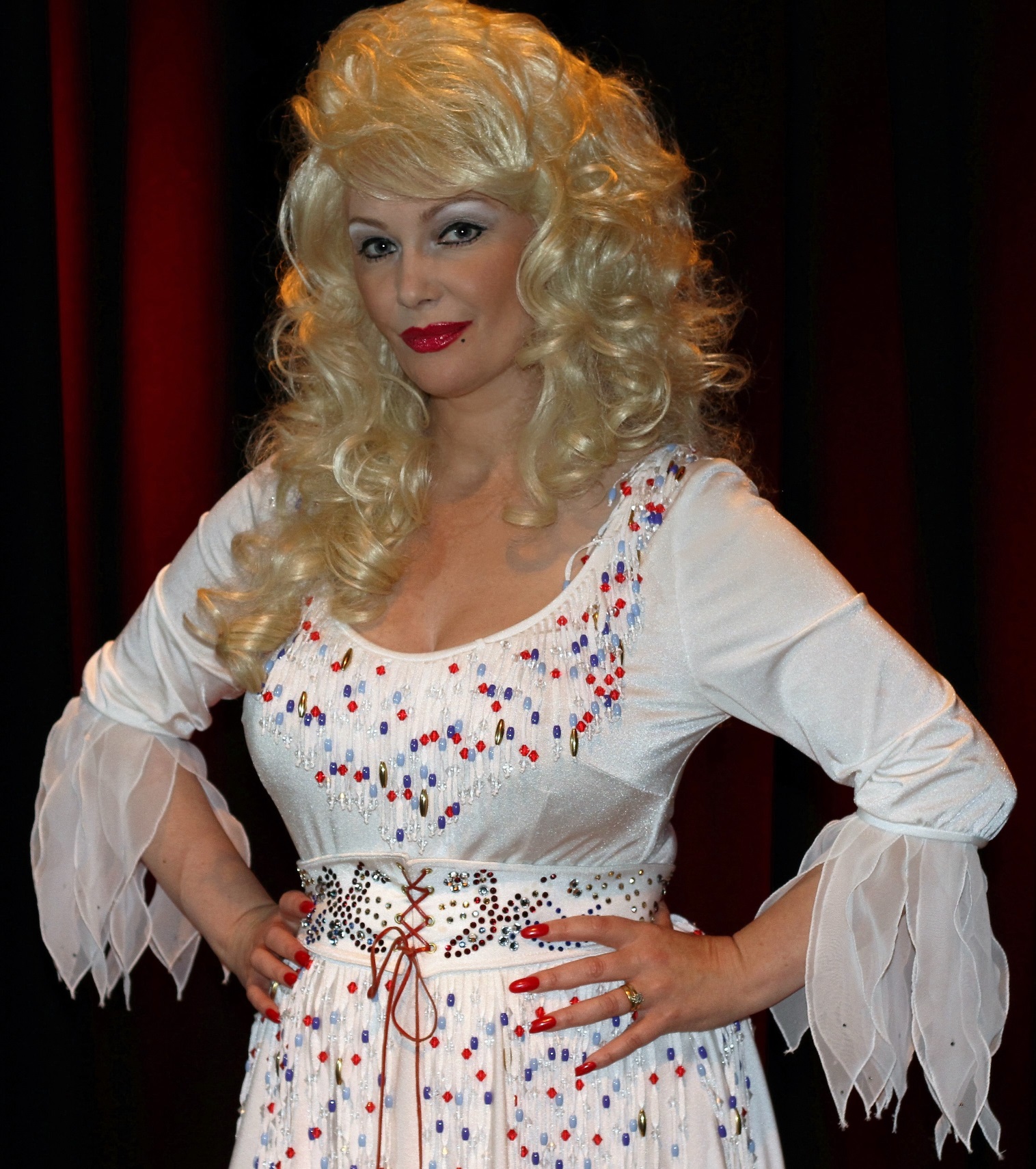 During a costume change we were treated to the band playing, revealing some excellent talents particularly on keyboards.
Returning to the stage singing one of the later hits written by Dolly and taken from the film Joyful Noise in 2012 you could hear a pin drop as the audience were mesmerised by a moving performance of 'From Here to The Moon and Back'. This was followed by the well-known hit '9 to 5' and had everyone up dancing and singing along, leading into the interval.
I enjoyed the second half of the show more than the first purely I believe down to the fact that I was being drawn in by Andrea/Dolly's infectious personality. 'Little Sparrow' was performed faultlessly followed with abundant arm waving and singing along from the audience 'Here I Come Again'. Another costume change then, covered by the band and with lead guitarist Dave singing an Elvis hit 'Hound Dog'. Another great song 'Islands in the Stream' was wonderfully performed by Andrea and accompanied by Dave the guitarist who with great visual imagination became Kenny Rogers.
Andrea slipped into her own identity to reveal she is actually from the City of Sunderland with a Geordie accent and relating the tale of when she actually met her idol Dolly Parton and was totally star struck and never got to say what she wanted to her. Her dream is to perform beside her.
Andrea herself is a talented songwriter and has her own album which she released in 2008 called 'Stormy's Daughter' dedicated to her father who had sadly passed away in 2005. We were treated to one of her songs that she composed for her own wedding 'Starting from Here'. She has since been asked to perform this song at weddings and one couple even used the lyrics as their vows. Wow, this lady should be a star in her own right and I have no idea why I didn't purchase her cd which was available in the foyer along with a cd of her singing Dolly classics. I intend to order one.
If I have one criticism it was the repeat of song '9 to 5' and although it went down well for the second time I feel there are enough Dolly songs to cover and I would have preferred to hear something different. We were led into the finale with a rousing version of 'Great Balls of Fire' and Andrea returned for an encore with the iconic 'I Will Always Love You' which resulted in a deserved standing ovation.
With tributes you either love them or hate them, this is one I loved.
The Dolly Parton Story continues to tour, some shows featuring Peter White as Kenny Rogers and renamed as Islands in the Stream. For further details http://www.dollypartonstory.com/gigs.php
Reviewer: Lorna Weekes
Reviewed: 7th May 2016