What I love most about theatre; is how quickly it can change your mood and mind-set.
Entering the Manchester Opera House this evening on a gloomy rainy day after a full day at work feeling tired and stressed. As soon as the curtain opened on the song and dance show 'That's Entertainment'; my mood changed immediately for the better. It's such a fun, feel good show filled with the best performers, costumes and songs that I have seen in a production in a long time.
Kicking off this spectacular of dance and song was the title song 'That's Entertainment' which got us straight into the spirit for the rest of the show, followed then by the guest stars for the evening; the (very loveable) Overtones which got the audience clapping and singing to songs from Roy Orbison to Frankie Valli. The cast are one of the finest ensemble I have seen for a long time, it's hard to single out anyone as everyone on stage had more than earned their right to be there.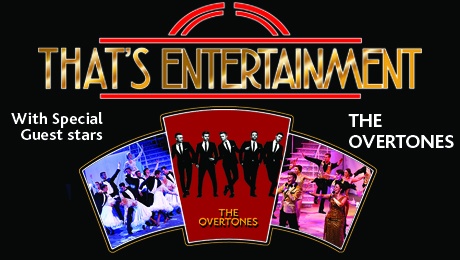 Emma Kate Nelson's performance in 'Good Morning' was certainly West End worthy and Simon Schofield; who guided us through most of the evening, showed a real passion for the music and indeed the show and had real chemistry with Nelson during 'A Couple Of Swells'. One of the things I love most about this show; is the feet, bear with me on this - the noise of the tap dancing live is... electrifying, you can feel the real energy from the very start to the final big tap number finish. In the second half, the set got even better with flickering bulbs adorning the stage and the outfits just get better and better.
The vocals of Loula Geater during her solo performances were always 'hairs on the back of your neck' moments and there was talent bursting out of all the performers during the big numbers including Lauren Atkins who showed a real sense of stage ownership, as did Andy McGuire who was more than capable in his role.
The Rat Pack section of the show really highlighted the vocal talent and all round swagger of Sean Smith and a jaw dropping dance routine by Bethany Dows and the ensemble. From the same producers as 'Putting On The Ritz', this show 'That's Entertainment' was even better than their last, with The Overtones interludes providing even more participating opportunities which the audience took with both hands, quite literally with rousing clapping throughout.
If you're going to see one show this year, see this!
I came out of the theatre, so happy, so full of life, full of song, dance and it was everything I could of asked for and more, now that's entertainment!
Reviewer: Maxwell Eden
Reviewed: 10th May 2016