The weather outside may not agree, but summer is certainly here in Manchester with the arrival of Mamma Mia at the Palace Theatre. It was an absolute joy to see the theatre packed to the rafters tonight to celebrate the official opening night of this show that has been running in the West End for 17 years, toured all over the world, yet surprisingly on its first ever UK tour.
Mamma Mia is a story about Sophie who has a dream of her father walking her down the aisle on her wedding day. Unaware of who her father is she finds a journal her mother Donna (Sara Poyzer) kept 21 years ago which provides clues as to his identity. From the information she reads she discovers she has three possible fathers and takes the bold step of inviting all three to her wedding, convinced that when she sees her real father she will know instantly. But when Harry (Tim Walton), Bill (Christopher Hollis) and Sam (Richard Standing) arrive on the Greek island is doesn't prove as easy as Sophie first thought. The whole story throughout is punctuated by the unmistakable music of Abba. If you were seeing this show for the first time and didn't know the music of Abba (I know it is a far-fetched idea) you could easily be mistaken to think the music was written specifically for this show such is the expert way it has been interwoven into the story by writer Catherine Johnson.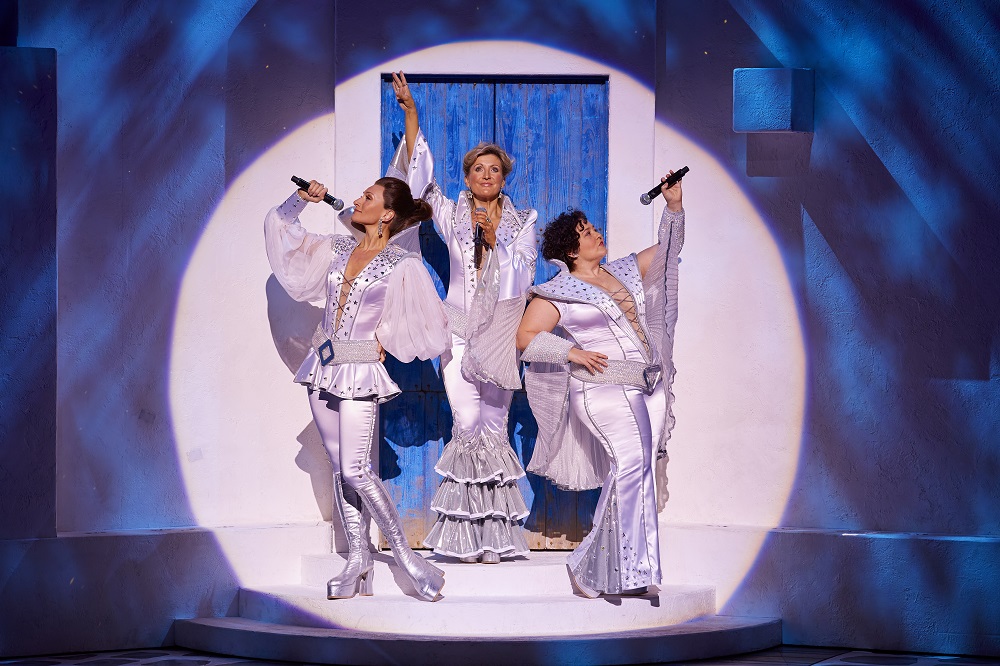 Aside from the music of Abba that is so instantly recognisable to almost everyone this show is classed as a 'Jukebox' musical, one of the very first, however when it was first performed in the West End it set a bench mark for all future shows of this genre that still to this day no other show has come close to reaching. The energy and passion of all on stage shines brighter than the Greek sunshine and the choreography is some of the best you will see on a stage.
Bride to be Sophie (Lucy May Barker) is perfectly cast here with a beautiful voice, her vulnerability is as evident as her passion to find her father before she marries Sky (Phillip Ryan). Supported by her best friends who have travelled to be bridesmaids Ali (Micha Richardson) and Lisa (Blaise Colangelo).
Sophie's mother, Donna has also invited best friends Tanya (Emma Clifford) and Rosie (Jacqueline Braun) to support her as she sees her daughter embark on a new life. These three women used to be in a group called 'Donna And The Dynamo's' back in the day and they provide some of the most hilarious moments in the show with 'Chiquitita' being a stand out performance which tonight's audience particularly warmed to with belly laughs and spontaneous applause throughout the song.
The groom Sky also enlists his friends who work at Donna's taverna, Pepper (Louis Stockil) and Eddie (Sam Robertson) to organise the stag party, a dive to a local wreck for a necklace to present to his bride. In the second act Pepper has one of the other laugh out loud highlights of the evening as he and Tanya sing 'Does Your Mother Know' which again had the audience in raptures.
The set design (Mark Thompson) for this show is so wonderfully simple, yet incredibly effective. Two walls of the Greek taverna are moved around the stage to numerous different positions to create each scene setting and punctuated by pin point lighting design from Howard Harrison it really is a joy to watch. Add to this the superb band of 7 under the directorship of Richard Weeden who recreate Abba's music perfectly there is no weak link in this production at all.
If you want to see a true West End quality production performed on your doorstep you MUST visit this show while it resides in Manchester for the next 4 weeks. Many touring shows lose something when they break free of the West End and go on the road, however Mamma Mia refuses to do this and recreates the original production faithfully.
This show will not only brighten up your day, but your life and should be available on the NHS.
Reviewer: Paul Downham
Reviewed: 11th May 2016
Photo by Brinkhoff M+Âgenburg