A true original!
Modern retakes on Shakespeare have had hits and misses over the years- from Macbeth set on council estates to Hamlet in the trenches of World War One- but this take on Twelfth Night by Filter Theatre was a true original.
The text was interrupted by musical numbers delivered by an onstage band, headed up by percussionist Oliver Lowe and the exceptional cellist/ guitarist Laura Moody. Other instruments were also played by cast members, and the actors also joined the audience in the stalls for periods, in a performance that also had us throwing balls on stage and even going onstage to take a shot of tequila. It was a brilliant evening of raucous entertainment.
But back to the text. The play was stripped back to around 70 minutes of dialogue in a 95 minute performance, so key parts of the play had to be breezed through quickly.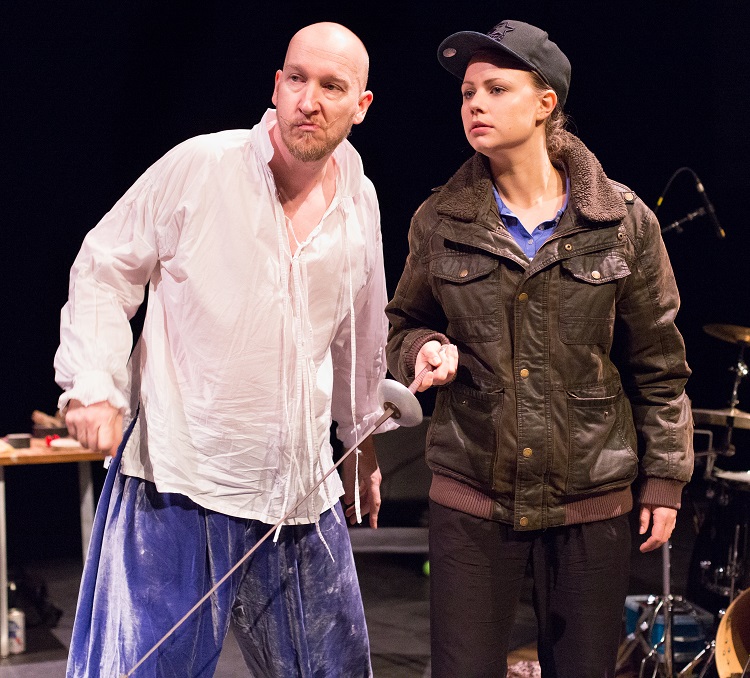 Some theatre-goers may miss some of the facts if they aren't familiar with the play, so it's definitely worth brushing up on the plot before you go and see this. Actors also doubled-up roles in places which was a little confusing in places. However, the classic story of the girl turned boy caught up in a love triangle was well delivered, although the ending was left ambiguous, since Viola and her twin Sebastian were played by the same actor (Amy Merchant). The performance of LAMDA-trained Marchant was a standout, her delivery a perfect balance of the Shakespearian text with a naturalistic delivery. The other actors performed with more exuberance, often campness, but this is a comedy after all.
The middle of the play, at the deception of Malvolio, was another moment that will not be forgotten-- he stripped down to his yellow stockings whilst singing and grinding along to a soulful rock tune-- this is a true eye popper! The confidence and courage of Ferdy Roberts (also the director) in this role was impressive. Like the other set musical pieces throughout the play, it went on a little too long, but it felt like Filter Theatre were really keen to push the envelope here. The music at the finale was also fantastic, and left us wanting more.
The set was simply some tables for the instruments and some chairs, and the actors returned to their seats and instruments in between scenes, which have an authentic vibe to the performance. The only period costume was worn by Sir Toby Belch (Dan Boole) who bounded across the stage, around the theatre, and even onto a seat next to us. The performances by Crystal Condie, Harry Jardine and Olivia Darnley were all spectacular, there was no weak link, and it felt like the gang have worked together collaboratively on this project that was both authentic but polished, natural but clearly intricately thought out.
This take on this classic Shakespeare comedy is one of a kind and not to be missed. It's set to tour the UK extensively.
Reviewer: Ben Spencer
Reviewed: 11th May 2016
Photo: Mark Garvin