I would just like to say a heartfelt thankyou to Joe Sellman-Leava for this show.
It touched a still-raw nerve. I told him so post-performance. My brain had put into temporary storage the issue of racism, until the "build-walls and shoot" heckling of the Trumps and Hopkins of this world made me sit up, get angry and anxious in equal measure; question: are we really civilised, have we not come further in this multicultural, multi-faith land and bridged Powell's river of blood?
As I was leaving The Studio, I was thinking that a 20-something young man has just reflected back incidents from his youth in the 1990s and 2000s, that I, family and friends had experienced in the 1970s and 1980s; incidents that have left their mark, felt even now as a 40 something. At times I found myself welling up with the memories he was provoking; the word 'Paki' causing fists to ball, the heart to race.
Joe invites us in to the story of his Indo-Ugandan roots and how even though, English born, he has not always been made welcome; made to feel inferior for his White mother, Asian father parentage, his skin colour. How his parents took the decision to change their surname to survive labelling and our 'where are you really from… no before that' curiosity that can lead to a painful stumble into a world of side ways glances, crass asides and out-and-out hostility.
This is a very personal, funny and poetic account of his upbringing in the rural South West. What it is to be British and how we label others and ourselves is explored; how today, displacement and anyone from the outside is smeared with a very negatively loaded brush.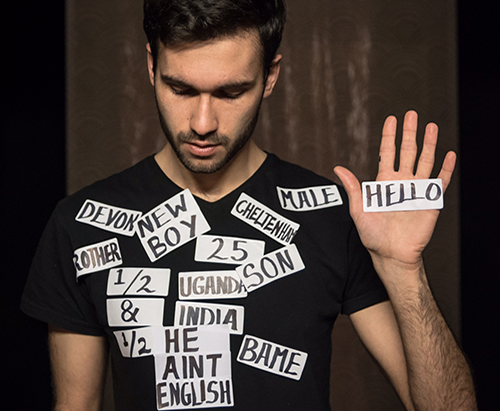 Through his humour, uplifting celebration of the love and bravery of his parents, and clever prop use (the humble self-adhesive label) we are invited to question why we treat people differently and how labels are at times the weapons of fear to divide and mask insecurities. Question too: why we are so possessive over this turf, this way of life?
It is a timely, touching, rallying call to celebrate humanity and challenge bigotry.
And it's a reminder too that the arts and, here, the stage can help expose how we use language and offer an alternate manifesto for a compassionate world, not a 'PC' one; and, a buffering of politicians and voices in the media who are offering no insight but, rather, incitement. It shows that you can engage in the debate at a cerebral level and capture hearts and minds without reverting to the tactics of the 'f**k off back to where you came from' lobby. I came away with the feeling that words can also heal those verbal punches and promote understanding.
I would love to see it tour schools and be seen in Parliament. Just maybe as part of their community service, our PM, Ms Hopkins and any future President can be asked to watch and learn a little something from our youth.
I would urge you to see this, and, as a kind of immigrant companion piece, Akram Khan's Chotto Desh, I was lucky to catch also at the Lowry Theatre (thank you for attracting and welcoming these acts).
This is a courageous one-man performance of wit, depth and above all heart. Highly recommended and well deserving of more awards and, importantly, a larger audience.
Reviewed: 13th May 2016
Reviewer: Shridhar Phalke