LIPA's second year acting students bring together a play by Tena Štivičić, a Croatian playwright that takes you through the remnants of the Balkan monarchy in 1945, through to communism and then the Balkan Civil War, which broke out in the 1990's, and then to 2011 where there is acceptance into a wider Europe in the new century. The play focuses on one family, over four generations in the same house, which is partitioned, nationalised and privatised. The play jumps back and forth through the different times, which is really interesting to follow.
I loved the intimate performance space; it was set as theatre in the round. The audience were so close to the performers, and you would get a completely different viewpoint from wherever you sat. It made it seem more naturalistic as well, how you weren't looking into one side of the house, but people were sat all around and it was like we were all looking through the walls, and the actors acted like they were walls as well, and they were all completely immersed in the play and the characters.
I really enjoyed how the set would change so quickly between scenes and how every actor would appear on stage to help change it so fast. It did make it easier to follow. George Lewis did a really good job of designing the set as it just added something really interesting to the piece.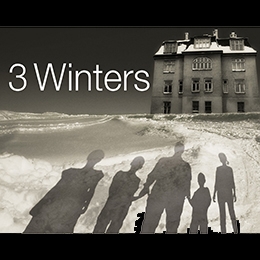 The lighting design, done by Will Leighton was really well thought out, I liked how there were actual switches on the set, which the actors could turn on, it made it a lot more naturalistic and interesting.
A brilliant performance stood out to me from Isabella Rubin, who played 2011 Lucija, her accent was flawless throughout and her chemistry with the other actors was brilliant, especially with Michael Lorsong who played Vlado and Lauren Waine who played 2011 Alisa. I thought these three were incredibly talented and strong performers, especially Rubin's monologue towards the end, which got a round of applause, and Waine had a brilliant character to play and portrayed her very effectively.
The only criticism I would give would be the accents sometimes were lost with some actors for brief moments, which is understandable as it is a difficult accent to keep up for an extended amount of time. I loved the end scene, where all the actors came together and showed the different times and it really showed you just how much had happened in those years, and Karen Young gave a great ending monologue as Monika. Claire Joliffe also portrayed an excellent 1945 Karolina; she had a real stage presence and made you hang off every word she had to say.
Overall I think it was really brilliantly performed, the actors all had brilliant chemistry with each other and it was full of strong performers and I am still yet to see a less than brilliant performance from LIPA. It is on for 3 more performances on Thursday and Saturday and it is really worth a watch.
Reviewed: 17th May 2016
Reviewed by: Sam Pears